LAGUNA, Philippines – SEARCA is supporting a benefit concert called "Coming Home: Lemuel Cuento in Concert" on 26 February 2020 at the D.L. Umali Auditorium of the University of the Philippines Los Baños (UPLB).
The concert is for the benefit of the Youth Program in Agriculture by the UP Rural High School (UPRHS). It aims to encourage Grade 11 students to pursue careers in agriculture, nutrition, and related fields that would help address issues on hunger and food production in the country.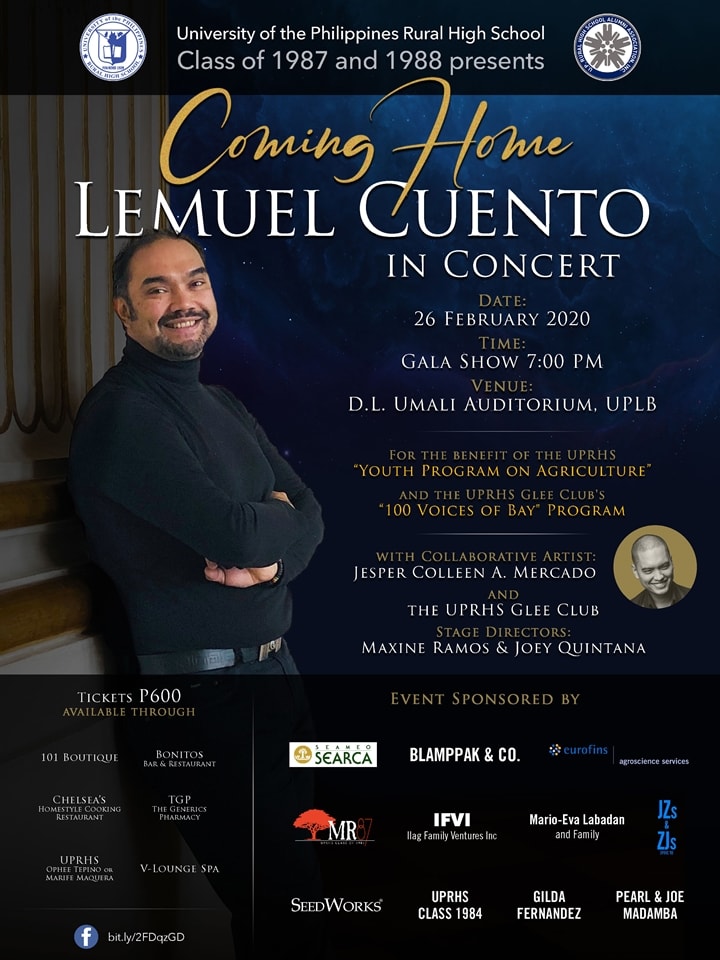 Mr. Lemuel Cuento, an alumnus of UPRHS, is a Filipino Tenor currently based in Munich, Germany. He studied at the UP College of Music from 1989 to 1994 and pursued his music education in the following year at Hong Kong Academy of Music. He also earned an Opera Performance diploma at the Vienna Conservatory in 1996. For over 20 years, Cuento has already performed in various recitals and classical operettas in many countries.
Cuento's two-hour show in UPLB will be accompanied by Jesper Colleen Mercado on the piano and will feature a special performance from the UPRHS Glee Club.
Meanwhile, SEARCA will mount an exhibit at the concert venue to showcase the winners of its recent Photo Contest featuring youth agripreneurs in Southeast Asia.
Dr. Glenn Gregorio, SEARCA Director, will also give a message to encourage youth involvement in agriculture and to promote SEARCA's Young Forces for Agricultural Innovation (#Y4AGRI), an upcoming initiative for engaging and empowering young people in agricultural innovation. #Y4AGRI will employ awareness, appreciation, action and alliance (4As) strategies to attract and mobilize the youth in agriculture called as "Young Agrinnovators".
The concert is organized by UPRHS and its Alumni Association through Class of 1987 and 1988. For concert inquiries and tickets, please contact Ms. Cristina 'Babu' Sison, head of the organizing committee, at 0917-860-0234 or (049) 559-3821 / 501-0389.