Reliving the past, celebrating the present, and looking forward to the future of the Southeast Asian Regional Center for Graduate Study and Research in Agriculture (SEARCA), current and former partners, alumni, scholars, grantees, officials and staff gathered together in a virtual culminating program of the Center's 55th Anniversary held on 26 November 2021 via Zoom and Facebook Live.
SEARCA was established by the Southeast Asian Ministers of Education Organization (SEAMEO) in 1966 as one of its centers of excellence in Southeast Asia. It is hosted by the Philippine government on the University of the Philippines Los Baños (UPLB) campus in Los Baños, Laguna. The Center is mandated to strengthen institutional capacities in agricultural and rural development (ARD) in Southeast Asia through its core programs on Education and Collective Learning, Research and Thought Leadership, and Emerging Innovation for Growth.
With the theme, "Sowing Seeds of Innovation for Agricultural Transformation," SEARCA celebrated this milestone year with "then and now" posts on social media that highlighted "SEARCA then" with successful and trailblazing initiatives in history along with "SEARCA now" showcasing a series of SEARCA events that reflect bold efforts to accelerate transformation in Southeast Asian agriculture.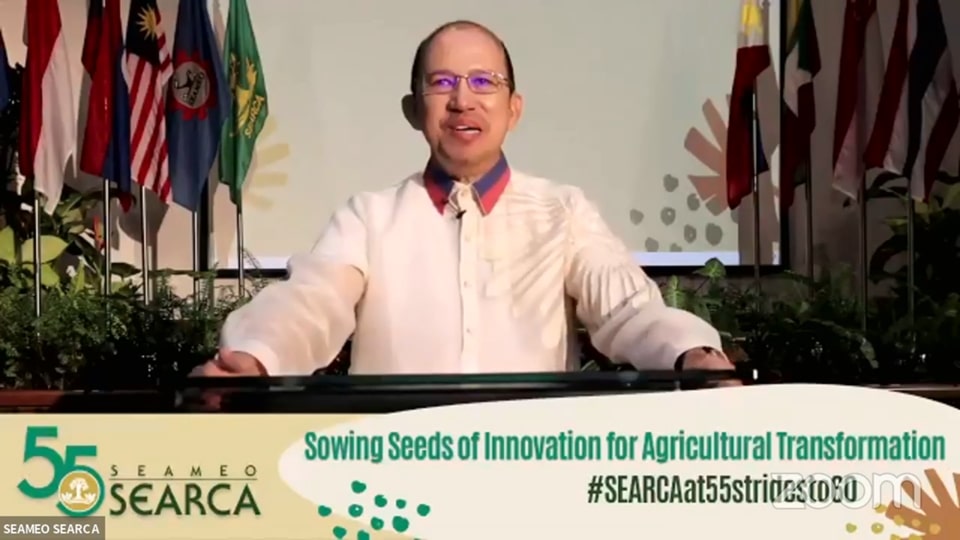 Dr. Glenn B. Gregorio, SEARCA Director, delivers his anniversary message.
In his anniversary message, Dr. Glenn B. Gregorio, SEARCA Director, emphasized that SEARCA's success would not be possible without everyone's teamwork and invaluable contribution to advance agricultural and rural development in the region. "It was truly through your commitment, passion and sacrifices that we are where SEARCA is today. We are standing on the shoulders of giants, that is why SEARCA at 55 is striding steadily even in the midst of the pandemic to our 60th year," said Dr. Gregorio.
The SEARCA Director added, "Today, with the blessing of our Lord, we will sow the seeds of innovation as we march forward with our heads up, proud that we are SEARCAns with the mission in mind to elevate the quality of life of our farming families".
Echoing the words of Dr. Gregorio, Mr. Joselito G. Florendo, SEARCA Deputy Director for Administration, shared in his welcome remarks the essence of this year's theme. "The seeds that we are sowing today are products of over five decades of hard work and cultivation by the men and women before us, by our leaders, our staff, our Governing Board, the SEAMEO Council, Secretariat and Centers, and most especially by our partners and stakeholders. On behalf of SEARCA, we thank you for joining us today," said Mr. Florendo.
Mr. Joselito G. Florendo, SEARCA Deputy Director for Administration, delivers his welcome remarks.
He added, "SEARCA has come a long way and today, we say thank you for the past 55 years, we celebrate the present at a time of a pandemic that we continue to grow and evolve, and we make a toast as SEARCA strides the path to a more innovative and modern approach to agricultural and rural development".
SEARCA's Partners and Enablers
The culminating program featured greetings and messages from big names within and around SEARCA – those who built its strong foundations; those who keep nurturing the Center with their untiring support; and those who carry on SEARCA's legacy in the region.
Philippine Education Secretary Leonor Magtolis-Briones.
Philippine Department of Education (DepEd) Secretary Leonor Magtolis-Briones congratulated SEARCA for this momentous occasion in spite of the challenges brought by the virtual setup. She expressed her appreciation to the Center for its unwavering support for the programs of the Philippine government through DepEd. "I believe and I am confident that SEARCA will sow even more seeds of innovation for agricultural transformation. I have expressed interest in translating the results of research and findings of our own scientists and using them for basic education and for lessons that our children can learn sciences, arts, and the wonders and beauty of our environment," said the Philippine education chief.
She ended her message thanking SEARCA for promoting DepEd and its service to the Filipino youth. Secretary Briones concluded, "I would like to personally express my appreciation to SEARCA through Dr. Gregorio for always promoting our programs and activities. As I said, we want not only to enrich our programs in agriculture for our learners but also to help them learn many other lessons – science, beauty, arts, food raising, all through agriculture."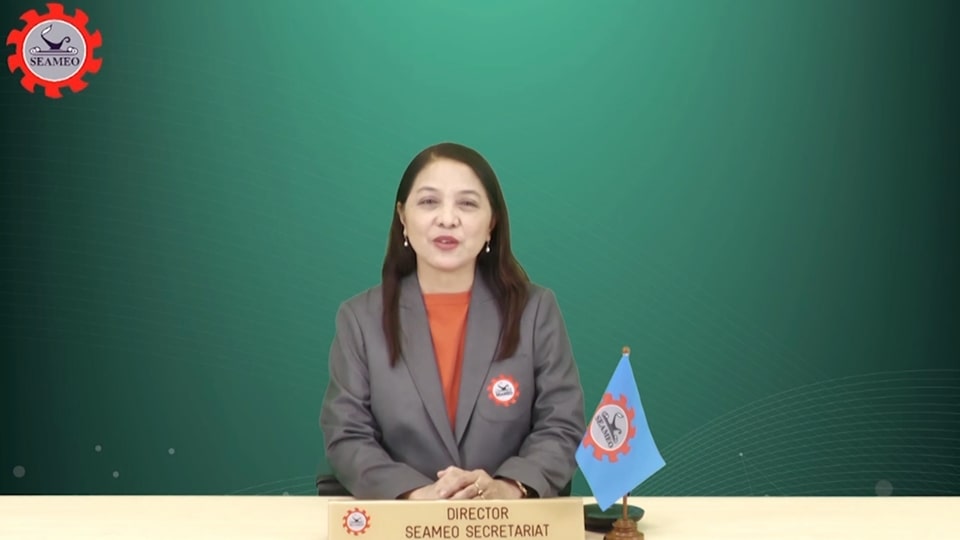 Dr. Ethel Agnes P. Valenzuela, SEAMEO Secretariat Director.
Dr. Ethel Agnes Pascua-Valenzuela, SEAMEO Secretariat (SEAMES) Director, emphasized in her message that SEARCA remains visible in Southeast Asia with its programs on ARD. She said, "SEAMEO SEARCA has been remarkable in serving our region with the best ability to elevate the quality of life of farming families through sustainable and resilient livelihoods and access with modern networks and innovative markets."
Dr. Valenzuela also reiterated SEARCA's outstanding work in response to agricultural needs of the region. She emphasized the new SEARCA Hub for Agriculture and Rural Innovation for the Next Generation (SHARING), an interactive museum that will showcase "play and build prototypes" of a tractor model and 3D printing applications in agriculture, agriculture startup stories and products, a showroom for digital agriculture platforms, a virtual AgriMuseum, and an interactive space for featuring real farms.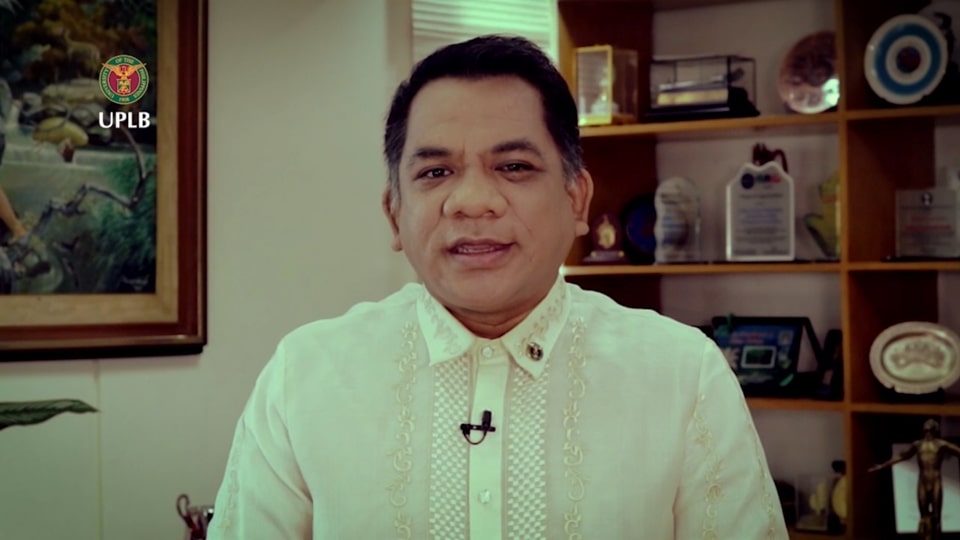 Dr. Jose V. Camacho, Jr., UPLB Chancellor and Chair of the SEARCA Governing Board.
Dr. Jose V. Camacho, Jr., UPLB Chancellor and Chair of the SEARCA Governing Board, congratulated SEARCA and expressed his warmest gratitude to all the people behind the success of its strong and unyielding collaboration with UPLB. "SEARCA and UPLB has been enjoying a mutually beneficial partnership since 1966. This strong relationship is founded on our common desire to continuously improve the agricultural sector and to empower rural communities in Southeast Asia," said Chancellor Camacho.
SEARCA's Pillars and Forerunners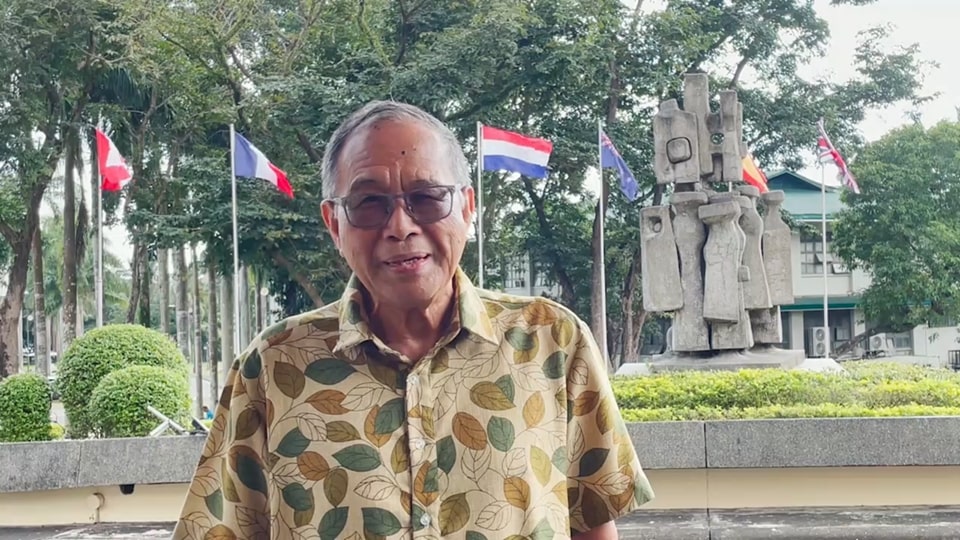 Dr. Emil Q. Javier, National Scientist and former SEARCA Director (1983-1984).
Dr. Emil Q. Javier, National Scientist and former SEARCA Director (1983-1984), shared in his message that SEARCA has proven its worth all these years in its mandate of moving agriculture in the Southeast Asian region by way of training specialists, researchers, scientists, faculty, as well as farmers in the modern ways of farming. "This would not have been possible without the inspiration and direction of our founding father, the late Dr. Dioscoro L. Umali, and the succession of SEARCA leaders who followed him," said Dr. Javier.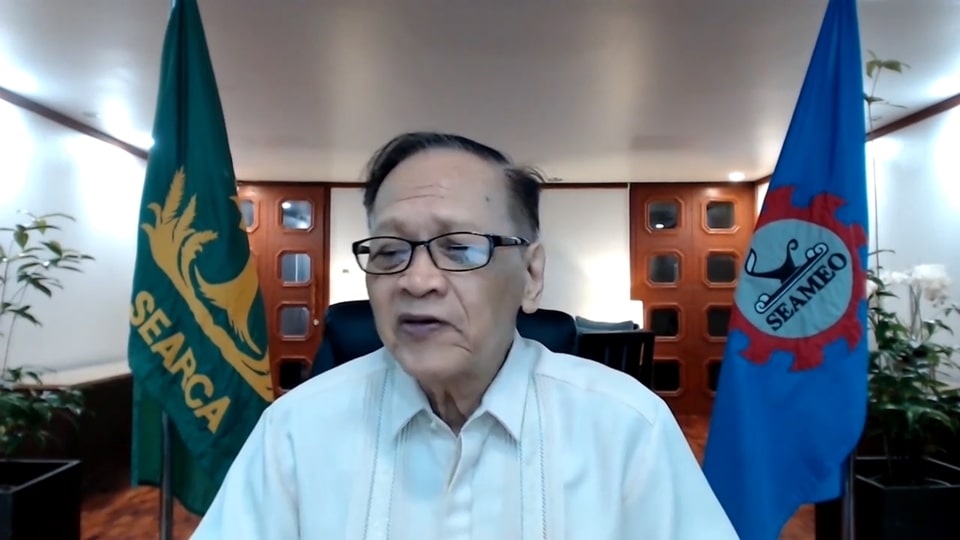 Dr. Fernando A. Bernardo, former SEARCA Director (1984-1987).
Dr. Fernando A. Bernardo, former SEARCA Director (1984-1987), both congratulated and challenged SEARCA while highlighting this year's anniversary theme. He said, "Seeds of innovation could modernize agriculture, but the bigger challenge to the present leadership of SEARCA and its great alumni and partners in Southeast Asia is the promotion of entrepreneurship in economic societies and agricultural farms." Dr. Bernardo added that this challenge would entail a lot of partnerships not only with the Philippine government but also with good farmers to promote cooperatives and corporations.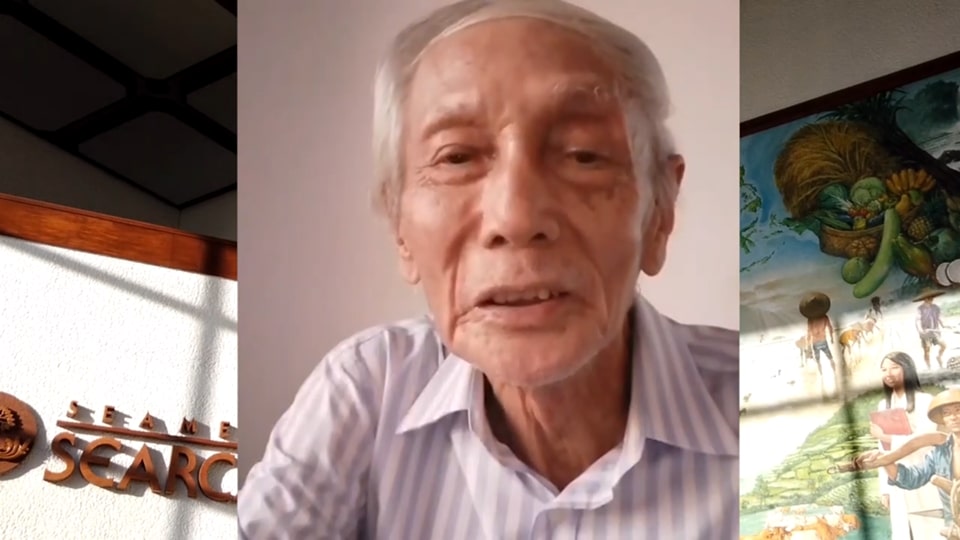 Dr. Arturo A. Gomez, former SEARCA Director (1988-1993).
In his legacy message, Dr. Arturo A. Gomez, former SEARCA Director (1988-1993), reminded SEARCA officials and staff that anniversary celebrations are a good time to talk about the past and present. He then shared two milestones under his helm that served as the strong foundation of SEARCA's human and financial resources, including creating an endowment fund from SEARCA's income in its semi-commercial activities. He ended his message with best wishes and good luck to all the current SEARCA staff and officials.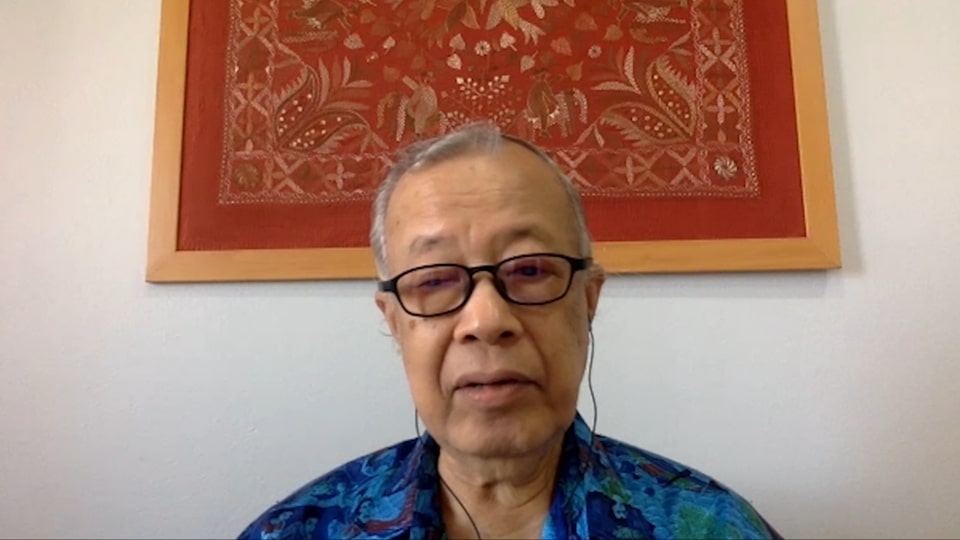 Dr. Percy E. Sajise, former SEARCA Director (1994-1999).
Dr. Percy E. Sajise, former SEARCA Director (1994-1999), emphasized that SEARCA through its human resource development program for the last five decades has seeded the region with men and women that has become sources of innovations and pillars of sustainable ARD. He concluded, "For this and for other notable achievements, we feel proud to be part of SEARCA's history. Again, congratulations and keep up the good work!."
Dr. Ruben L. Villareal, former SEARCA Director (2000-2002).
Dr. Ruben L. Villareal, former SEARCA Director (2000-2002), greeted and prayed for SEARCA's continued impactful existence for many more years to come. In his message, he recognized SEARCA for the many highlights of his professional life. "The first was in the mid-1960s, when I was appointed to be a member of the UP College of Agriculture (UPCA) Dean's technical staff that drafted the proposal to establish SEARCA. Then, when SEARCA started its interim operations in 1967, I was part of the team that conducted national and regional seminars across Southeast Asia. Later, SEARCA tapped me to conduct its agricultural manpower survey of Indonesia. And last but not the least was when I served as SEARCA Director from 2000 to 2002," said Dr. Villareal.
He concluded, "Given these close-to-heart involvements with SEARCA, right from when it was just still a seed of an idea, it brings me joy and pride to see SEARCA now, strong at 55 years old – resilient and adapting its programs, strategies, and activities in the face of this global COVID-19 pandemic."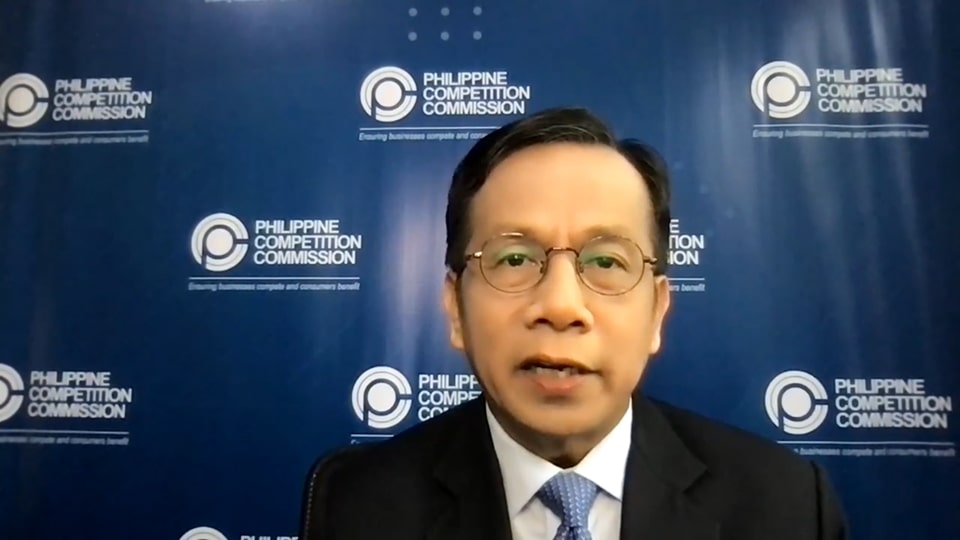 Philippine Competition Commission (PCC) Chairperson and former SEARCA Director (2003-2009) Dr. Arsenio M. Balisacan.
Philippine Competition Commission (PCC) Chairperson and former SEARCA Director (2003-2009) Dr. Arsenio M. Balisacan marveled at how SEARCA evolves as it emerges from the COVID-19 pandemic. "This institution remains at the forefront of strengthening Southeast Asia's economic recovery, the region's food systems, and agricultural value chains. Never in recent history has food security, supported by robust agricultural and food sectors, becomes more significant to the very survival of our societies," said Dr. Balisacan. He then expressed his confidence that SEARCA will rise to the challenge and remain committed to its mission and purpose of helping shape agricultural science and policy.
Dr. Gil C. Saguiguit, Jr., former SEARCA Director (2009-2018).
Lastly, Dr. Gil C. Saguiguit, Jr., former SEARCA Director (2009-2018), conveyed his warmest congratulations to the officers and staff of SEARCA as it celebrated its 55th founding day. Dr. Saguiguit shared that it was during his time when SEARCA commemorated its golden anniversary. "To highlight this milestone, we produced a coffee table book featuring the Center's journey to become the region's leading Center for agricultural and rural development. I was fortunate to have been witness to a greater part of this fantastic journey, having served the Center in various capacities for many years. SEARCA has truly come a long way since its inception and establishment more than half a century ago – from a seed of an idea to a leading center of excellence in agricultural development in Southeast Asia," said Dr. Saguiguit. He also added his late father, Dr. Gil F. Saguiguit, Sr., first SEARCA Deputy Director, was among the men and women responsible for the establishment of SEARCA 55 years ago.
Dr. Saguiguit concluded, "The Center has weathered many storms, ups and downs, but it remains standing - a testament to its resilience, relevance, and credibility. I hope it will continue to ride the winds of change in the service of agricultural development and the upliftment of the lives of resources poor farmers. My best wishes to SEARCA for continued success and outstanding work in the years to come."
SEARCA Service Achievement Award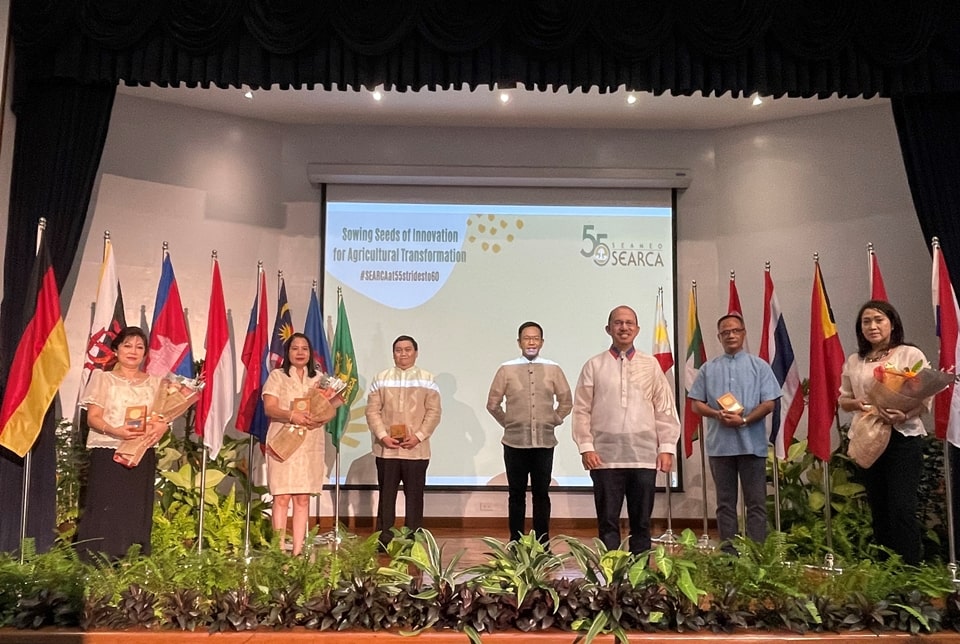 The SEARCA Service Achievement Awardees pose for a photo opportunity after receiving their Plaque of Appreciation from Dr. Gregorio (third from right). Also in the photo is Mr. Florendo (fourth from right).
The culminating program also acknowledged the contribution of staff who demonstrated remarkable job performance, and whose work has significantly contributed to the strategic goals of the Center.
The SEARCA Service Achievement Award is a recognition of the quality of work and dedication of staff whose accomplishments have supported the mission and goals of the Center and whose actions exemplify SEARCA's core values and the SEARCA class. Each awardee received a Plaque of Appreciation and cash gift.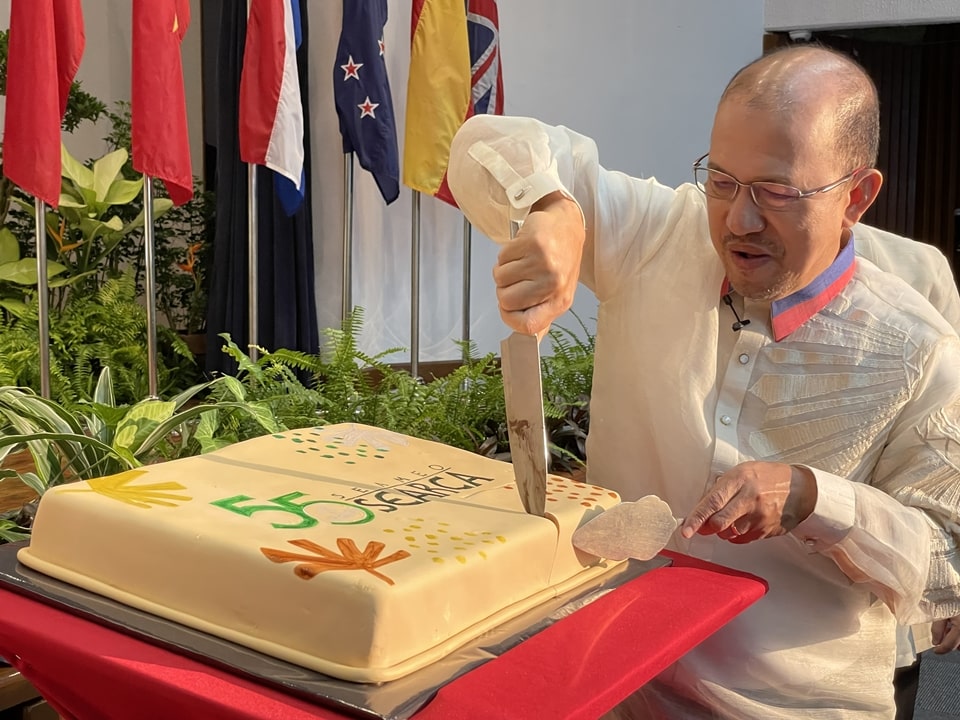 Dr. Gregorio cuts a cake bearing the 55th Anniversary logo.
The recipients of the SEARCA Service Achievement Award are Ms. Elma M. Banzuela, Purchasing Assistant; and Mr. Gaspar L. de Chavez, Grounds and Building Support Staff, both of the General Services Unit (GSU); Mr. Jaymark Warren T. Dia, Unit Head, Management Information Systems Unit (MISU); Ms. Maria Teresa Lourdes B. Ferino, Senior Events and Visitors Associate, Partnerships Unit (PU); and Dr. Nova A. Ramos, Unit Head, Training for Development Unit (T4DU). In closing the virtual program, Dr. Gregorio invited the awardees to join him in the cake-cutting ceremony and a photo opportunity.
Staff Engagements and Activities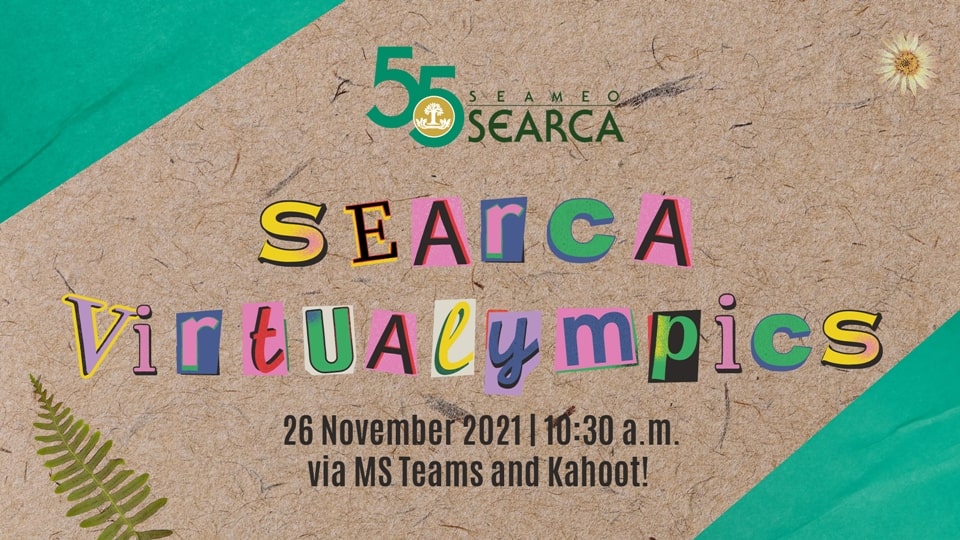 A SEARCA Anniversary Virtualympics was held online so that SEARCA staff both working on site and from home can participate in the anniversary celebration. A SEARCA trivia quiz and a raffle draw to all participating SEARCA staff were part of the activity.
SEARCA staff poses for a virtual smile after the SEARCA Anniversary Virtualympics.
The event was organized by the SEARCA Health and Wellness Committee headed by Mr. Renante A. Dumaraos, Program Specialist, Risk Management & Quality Assurance Unit (RMQAU), to promote organizational health and wellness, as well as foster camaraderie among SEARCA staff.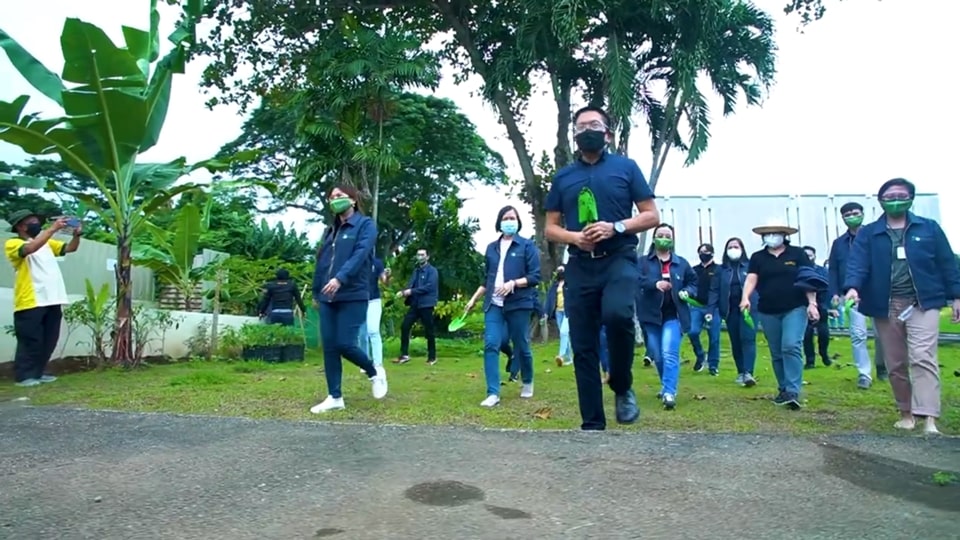 Representatives from Center units and departments led by Deputy Director Florendo (front) march to the SEARCA backyard for a vegetable planting activity.
Staying true to sowing seeds of innovation, the 55th Anniversary was memorialized with ceremonial vegetable planting by different SEARCA representatives of units and departments at the SEARCA Backyard. Leading the march towards the SEARCA backyard was Deputy Director Florendo.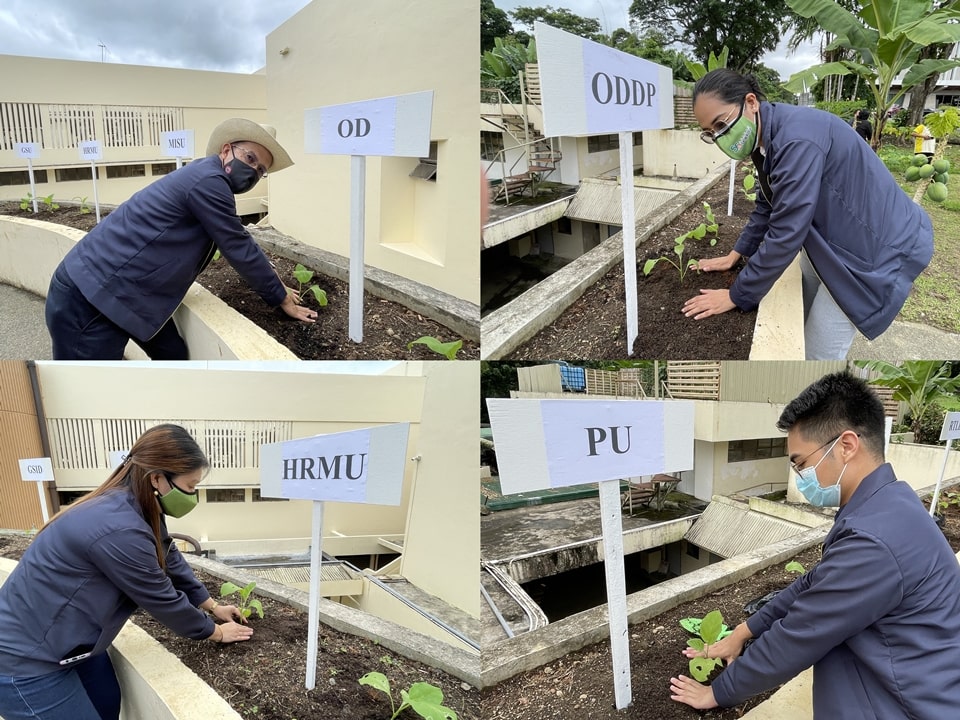 Dr. Gregorio (top left) together with the SEARCA representatives who joined the vegetable planting activity.
SEARCA planted 40 seedlings of eggplants and chili peppers within the SEARCA backyard near the UPLB Main Library. The vegetable planting was led by Dr. Gregorio.
Since the onset of the pandemic, the Center has been extending assistance to its neighboring communities, scholars and staff. Capping of the celebration, a community pantry was held at the SEARCA quadrangle to provide in-kind support to SEARCA agency personnel who are subject to "no work, no pay" policy and to encourage consumption of healthful food choices while supporting local farmers.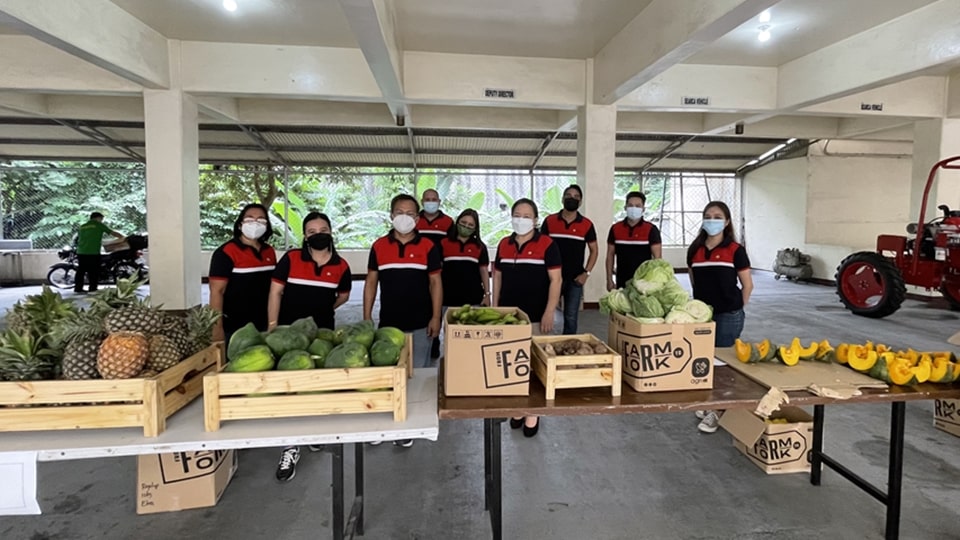 SEARCA Anniversary Community Pantry organizers led by Ms. Adoracion T. Robles (fourth from right), Unit Head, Budget Unit (BU); and Mr. Fernando B. Artates (third from left), Unit Head, Accounting Unit (AcU).
The SEARCA Anniversary Community Pantry was jointly organized by SEARCA Budget Unit (BU) and the Accounting Unit (AcU).