The Southeast Asian Regional Center for Graduate Study and Research in Agriculture (SEARCA) and the Can Tho University (CTU) institutionalized their mutual understanding to cooperate in a number of areas of common interest such as training, education, and research in a virtual signing ceremony held via Zoom on 12 August 2021.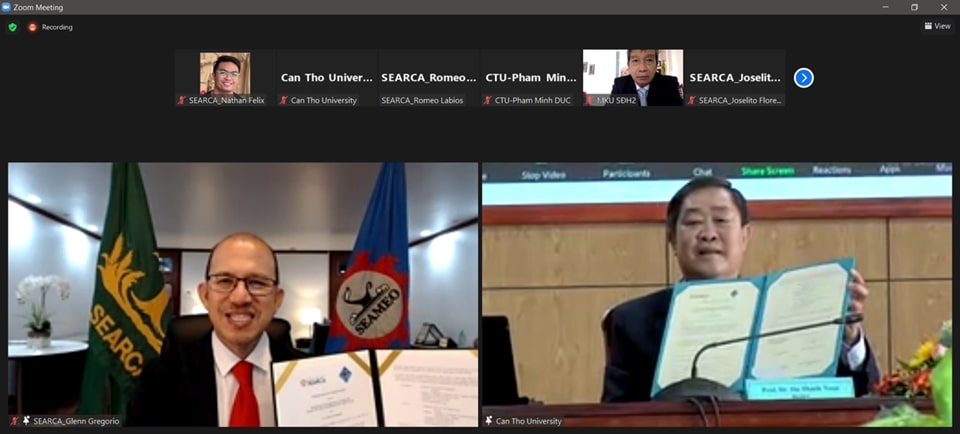 SEARCA Director Dr. Glenn B. Gregorio (left) and CTU Rector Prof. Dr. Ha Thanh Toan each holds a copy of the MOU between SEARCA and CTU that they signed in a virtual ceremony on 12 August 2021.
The agreement was signed by Dr. Glenn B. Gregorio, SEARCA Director, and Prof. Dr. Ha Thanh Toan, CTU Rector, with Mr. Joselito G. Florendo, SEARCA Deputy Director for Administration, and Prof. Dr. Tran Ngoc Hai, CTU Vice Rector, as witnesses.
Can Tho University is one of the leading agricultural research universities located in Can Tho, Vietnam. Established in 1966, it serves as a hub for research and policy formation on the Mekong River Delta pioneering the development of climate change adaption plans to ensure the region's long-term sustainability.
In his message, Dr. Gregorio underlined that the universities such as CTU has an essential role to play in SEARCA's 11th Five-Year Plan of Accelerating Transformation Through Agricultural Innovation (ATTAIN).
"The recent COVID-19 pandemic changed the climate and value chain of food systems of agriculture. There is a need to demonstrate the abilities of our universities to take on social responsibilities in shaping and initiating reforms not only for their students and educators, but also for their educative systems and the way we learn and relearn things," said Dr. Gregorio.
Prof. Dr. Toan also agreed to what the SEARCA Director said and expressed his sincerest gratitude to SEARCA for its dedication and support.
The Rector concluded, "Thank you very much to SEARCA. I am glad to inform you that we will announce the MOU to our staff and students in order for them to encourage these kinds of international collaborations. I hope that friendship and CTU and SEARCA shall became even stronger and shine brighter than ever."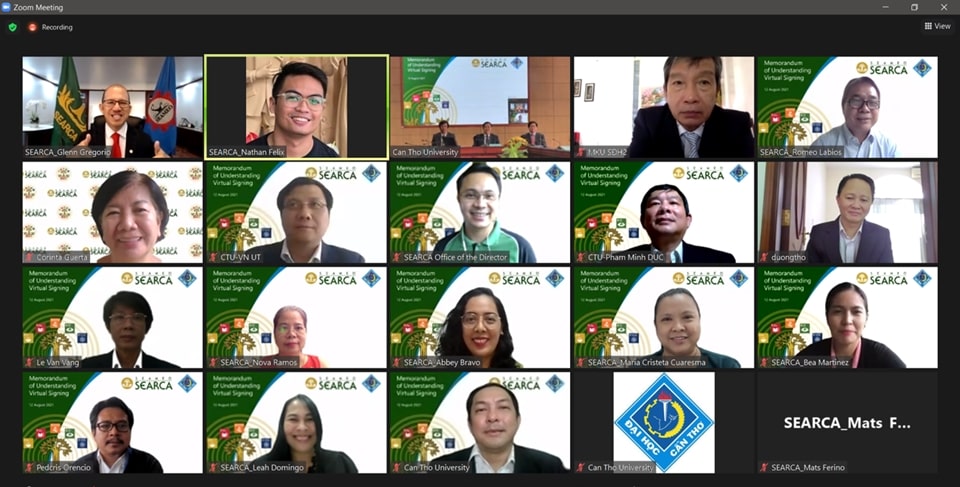 SEARCA officials and staff together with the CTU delegation, pose for a photo to commence the collaboration between the two institutions.