The Southeast Asian Regional Center for Graduate Study and Research in Agriculture (SEARCA) and the Science Communicators Philippines, Inc. (SciCommPH) came together in a virtual event held via Zoom on 4 September 2023 to formalize their partnership to enhance public understanding of science and technology (S&T) through a Memorandum of Understanding (MOU).
The signatories to the five-year MOU are SEARCA Director Dr. Glenn Gregorio and SciCommPH Chairman Angelo Palmones, who is a DZRH producer and former Agham Party-list representative.

Dr. Glenn Gregorio, SEARCA director, and Mr. Angelo Palmones, SciCommPH chairman, proudly display the signed MOU solidifying their partnership.
Launched on 10 March 2023, SciCommPH is a duly registered nonstock, nonprofit organization composed of scientists, science journalists and broadcasters, and science communicators.
At the ceremonial signing event, Dr. Gregorio kicked off proceedings by underlining the inherent power of knowledge and invoking a famous adage, "with great power comes great responsibility" to emphasize the important duty of sharing knowledge responsibly.
Dr. Gregorio highlighted the role of both SEARCA and the media in collaboratively translating intricate research findings into easily digestible forms, allowing for an effective transmission of evidence-based knowledge to a wider audience. This concerted effort, he noted, would significantly enhance understanding among the general public.
This was affirmed by Chairman Palmones who stressed that SciCommPH will collaborate with SEARCA "to help promote S&T, particularly those that will immensely contribute to the development and adoption of innovative products and processes in agriculture that are not only viable, but also sustainable."
Under the MOU, SEARCA and SciCommPH will undertake programs, projects, and other related activities to promote S&T as a game-changer in social and economic development by highlighting their relevance and practical use in the lives of Filipinos.
"SciCommPH is committed to capacitate both journalists and scientists to enable them to communicate the value of research and development as well as their products to the public and ultimately pave the way toward evidence-based mindset, decision making, technology adoption, and the development of science culture," Chairman Palmones said.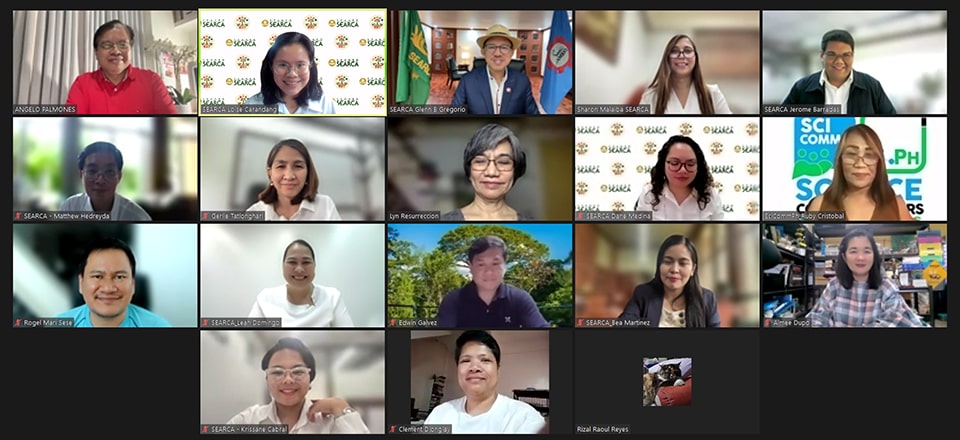 The virtual signing ceremony gathered scientists, journalists, and communicators from SciCommPH alongside SEARCA officers and staff.
The signing ceremony was attended by scientists as well as science journalists and communicators among the SciCommPH officers and members as well as SEARCA officers and staff.
To kickstart their collaboration in enlightening the press on research-based agricultural technology, SciCommPH graciously shared their media contacts, helping SEARCA invite numerous journalists to the Media Briefing on Biotechnology in the Philippines to be held at SEARCA on 8 September 2023.