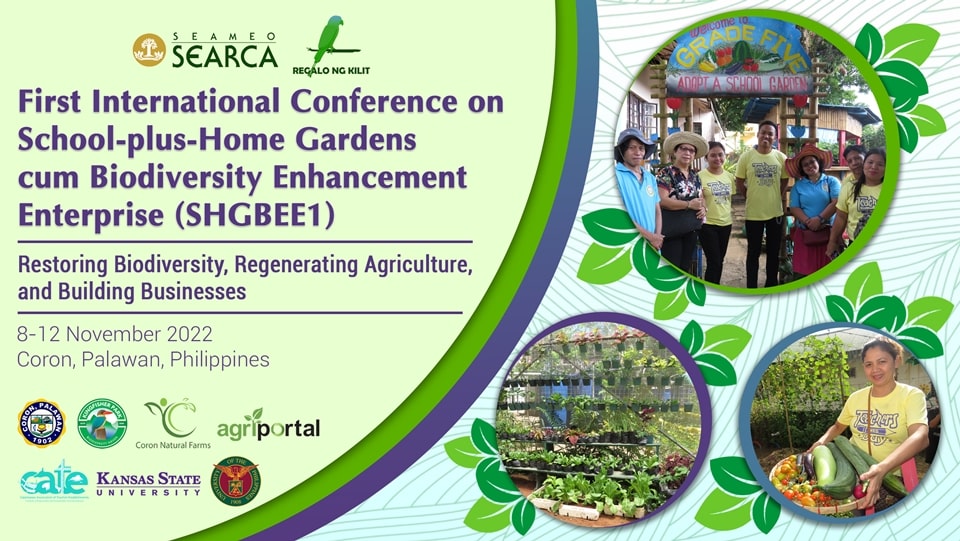 Sharing the commitment to achieving food and nutrition security, promoting sustainable agriculture, and restoring biodiversity or 'BioAgversity,' the Southeast Asian Regional Center for Graduate Study and Research in Agriculture (SEARCA) partnered with the Regalo ng Kilit Foundation, Inc. to convene the First International Conference on School plus Home Garden cum Biodiversity Enhancement Enterprise (SHGBEE1) with the theme "Restoring Biodiversity, Regenerating Agriculture, and Building Businesses" on 8-12 November 2022, to be held at Coron, Palawan, Philippines.
SHGBEE1 aims to provide a platform for sharing of experiences and best practices related to school and home gardens and its contributions to biodiversity enhancement and enterprise development in the Southeast Asian region. It intends to gather teachers and researchers from local schools, state universities and colleges (SUCs) and other higher education institutions (HEIs); policymakers from local government units and other government agencies; and partners from the business/private sector and from non-government organizations both from the Philippines and from neighboring countries in Southeast Asia.
The conference parallel sessions will focus on the following thematic areas: a) Paving the way for sustainable school and home gardens through Conservation Agriculture for Organic Agriculture (CA4OA); b) Promoting SHGBEE through experiential K-12 Lessons; c) Harmonizing S+HGP with Biodiversity Enhancement, Community Enterprise, and Sustainable Livelihoods; and d) Fostering an enabling environment for SHGBEE through sound policy and NGO and private sector engagements.
It will also feature mobile workshops, showcasing facilities and practices that aim to increase understanding and appreciation of the indispensability of biodiversity as well as the need to enhance and conserve it while sustainably producing food and supporting local tourism as alternative sources of income for household and the community.
More than 70 participants from Cambodia, Indonesia, Laos, Myanmar, the Philippines, Singapore, Thailand, Timor Leste, and the United States are expected to participate in the conference.