The project team of SEARCA's School-Plus-Home Gardens Project (S+HGP) paid a courtesy visit to Dir. Nenneth Alama, director of the Department of Education's (DepEd) Bureau of Learner Support Services at DepEd Central Office on 28 February 2023. During the meeting, Ms. Anna Gale Vallez, program specialist of Research and Thought Leadership Department (RTLD), presented the current programs and activities of SEARCA's S+HGP in the Philippines.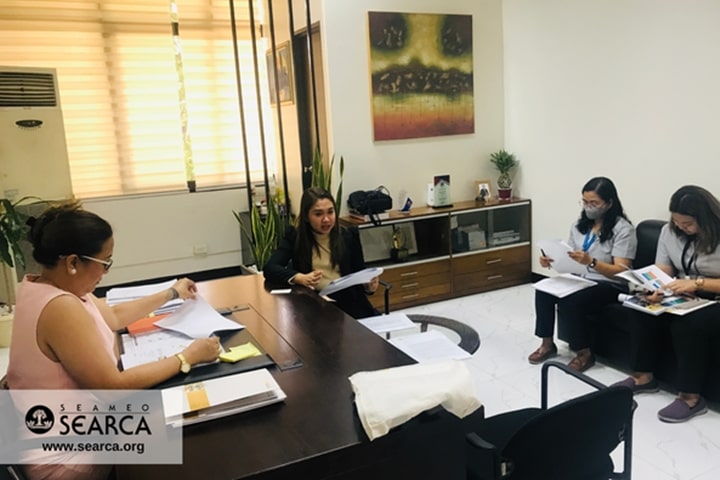 Dubbed as Participatory Action Research on School and Community-Based Food and Nutrition Program for Literacy, Poverty Reduction and Sustainable Development Project in 2016, the S+HGP was a participatory action research project of SEARCA, the University of the Philippines Los Baños (UPLB), and DepEd Division of Laguna. It was piloted in five elementary schools and one secondary school in Laguna with the concept of using school gardens as experiential laboratories to achieve a three-pronged objective of improving the nutrition, education, and economic well-being of school children.
The S+HGP model successfully adopted by more than a hundred schools, and continuously spread out and propelled among elementary and secondary schools in Laguna. Since then, SEARCA has been an active partner of DepEd by complementing its flagship program on school-based feeding (SBF) as well as its Gulayan sa Paaralan Program (GPP) through SEARCA's S+HGP on-the-ground activities.
Building on the gains of this project, SEARCA conducted two online capacity-building training courses for elementary and high school teachers from Busuanga Island, Palawan, Philippines in 2020, and for high school teachers in Cambodia in 2021, respectively. The e-training courses were designed to educate and facilitate knowledge sharing on the establishment of school and home gardens, integrate the key concepts of agriculture and food in lesson plans or academic curricula, and promote strategies that will inspire and motivate the youth to pursue agriculture-related courses.
Now, SEARCA is carrying out the S+HGP scale-up activities for Palawan, Philippines, and Phnom Penh, Cambodia, and under the School Edible Landscaping for Entrepreneurship (SEL4E) Project for Rizal Province in Philippines.
Moreover, Ms. Rochella Lapitan, RTLD senior program associate, reiterated the series of learning events and training programs lined up for the coming months. Among these are the benchmarking of key stakeholders from Busuanga Island, Palawan to selected S+HGP pilot and partner schools and municipalities in Laguna, Philippines; the technical training programs on edible landscaping and sustainable food production; and the regional policy forum on sustainable and inclusive school-based feeding and nutrition programs in Southeast Asia.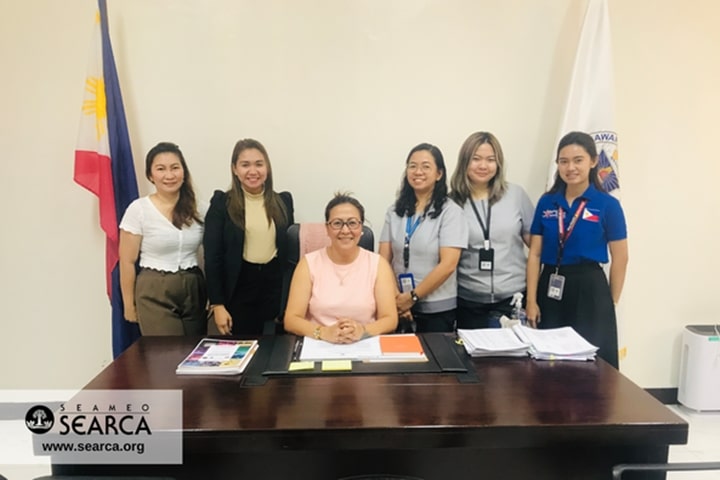 In photo (L-R): Ms. Rochella Lapitan, senior program associate of Research and Thought Leadership Department (RTLD) at SEARCA; Ms. Anna Gale Vallez, RTLD program specialist; Dir. Nenneth Alama, director of DepEd Bureau of Learner Support Services (BLSS); Ms. Belinda Beltran, nutritionist and dietician III; Ms. Christine Isabel Buenvenida, health education officer; and Ms. Jodi Bermundo, technical assistant, all of DepEd BLSS.
On the other hand, Dir. Alama expressed her gratitude to SEARCA and recognized its alignment of S+HGP initiatives in support of DepEd's programs. She emphasized the need to renew the bilateral partnership between DepEd and SEARCA through a formal agreement. This will articulate its joint undertakings and mandates on strengthening the implementation of GPP to address malnutrition and promote vegetable production and consumption among school children.