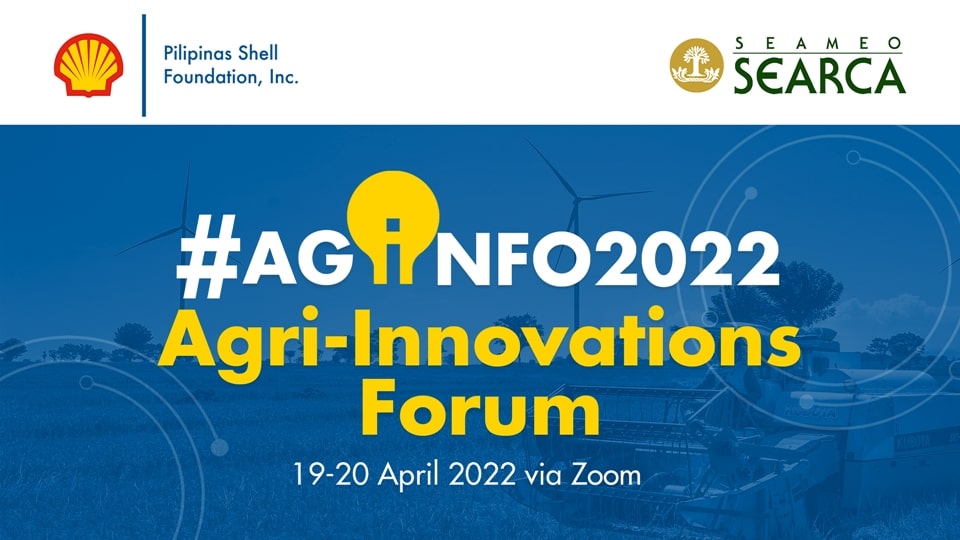 The Pilipinas Shell Foundation, Inc. (PSFI) in partnership with the Southeast Asian Regional Center for Graduate Study and Research in Agriculture (SEARCA) is set to host a forum to transform agri-food systems through agri-innovation.
To be held virtually on 19-20 April 2022, the forum will discuss inclusive and innovative financing models that can impact on the scalability of farming and agribusiness ventures, market accessibility through effective platforms, and digital technology integration in agricultural production.
Experts from different sectors will be leading the two-day forum proper to gather insights from the participants on the conditions that should be in place to ignite changes in the agri-food systems.
Through these thematic sessions, PSFI and SEARCA will determine actions and recommendations on identified challenges discussed in the various themes.
"The forum will serve as a portal for opportunities to support the current generation of farmers and the youth as key enablers in driving agri-innovation," said Mr. Sebastian C. Quiñones, Jr., PSFI Executive Director.
PSFI and SEARCA will bring together participants from local government units, farmer-entrepreneurs, farmer groups, academe, non-government organizations, and other farming organizations in the Philippines.
Echoing the words of Mr. Quiñones, Dr. Glenn B. Gregorio, SEARCA Director, said "with the complexity of our challenges in agriculture and rural development, what we need are partnerships to accelerate transformation through agricultural innovation."
Last July 2020, SEARCA and PSFI inked a Memorandum of Understanding (MOU) to partner on areas of common interest such as education, training, and research.
PSFI is a non-government organization and the social arm of the Shell companies in the Philippines.
To register for the event, please kindly click the link below: