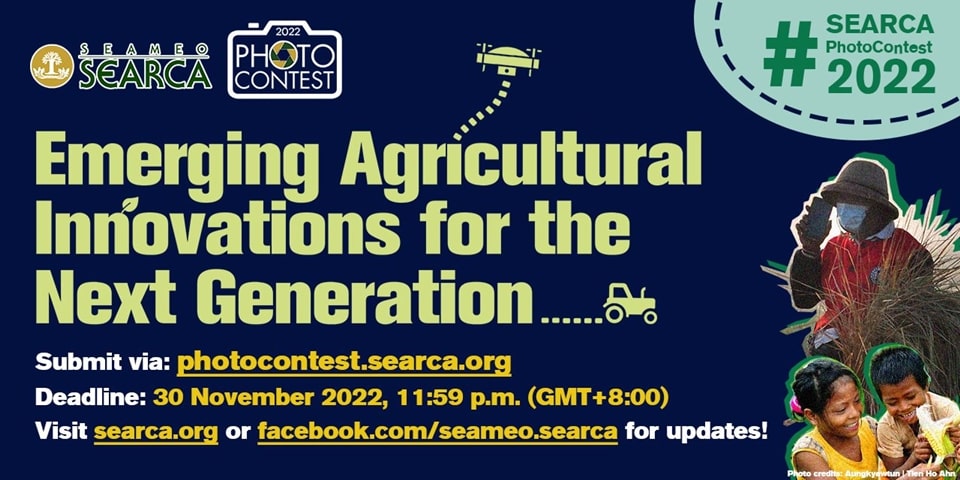 The persisting COVID-19 pandemic, the economic impact of the war in Ukraine, and the intensifying effects of climate change that threaten sustainable food systems around the world bring into sharp focus the need for emerging technologies and innovations that can transform agricultural production and ensure food security for the next generation.
For its 16th year, the annual photo contest launched by the Southeast Asian Regional Center for Graduate Study and Research in Agriculture (SEARCA) zooms in on "Emerging Agricultural Innovations for the Next Generation."
The competition is open to Filipinos and nationals of Brunei Darussalam, Cambodia, Indonesia, Lao PDR, Malaysia, Myanmar, Singapore, Thailand, Timor-Leste, and Vietnam.
SEARCA is in search of images that show technologies and innovation that are modernizing and transforming agriculture and rural development towards increased food supply and security.
Entries to the SEARCA Photo Contest 2022 can also be pictures that feature farmers and farming families, researchers, inventors, and students and the youth using technologies and innovations in the field as part of agricultural production and experimentation.
SEARCA also welcome images that show agricultural inventions or new, innovative ways of doing agriculture that increase productivity, yield or income for farmers and farming families in crop cultivation, livestock or fisheries settings.
Agricultural innovations or technologies depicted in the photo entries may also be those developed by local communities or the youth using indigenous materials or tribal knowledge. They may also be products and services that bring positive impact or change to farmers and farming communities.
Moreover, images that capture climate-smart or environment-friendly innovations and technologies that make agriculture more sustainable and resilient against typhoons, floods, pests, and diseases.
The photographs submitted to SEARCA should be original, should not have previously won in any past photo competition, has not been published elsewhere (print or electronic), and has not been digitally altered or enhanced.
As in past years, cash prizes of US$1,000, $800, and $500 await the winners of the first, second, and third prizes. Moreover, the SEARCA Director's Choice and Philippine Department of Education Secretary's Choice winners will each get $500, while the winner of the People's Choice Award via Facebook votation will receive with $400.
Two categories of winners were added in this year's edition of the SEARCA Photo Contest. The winners of the Best Agricultural Innovation or Technology and Best Youth Photographer will each get $300.
The contest is open to both professional and amateur photographers. Those who wish to join may submit an unlimited number of photo entries as long as they meet the photo contest specifications.
All entries must be submitted to SEARCA online via https://photocontest.searca.org until 30 November 2022.