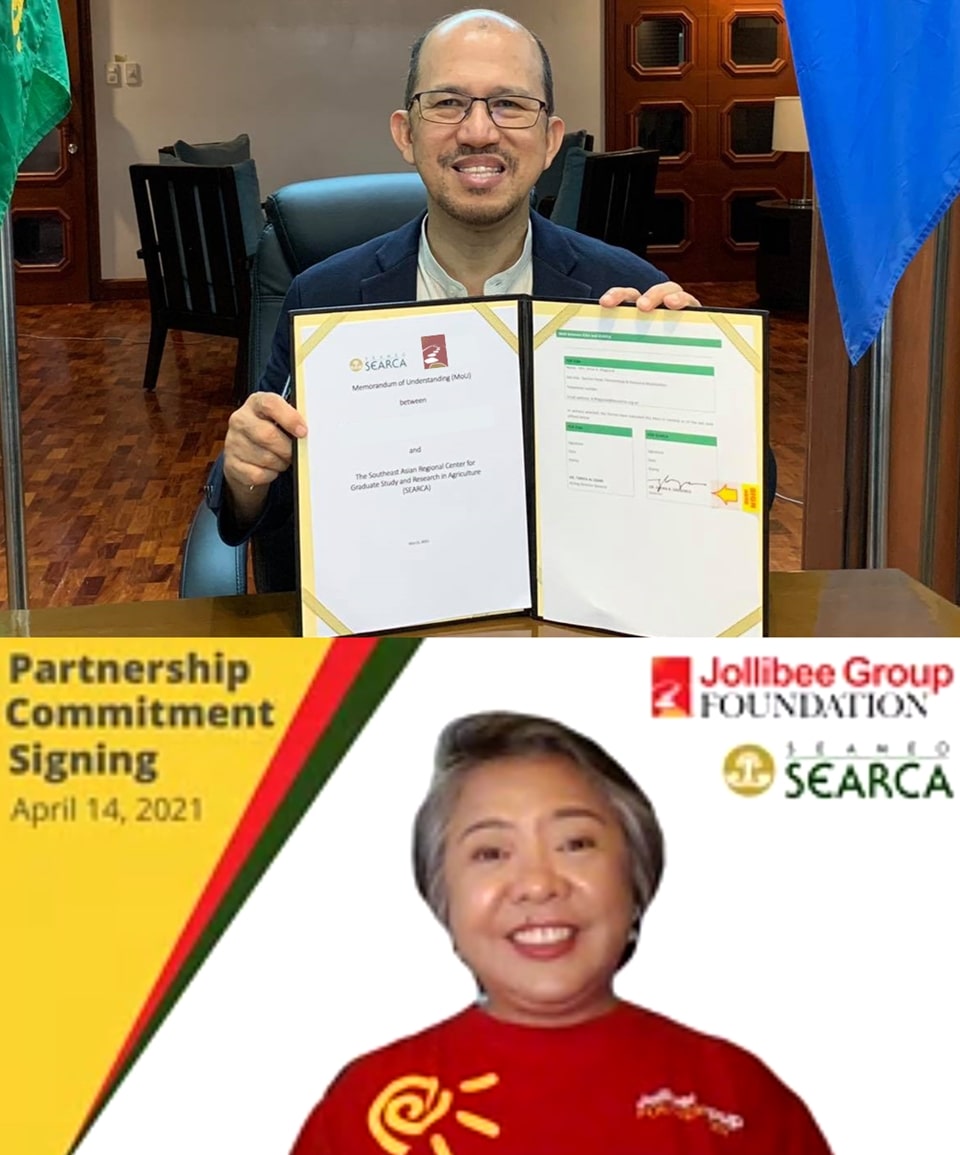 Dr. Glenn B. Gregorio (top), SEARCA Director, and Ms. Gisela Tiongson, JGF Executive Director, pose for a virtual photo opportunity.
Forging partnerships for community resilience and self-reliance has been the fulcrum of both the Southeast Asia Regional Center for Graduate Study and Research in Agriculture (SEARCA) and the Jollibee Group Foundation (JGF) in navigating the new normal.
With a shared ambition, the two institutions have formalized their institutional cooperation on 14 April 2021 in a virtual signing ceremony witnessed by key SEARCA and JGF officials and staff.
JGF is the social responsibility arm of Jollibee Foods Corporation (JFC), one of the fastest-growing Asian restaurant companies in the world. JGF implements programs on agriculture, education, and disaster response with partner communities nationwide.
Dr. Glenn B. Gregorio, SEARCA Director, and Ms. Gisela Tiongson, JGF Executive Director, signed the MOU between their institutions with Mr. Joselito G. Florendo, SEARCA Deputy Director for Administration, and Ms. Ma. Laize-ar Cruzat, JGF Senior Program Manager, as witnesses.
Onion, being the main crop supplied to JFC by its partner farmer groups, is the focus of SEARCA's collaboration with JGF to improve its production, which is along with the Agri-Business Models for Increased Productivity and Income priority area of SEARCA.
The signing ceremony started with Ms. Cruzat who gave a brief background on JGF's FEP or the Farmer Entrepreneurship Program. The Senior Program Manager furthered that this program was aimed "to bridge the gap between smallholder farmers and large-scale businesses, opportunities that were previously beyond their reach."
Dr. Rico C. Ancog, SEARCA Operations Consultant for Emerging Innovation and Growth, presented Project SAYA or Strengthening Agricultural Yield of Allium cepa L. (onion) that will support and increase onion production of JGF's sites.
He also presented the objectives of the project wherein SEARCA can support JGF along its FEP. He said that Project SAYA will be employing strategies that would address the inefficiencies in production which will increase output level while minimizing resources.
The partner universities of Project SAYA include the Central Luzon State University (CLSU) and Don Mariano Marcos Memorial State University (DMMMSU).
Dr. Gregorio emphasized that "SEARCA is here to join JGF in envisioning every Filipino family to have food on the table because SEARCA also advocates for food nutrition and security as part of our seven priority areas."
In response to the SEARCA Director, Ms. Tiongson applauded SEARCA for its expertise and experience in education, training, and research that will provide an important dimension in deepening the understanding of Filipino farmers to sharpen their skills and business mindset.