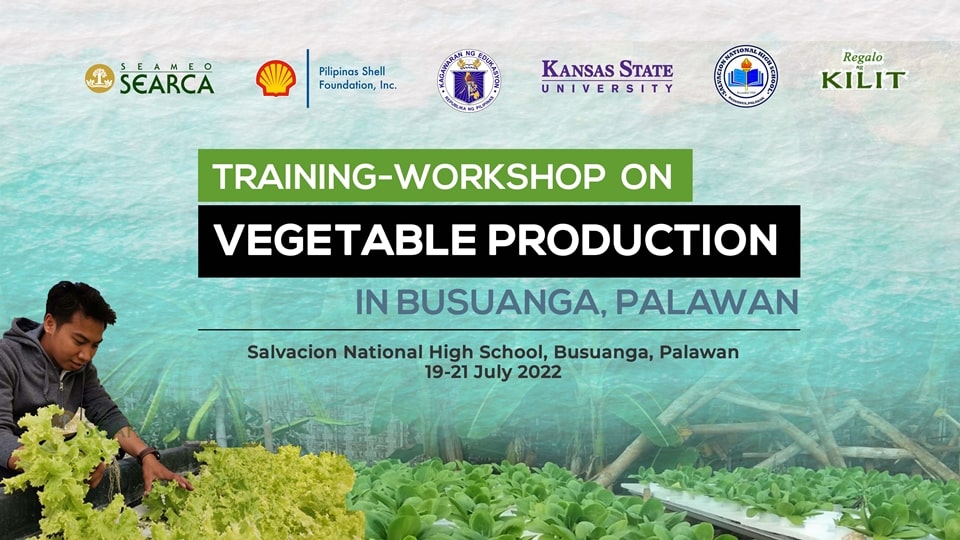 Busuanga, Palawan – The Southeast Asian Regional Center for Graduate Study and Research in Agriculture (SEARCA), through its School-plus-Home Gardens Project (S+HGP), will organize a three-day training-workshop on vegetable production at Salvacion National High School, Busuanga, Palawan from 19 to 21 July 2022. This is in line with the project's commitment to build the capacities of agricultural extension workers in local government units (LGUs) of and educators from Busuanga and Coron, Palawan in providing technical assistance on crop production and improving soil productivity in the school gardening activities of target schools.
At least 30 school heads, Gulayan sa Paaralan (GPP) and school gardens' coordinators, and agricultural extension workers from LGU Busuanga and Coron will be trained by experts from Pilipinas Shell Foundation, Inc. (PSFI). They will learn and experience hands-on training on soil sampling techniques and routine/chemical analysis, cultural management practices of some vegetable crops, identification and control management of some of the economically important pests and diseases of vegetable crops in their localities, and crop suitability using climate maps and agro-climatic requirements of vegetable crops.
This training-workshop initiative may serve as an experiential learning for participants in enhancing crop production and vegetable gardening activities not only in schools but also in their homes and local communities, which may contribute to addressing issues on food and nutrition security, rural poverty, and unemployment.
It will feature lectures and hands-on activities on basic practices required for vegetable crop growing which include soil sampling and analysis; land preparation; seedling establishment; crop cultural management practices; production of organic fertilizers, pesticides, and soil amendments; commodity planning and crop suitability analysis; and farm planning and budgeting.
The training-workshop is a joint undertaking among SEARCA, PSFI, Department of Education (DepEd) - Bureau of Learner Support Service, DepEd Division of Palawan, Kansas State University (KSU), Salvacion National High School, and Regalo ng Kilit Foundation.