Quezon City, Philippines –The Department of Agrarian Reform (DAR) and the Centre on Integrated Rural Development in Asia and the Pacific (CIRDAP) invited SEARCA to present the Piloting and Up-scaling Effective Models of Inclusive and Sustainable Agricultural and Rural Development (ISARD) project in a forum on inclusive innovations for development impacts. This is a collaborative activity aimed at raising awareness on inclusive innovations adopted by governments, private sector, and other stakeholders towards promoting sustainable rural livelihoods, advancing working strategy to scale-up these innovations for better outreach and achieving desired impacts, and fostering stronger linkages and partnership to further rural development and sustainability in the region. The theme of the international fora was "Defining Opportunities and Pathways for Regional Collaborative Partnership on Integrated Rural Development."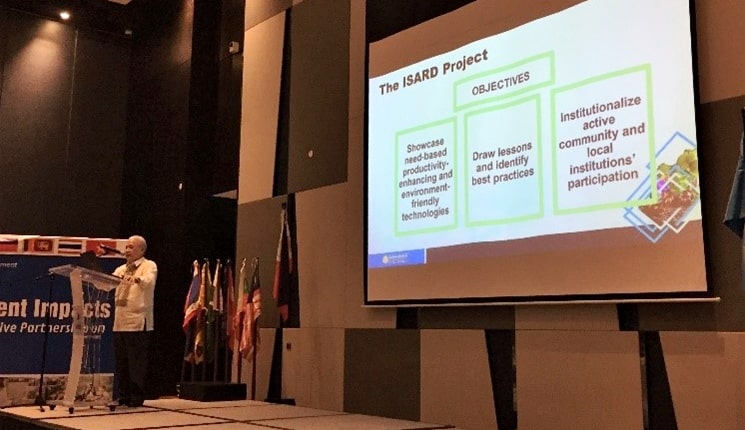 Dr. Jose R. Medina, Overall Program Coordinator, presenting the ISARD project
Dr. Jose R. Medina, ISARD Overall Program Coordinator, and Ms. Ruth Jazrel M. Bandong, Project Associate from the Research and Development Department (RDD), participated in the event. Dr. Medina, a resource speaker in the session on Agricultural Value Chains, Markets, and Entrepreneurship Innovation System: Strengthening Institution and Farmers Participation in Mainstream Economy, presented the gains, challenges and opportunities of the ISARD project, highlighting the strategic pathways for strengthening institutional capacities through the project implementation model. The key strategy of tripartite partnership employed in the project sites of Oriental, Mindoro and Inopacan, Leyte was emphasized. The partnership among academe, local government units (LGUs), and national and international agencies facilitated accomplishment of the outputs. The outputs were grouped under indicators such as self-reliance, enterprise development, gender inclusivity, value addition, physical capacity, and organizational viability. Dr. Medina concluded the presentation by showing the project's sustainability strategies in the pilot sites and its scale-up plans to other crops and geographies.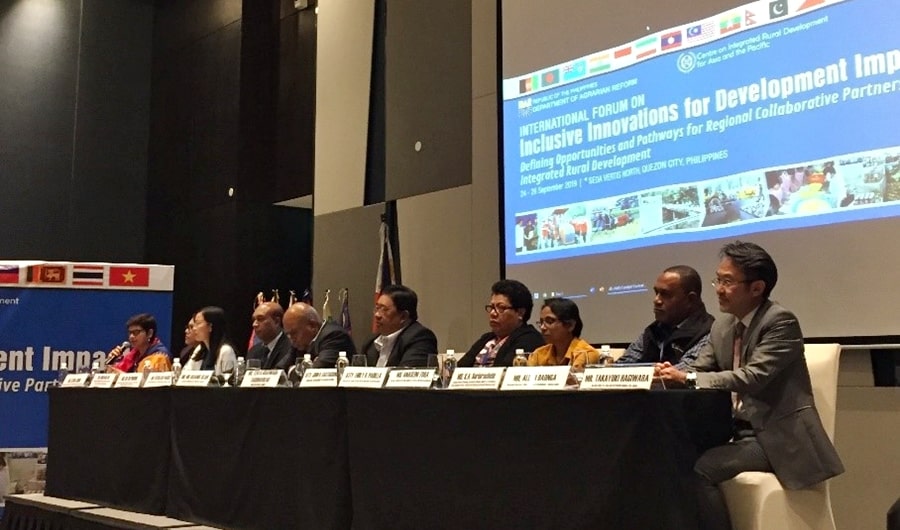 Country representatives giving answers to the open forum session
The activity, held in Seda Vertis North Hotel, Quezon City on 25 September 2019, was also attended by DAR Secretary John R. Castriciones and country representatives from India, Japan, and ASEAN member states. The open forum after the sessions revolved around the importance of building networks and sharing information towards agricultural and rural development, especially in the Philippines.