The Planning Meeting was followed by debriefing meetings with the Swiss Embassy in Jakarta, the ASEAN Secretariat, and the Indonesian Ministry of Environment and Forestry.
The ASFCC is a program funded by the Swiss Agency for Development and Cooperation (SDC) to support the ASEAN Working Group on Social Forestry (AWG-SF) in addressing three inter-related issues confronting the region – food insecurity, poverty, and climate change. The Southeast Asian Regional Center for Graduate Study and Research in Agriculture (SEARCA) is an implementing partner, together with the Center for Forestry Research (CIFOR), World Agroforestry Center (ICRAF), Non-timber Forest Products-Exchange Program (NTFP-EP), and The Center for People and Forests (RECOFTC). SEARCA implements the AWG-SF Strategic Response Fund (ASRF), a flexible funding mechanism that aims to enable AWG-SF Leaders and Focal Points to quickly respond to emerging issues and challenges and articulate policy recommendations and directions on social forestry.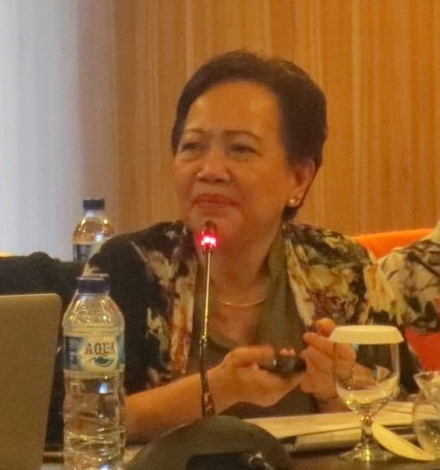 Ms. Amy Lecciones presenting the accomplishments of SEARCA-ASRF Program.Implementing partner institutions presented their respective project accomplishments based on the Log Frame of the ASFCC and the Plan of Action of AWG-SF (2016-2020). On behalf of SEARCA, Ms. Amy Lecciones, ASRF Regional Program Coordinator, shared the initial gains in the ASRF. These include the awarding of nine projects in eight ASEAN Member States (AMS) and the funding of three grantees to participate in conferences. The Center, through the ASRF, likewise supported the development of ASEAN-level initiatives on policy frameworks and guidelines for cross-sectoral collaboration in support of the ASEAN Multi-sectoral Framework on Climate Change (AFCC) and the ASEAN Food, Agriculture, and Forestry (FAF). SEARCA also initiated the development of a Business Plan to determine fund leverage schemes from traditional and non-traditional donors and AMS that could support projects that build on the outcomes of ASFCC initiatives and related needs of the AWG-SF.
The partners similarly presented their respective plans for 2019 and a common calendar was drawn. Among the major events in the coming year that the ASFCC will participate in are the 13th AWG-SF Annual Meeting, Asia-Pacific Forestry Week, ASFCC Meeting, and the ASRF Knowledge Sharing Workshop.
The meeting was opened by Dr. Juergen Blaser, SDC Global Program Climate Change Advisor, and chaired by Dr. Doris Capistrano, ASFCC Regional Advisor. Also present in the meeting were Dr. Dian Sukmajaya, Senior Officer of the Food, Agriculture and Forestry Division, Sectoral Development Directorate, ASEAN Secretariat; Mr. Sreeram Koottala, ASFCC Fiduciary Advisor; and other key representatives from AWG-SF Secretariat. (Xyrus Godfrey B. Capiña and Carmen Nyhria G. Rogel)