ASFCC is a partnership program with all 10 ASEAN member states to strengthen sustainable forest management and the principles of social forestry as it relates to climate change adaptation and mitigation. SEARCA joined the ASFCC in 2014 as the implementer of the flexible funding mechanism, ASEAN Social Forestry Network Strategic Response Fund (ASRF), one of the recommendations from the ASFCC Phase I External Review.

The implementing partners who were present in the planning meeting are the Center for International Forestry Research (CIFOR), Non-Timber Forest Products-Exchange Programme (NTFP-EP), Center for People and Forests (RECOFTC), and World Agroforestry Center (ICRAF). Also present were Dr. Jurgen Blaser, the Swiss Development Cooperation Global Program Climate Change Advisor and ASFCC Program Advisor; Dr. Doris Capistrano, ASFCC Senior Advisor; and Mr. Sreeram Koottala, the ASFCC Fiduciary Advisor.
The ASFCC is now geared toward enhancing its relevance in research and knowledge generation and strengthening its knowledge sharing and communication activities. The ASFCC team, with its expertise and wealth of knowledge on social forestry and climate change, is also determined to contribute to the vision of the ASEAN Cooperation in Food, Agriculture, and Forestry (FAF) for 2016–2025. Each partner discussed its accomplishments in 2015 and planned activities in 2016 and identified opportunities for synergy. Officers (Mr. Wiratno, Chairperson of ASFN Secretariat and Director of Social Forestry Land Preparation under the Directorate General of Social Forestry and Environment Partnership and Mr. Dian Sukmajaya, Senior Officer of the Agriculture Industries and Natural Resources Division of the ASEAN Secretariat) from the ASEAN Secretariat and Ministry of Environment and Forestry of Indonesia were invited to provide guidance in the preparation for Phase III and in planning for sustainability mechanisms.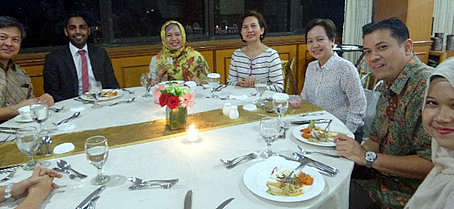 Some of the major events in 2016 that the ASFCC partners will participate in are the Asia Pacific Forestry Week back-to-back with meetings and consultations with the ASEAN Social Forestry Network (ASFN) National Focal Points in February 2016, the ASFN 10th Annual Meeting in May 2016, ASFCC Phase II Evaluation in the 2nd Quarter, and ASFCC Phase III Planning Meeting in July 2016. (Mary Ann A. Batas)