Pasig City, Philippines – The Southeast Asian Regional Center for Graduate Study and Research in Agriculture (SEARCA) and the Regional Development Group of National Economic and Development Authority (NEDA) jointly organized a Local Stakeholders' Meeting-Workshop for NEDA Regional Directors and Assistant Directors at the NEDA Executive Lounge, Pasig City on 20 September 2019. This meeting-workshop is part of a study being implemented by SEARCA under the International Fund for Agricultural Development (IFAD)-funded Project "Rural Regional Transformation: Pathways, Policy Sequencing and Development Outcomes in China, the Philippines, and Vietnam (RRT)".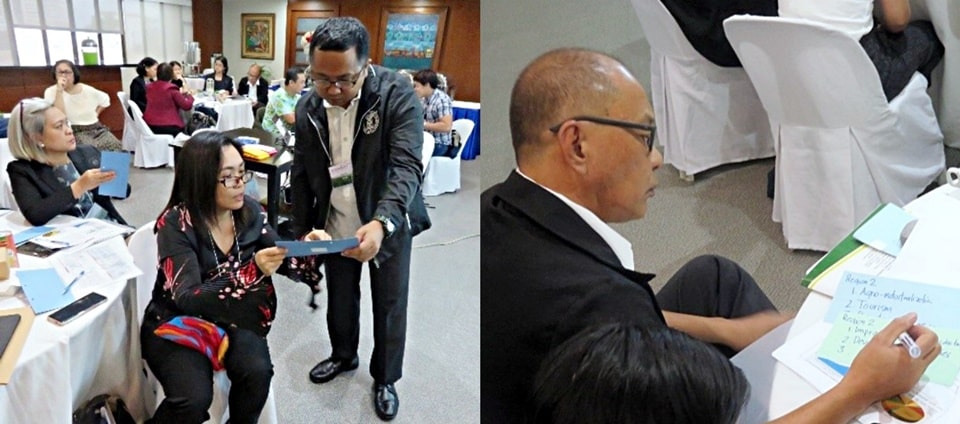 (Left picture) NEDA Region-X Regional Director Mylah Faye Carino discusses her answers with RRT Project Leader Dr. Arvin B. Vista. (Right picture) NEDA Region II Regional Director Dionisio Ledres, Jr. writes down Region 2's priorities in the next five years.
The event is a supplemental validation of the study, allowing high-level officials to reflect on the status of rural transformation in their respective regions, identify key factors and local policies that influenced the state of transformation and identify additional development policies that could affect the achievement of higher rate of transformation.
The Project Team headed by Assistant Secretary Mercedita A. Sombilla, NEDA Regional Development Group, presented the objectives of the typology paper which describes the rural regional transformation in the Philippines and clusters similar regions based on their performance on selected rural transformation variables.
RRT Project Leader Dr. Arvin B. Vista of the Department of Agricultural and Applied Economics, University of the Philippines Los Banos (UPLB) highlighted the result of the study, which showed that most regions belong to the low rural transformation group. He solicited the officials' expert opinion on the status of the regional rural transformation and on the bottlenecks that slow down their transformation such as climate variability and the lack of investments on national road networks. Moreover, the participants discussed resources that can be capitalized on to achieve a higher rate of transformation. Meanwhile, ASec. Sombilla led the discussion on additional data needed to improve the clustering results of the study.
This validation meeting is part of the RRT Project that documents and compares the pathways of rural transformation in China, the Philippines, and Vietnam.