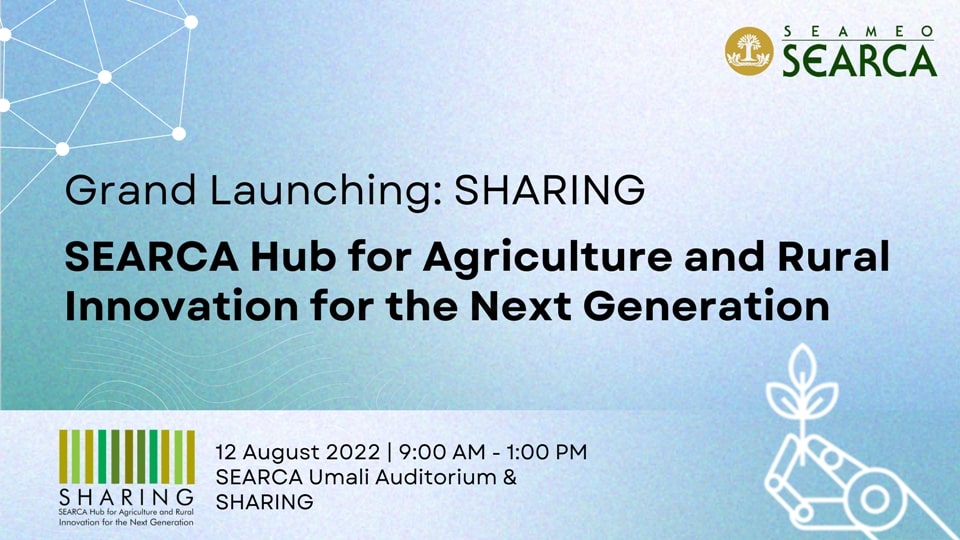 In celebration of the International Youth Day with the theme, "Intergenerational Solidarity: Creating a World for All Ages", the Southeast Asian Regional Center for Graduate Study and Research in Agriculture (SEARCA) unveiled the SEARCA Hub for Agriculture and Rural Innovation for the Next Generation (SHARING) on 12 August 2022 via blended mode.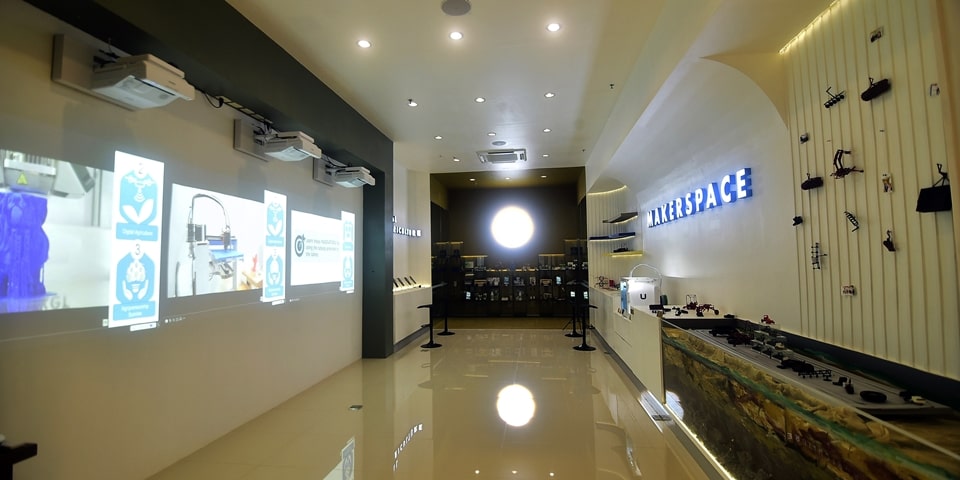 The learning facility is annexed to the SEARCA headquarters located on the campus of the University of the Philippines Los Baños (UPLB), the Center's host institution since its inception in 1966.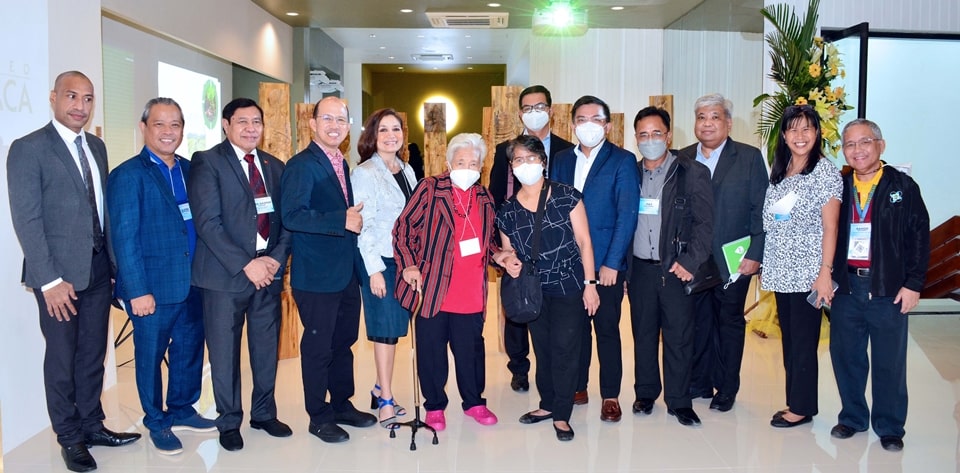 The grand launch was graced by His Excellency José Gaspar dos Reis Correia Piedade, Ambassador of Timor Leste to the Philippines, with his spouse, Madam Maria da Conceição Correia de Lemos; Dr. Leonor M. Briones, Former Philippine Education Secretary, and the Director of the Southeast Asian Ministers of Education Organization (SEAMEO) Regional Centre for Educational Innovation and Technology (INNOTECH); Dr. Max Guillermo, Tarlac Agricultural University (TAU) President; Dr. Nathaniel C. Bantayan, UPLB Vice Chancellor for Research and Extension; and Ms. Mylene Abiva, FELTA Multimedia, Inc. President. Also present during the launch were SEARCA scholars, officials, and staff, representatives from various local government units (LGUs), academic institutions, and partner agencies.
Sharing innovations for the next generation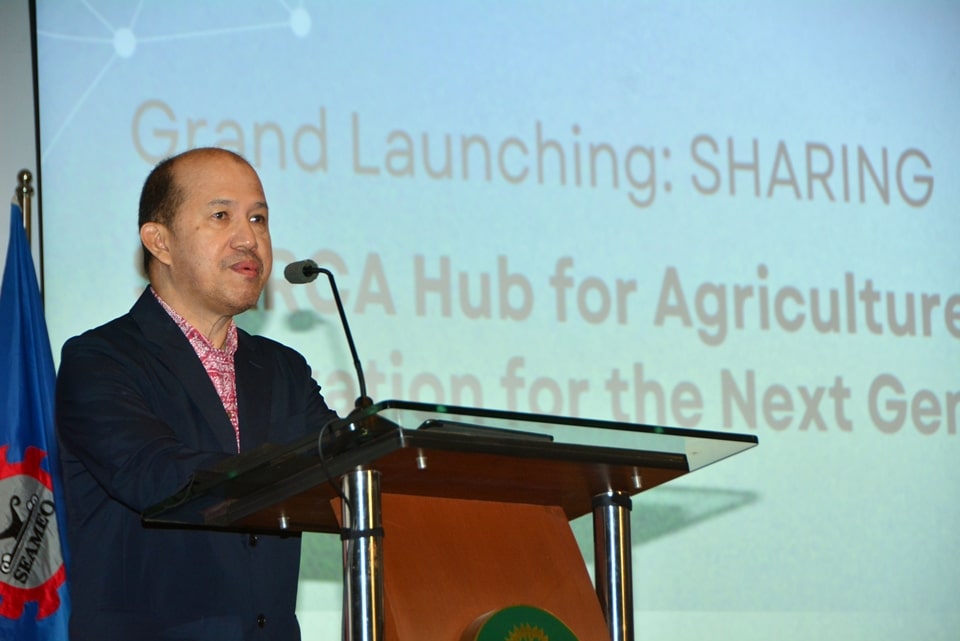 "SHARING is the latest interactive facility promoting agri-innovation in Southeast Asia and beyond. SHARING is our gift to the generations before us, and the generations to come," Dr. Glenn B. Gregorio, SEARCA Director, said in his opening message.

Dr. Gregorio noted the idea of engaging multiple generation rings closely with the aim of SHARING which is to keep young ones and once young attracted to the wonders and beauty of agricultural innovations, products, and solutions. He also emphasized that the facility showcases the fusion of art, science, and technology in celebrating the agri-food system in a more sustainable and nature-positive manner.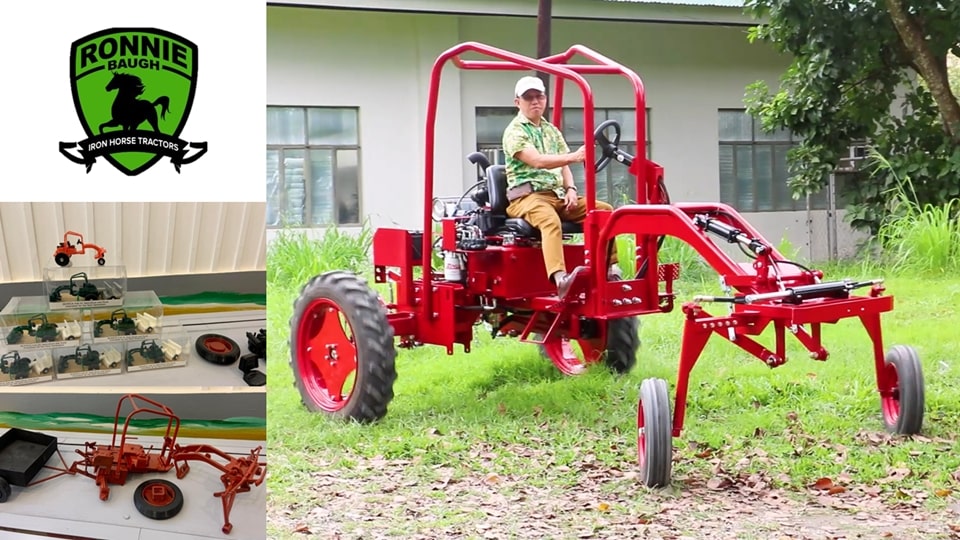 "Agriculture has long been associated with backbreaking and economic hardships. But arising in this new era is a generation of farmers who choose to harness the power of innovation and modern technologies and to give premium to agricultural entrepreneurship as a serious option and career choice. That is why under SEARCA's 11th Five-Year Plan with an overarching theme of Accelerating Transformation Through Agricultural Innovation (ATTAIN), we commit to introduce innovations and platforms that will benefit stakeholders in agriculture," Dr. Gregorio concluded.
"Through SHARING, you can share with us, your innovative stories, products, and technologies, through partnerships and mutual collaborations," Asst. Prof. Glenn N. Baticados, SEARCA Program Head, Emerging Innovation for Growth Department (EIGD), said in his brief presentation about the facility.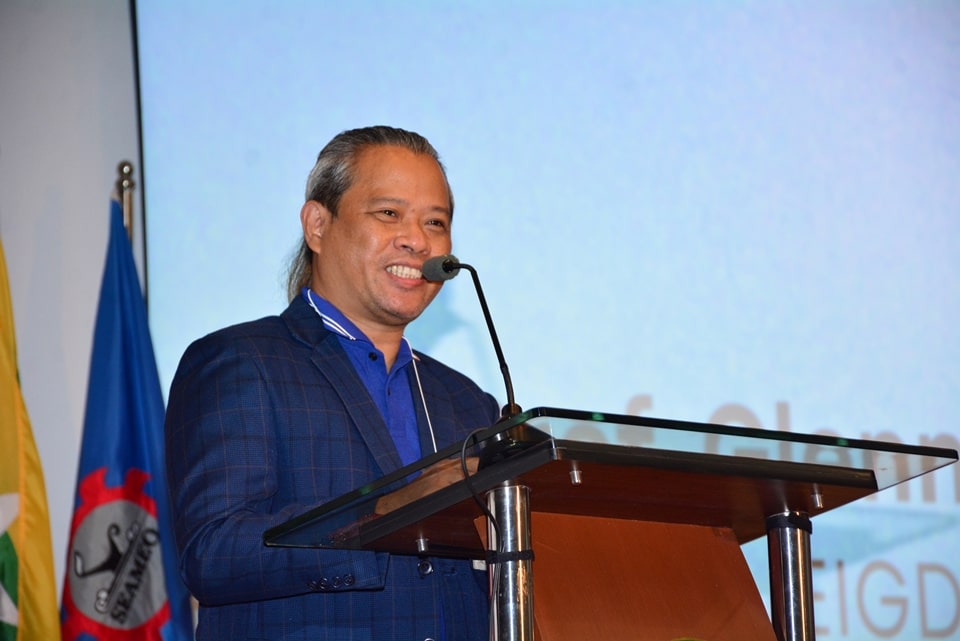 He said SHARING expanded to cultivate hands-on Agri-Education through the SHARING Café as an innovative "play-to-learn" venue for guests with fun learning modules for K-12 students in the beginner, intermediate, and advanced levels.
"SHARING even features and encourages visitors to interact and learn about the innovative technologies on bio-circular green economy and smart agriculture," Asst. Prof. Baticados said.
Youth Agri-Innovators Forum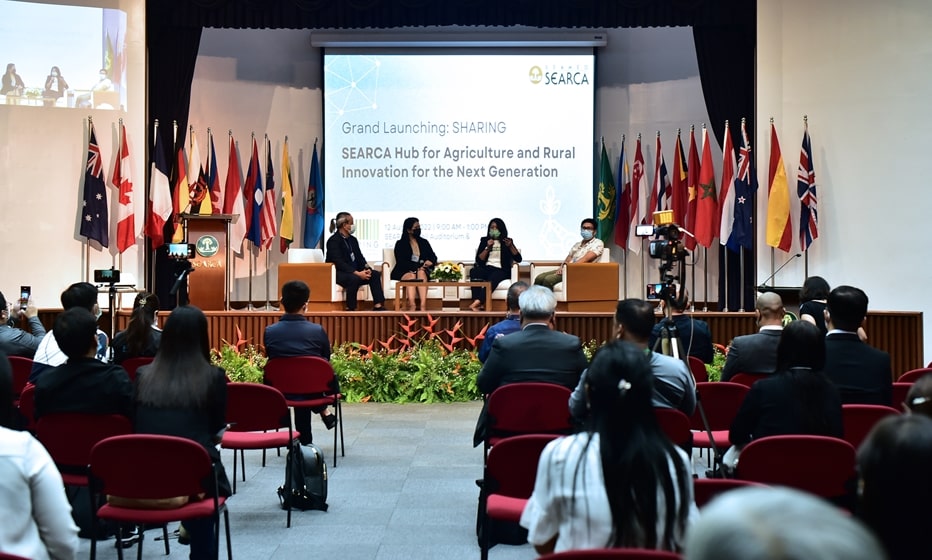 Three young grantees that SEARCA has supported through various agri-startups engage in a Youth Agri-Innovators Forum shortly after presentation of the SHARING facility. Moderated by Asst. Prof. Baticados, the forum highlighted lessons and challenges on the ground, both in the science and practice of agri-innovations from a young agripreneur's perspective.
Ms. Myka Fragata, CEO of the Automated Irrigation and Nutrient Management (AIRIN) system of the Nueva Vizcaya State University (NVSU), emphasized that the best way to encourage the youth to be enticed in agriculture is to integrate it in their curricula. "The reason why the Philippines ranked second among the countries in Southeast Asia with the lowest literacy rate is due to the lack of equipment and laboratories to conduct experiments on agriculture. Institutions should realize that these avenues are essential to sustain their interest in farming and other allied fields," said Ms. Fragata.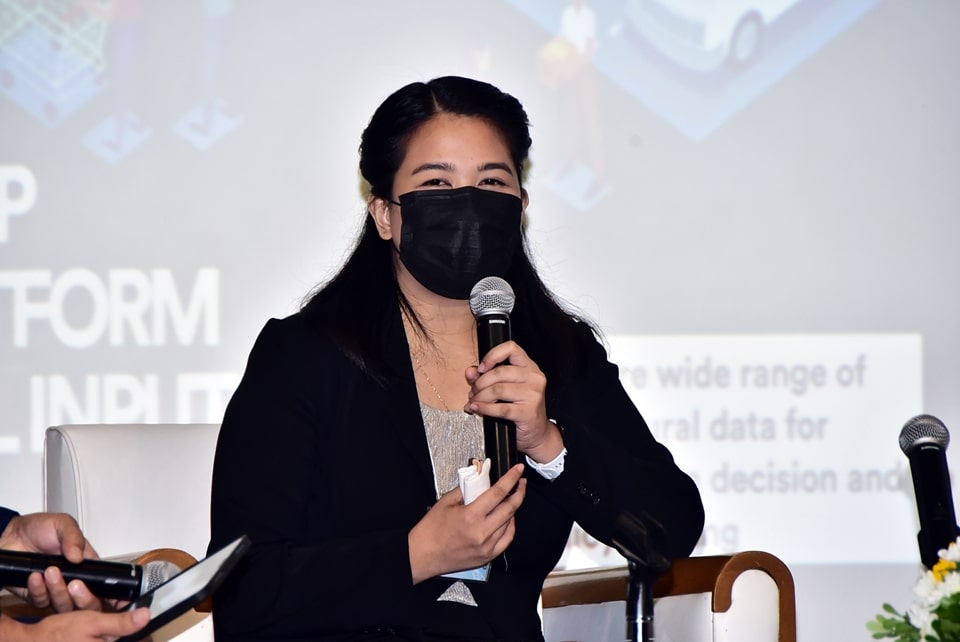 AIRIN together with the Project Angat of the University of Mindanao (UM) bagged the top prize in the Innovation Olympics 2.0 (IO 2.0), a nationwide agri-hackaton for young Filipinos to search for innovative solutions in precision agriculture for small-scale vegetable farming. Ms. Fragata's start-up is a synergistic system that helps farmers manage irrigation and insect infestation remotely.
SEARCA's support to the IO 2 is tied to its priority focus on EIGD to achieve outcomes or solutions that can be described as transformational innovation, which may be in the form of agripreneurship start-ups, technology adaptation, or prototypes such as those being developed in the competition.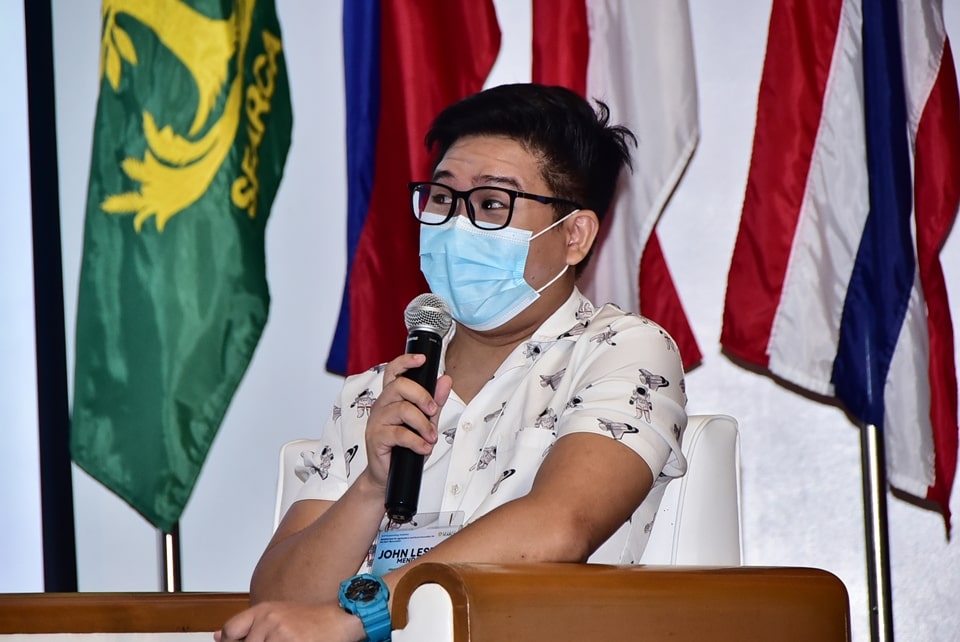 Farm Box CEO and President Lester Mendoza expressed that the problem among the youth stems from the image of farmers here in the Philippines. "In Farm Box, we want to change the narratives of these farmers. That is why, we include a polo shirt in our boxes because we want them to look decent, because farming is a noble job and we want them to look like one," said Mr. Mendoza.
Farm Box, a social enterprise that aims to help local farmers and growers by giving them a box that contains quality farming essentials, emerged victorious as the winner in the Agri-Boost Camp 2021 led by the Batangas State University (BSU). The camp is one of the components under Project SICAT: Support for Innovative and Commercially Viable Agricultural Technology funded by SEARCA.
"For GOEden, we are catering to a lot of stakeholders not just the farming youth, because we want to build a big digital agroecosystem," said Ms. Juca Lacsina, GOEden CEO.
She also shared three reasons why young people do agribusiness which are to answer a pain point among farming communities, to digitize, and to find an industry that is always essential.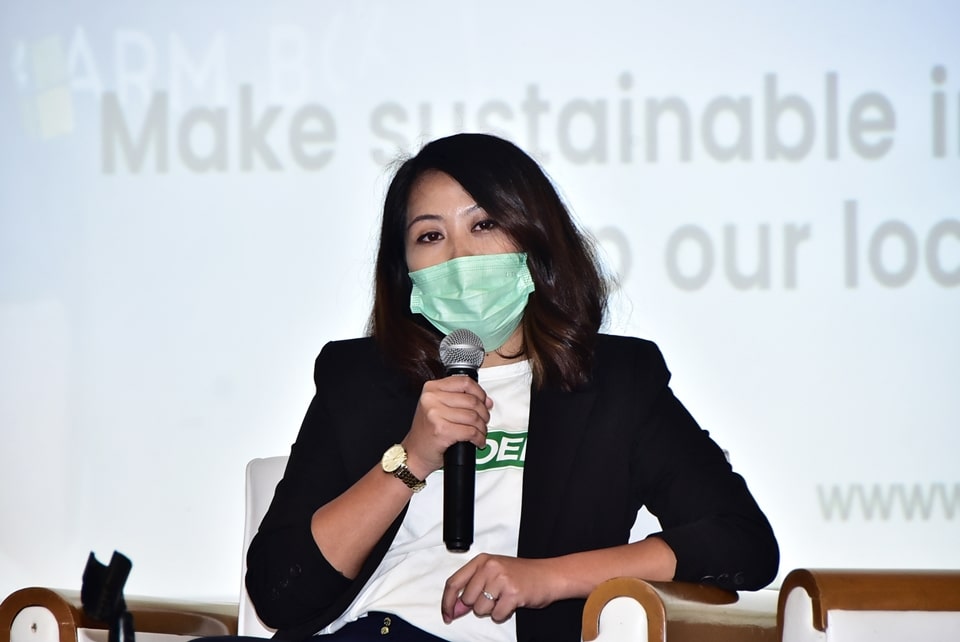 "For us three in this forum, I think it was the agricultural industry where we thought there are a lot of gaps, and opportunities to provide solutions and digitizations. Pandemic or times that are not, these industries will always be essential," Ms. Lacsina concluded.
GOEden is one of the recipients of the SEARCA Grants for Research Towards Agricultural Innovative Solutions (GRAINS), a program that offers short-term starter funds to collaborate actions aimed at transformative agri-innovations for more sustainable agricultural and rural development. GOEden's mission is to revolutionize the way Filipino farmers can access agricultural technologies by purchasing online agricultural materials they need.
During the forum, Dr. Gregorio and Assoc. Prof. Joselito G. Florendo, SEARCA Deputy Director for Administration, also handed over a special token to Dr. Briones. The token is a rice mosaic portrait of the Education Secretary.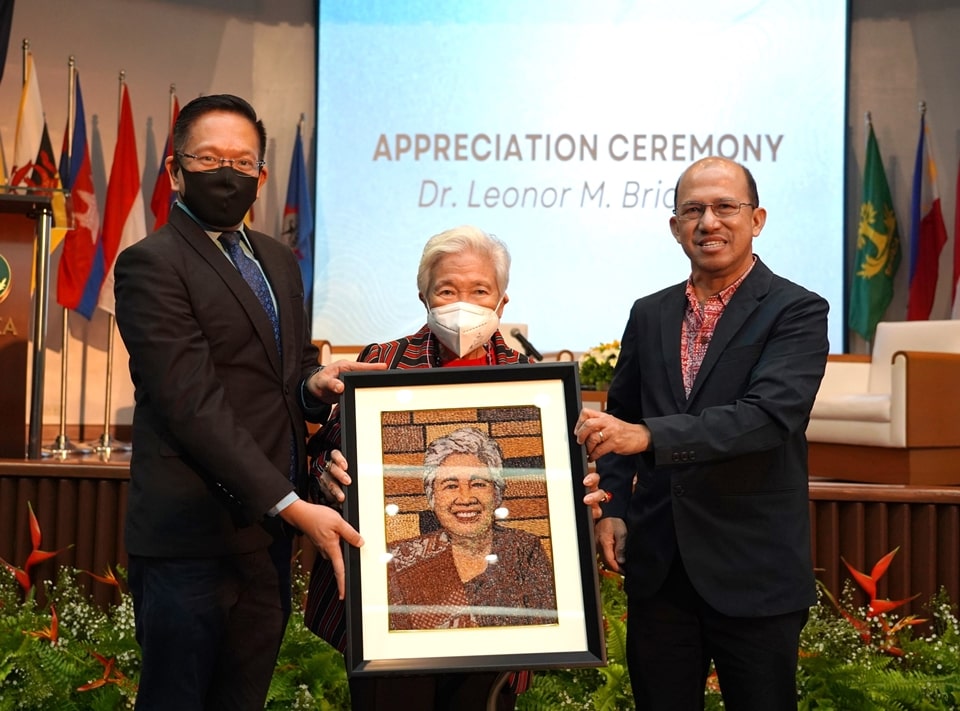 "This special part of the program brings us back to the time when we were still crafting our 11th Five-Year Plan or ATTAIN. Now, that we are almost halfway through it, we would like to give due recognition to a good lady who once challenged us to make agriculture enticing, even enterprising to the younger generation. She provided SEARCA with support and guidance especially during the unexpected emergence of the pandemic. She continues to inspire us to step up and step out. A true advocate of lifelong learning, arts, and sciences. An educator, innovator, and mother to us all," Dr. Gregorio cited.
In his closing message, Dr. Anthony B. Obligado, Philippine Department of Agriculture (DA)-Bureau of Agricultural Research (BAR) Assistant Director designate for Research Support Services, expressed his utmost congratulations to SEARCA for opening an important platform to engage more people in agriculture, innovations, and partnerships.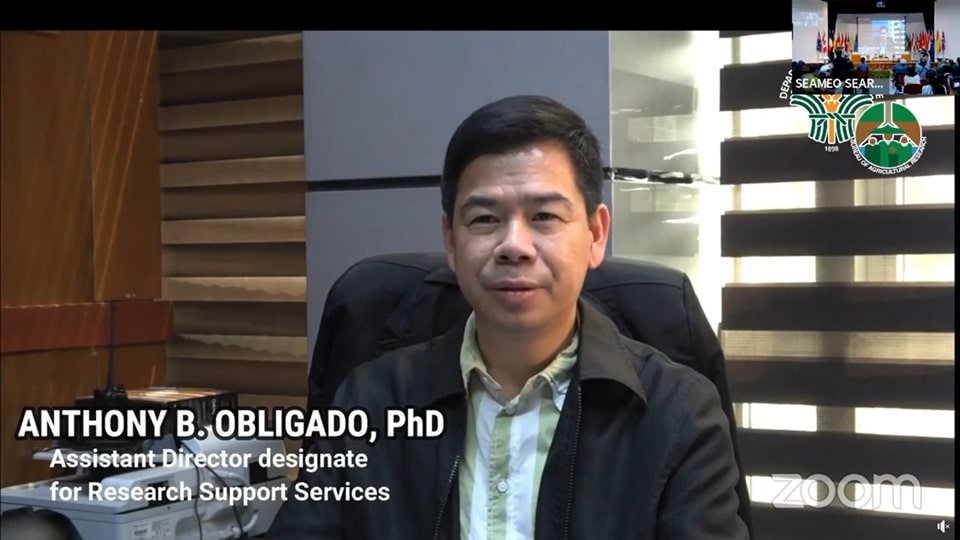 "SEARCA served as one of the bureau's partners in the implementation of research for development, projects that are focused on boosting farmer's productivity, agribusiness, knowledge management, policy research, among others. We recognize the significance of facilities such as SHARING in further promoting and championing the much-needed technologies towards attaining global challenges in agriculture. I believe that SHARING can play an important role in inspiring the youth to immerse themselves in the different undertakings of the facility," Dr. Obligado said.
Ribbon cutting and unveiling of the SHARING Tree
Dr. Gregorio and the Timorese Ambassador led in the ribbon cutting ceremony to inaugurate the SHARING facility along with Assoc. Prof. Florendo and Dr. Briones as witnesses.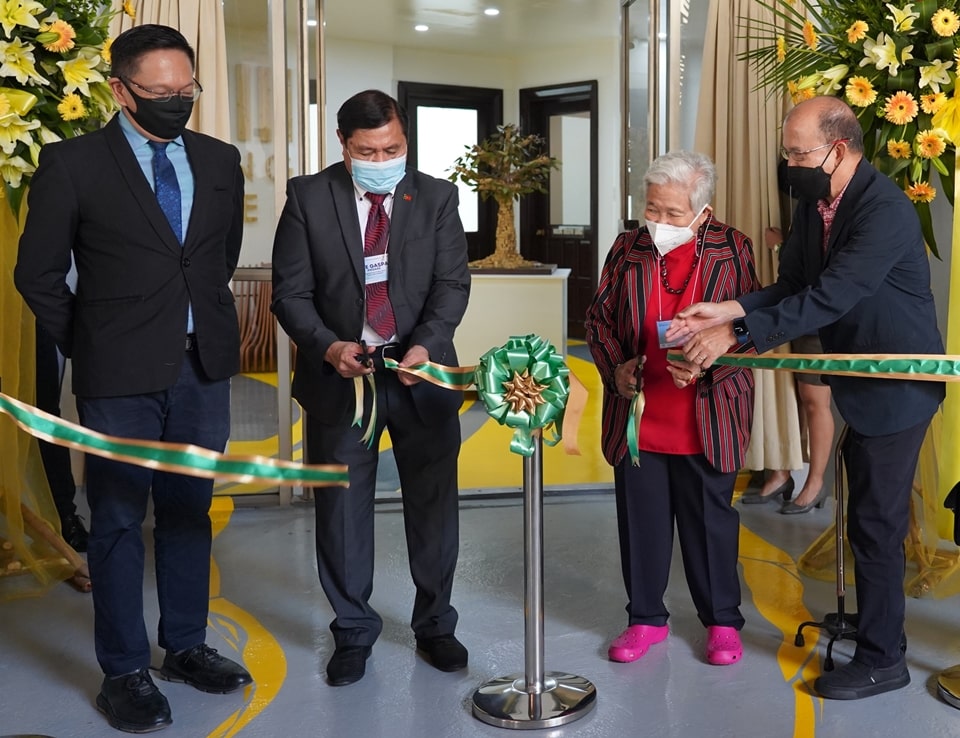 A molave tree inspired by the SEARCA logo was designed to embody innovation and creativity in sustainability. The tree was made of at least 400 volume elements from bamboo, scrap mahogany, wastepaper, and recycled metals.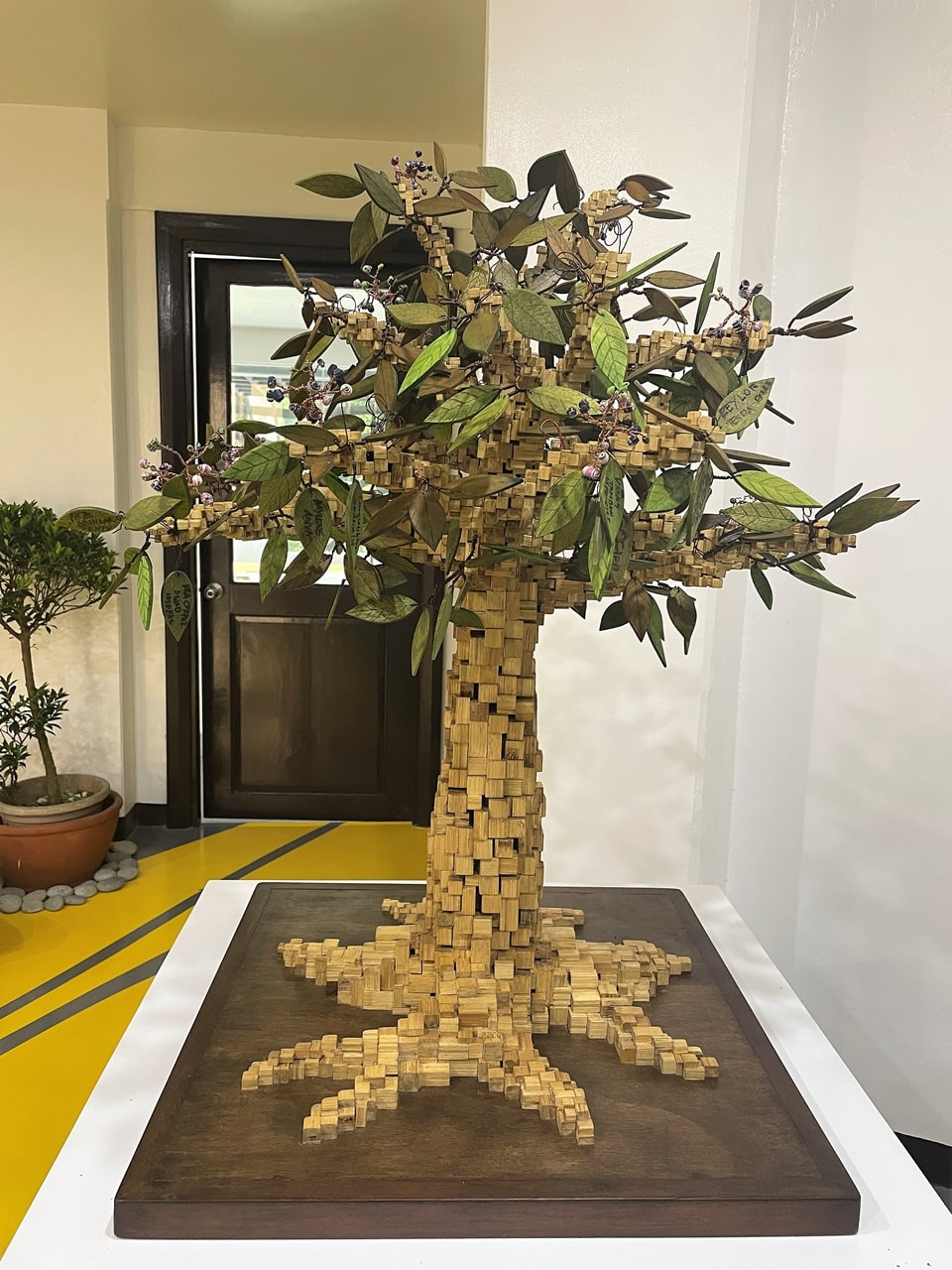 After the ribbon cutting, guests of SHARING were invited to pick a leaf from the base, sign at the back, and attach it to the SHARING tree as a symbol of growth, partnership, and mutual cooperation with SEARCA.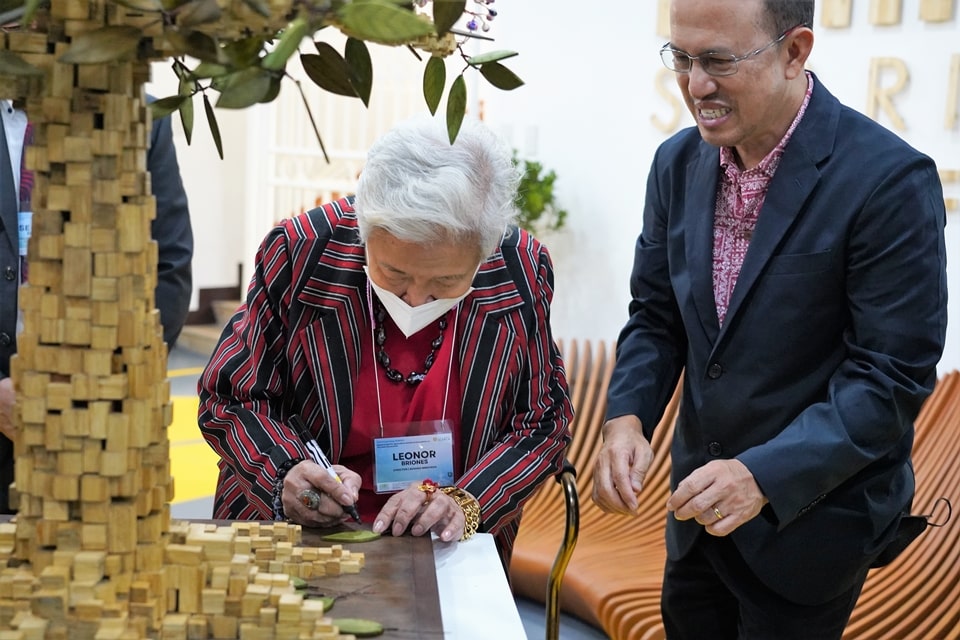 "We now invite you to step into the world of innovation as we officially open our doors to the Southeast Asian region and beyond. Welcome to SHARING, welcome to SEARCA!" Ms. Lichelle Dara E. Carlos, EIGD Program Specialist, concluded.