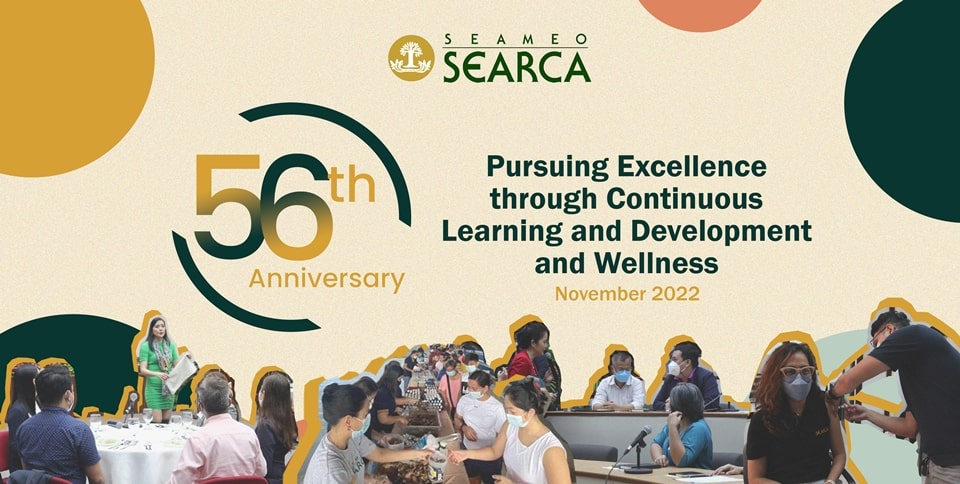 The Southeast Asian Regional Center for Graduate Study and Research in Agriculture (SEARCA) celebrated its 56th Anniversary with the theme "Pursuing Excellence through Continuous Learning and Development and Wellness" on 27 November 2022.
Various learning and development activities were organized to help staff become better both in their personal and professional growth. Development organizations like SEARCA conduct wellness activities for the employees to drive significant productivity, help them meet deadlines, and build organizational support.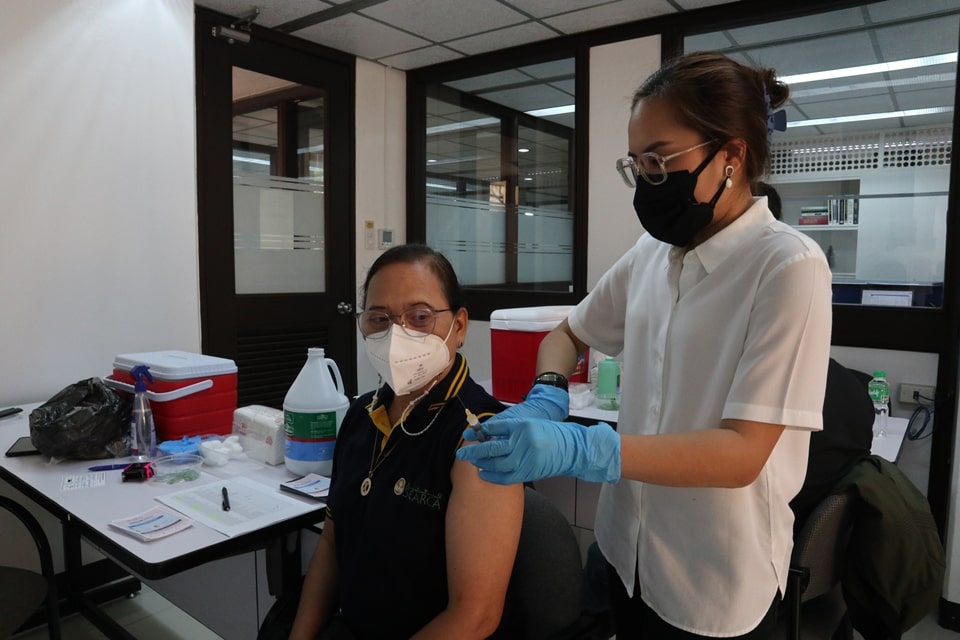 A medical doctor vaccinates one of the recipients with an Influenza shot during the Pneumonia and Influenza Vaccination Program.
To jumpstart the month-long celebration, the Human Resource Management Unit (HRMU) arranged a vaccination program on 11 November 2022 to promote wellness and a healthy living environment. A total of 85 staff members were vaccinated with influenza and pneumonia shots.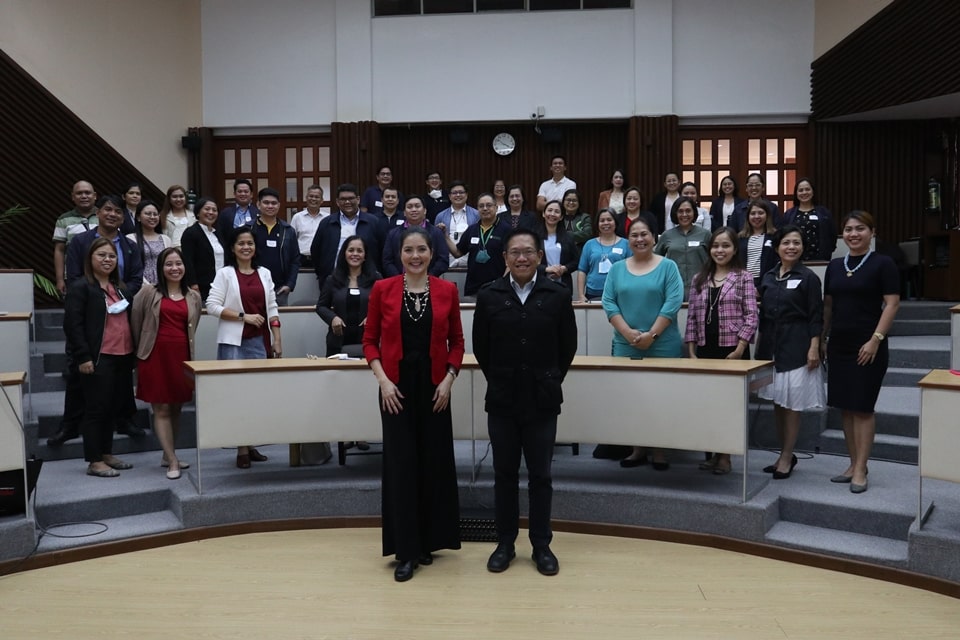 Ms. Carolina Tan (center left), Soft Skills Specialist of Enhance Your Image Training Consultancy, together with Assoc. Prof. Joselito Florendo (center right), SEARCA Deputy Director for Administration, and participating SEARCA staff during the In-house Seminar on Social Business Etiquette for the Global Ambassador.
In addition, HRMU led the implementation of two in-house seminar and training programs. The In-house Seminar on Social Business Etiquette for the Global Ambassador was held on 15-16 November 2022 to impart knowledge on social and business etiquette, behavior, and practices as prescribed among development organizations. Ms. Carolina Tan, Soft Skills Specialist of Enhance Your Image Training Consultancy, served as the resource person during the seminar.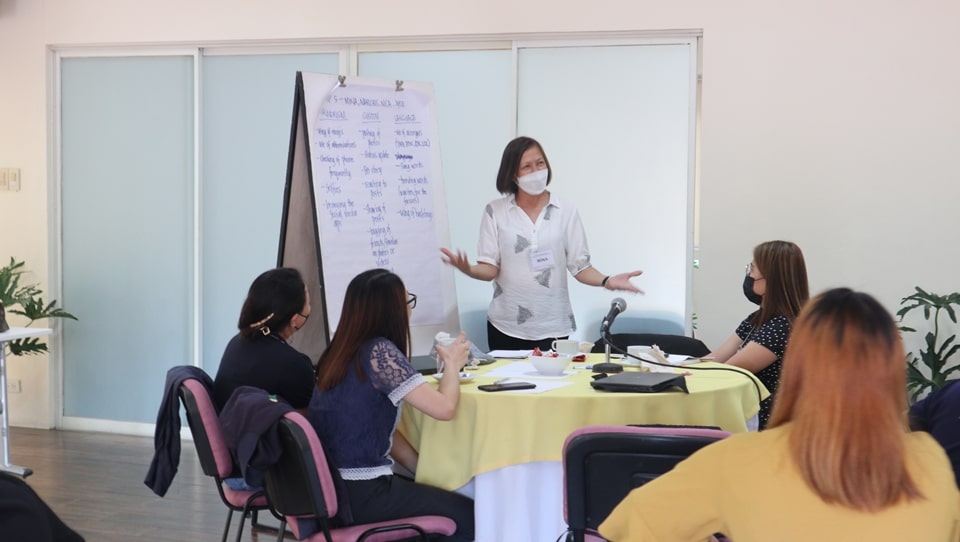 Ms. Mina Talatala, Associate, Library and Archives, discusses their group's output on mannerisms, customs, and languages.
The In-house Training on Writing Netiquette aimed at discussing the various roles of messaging platforms in business communication to write effective e-mails for both internal and external communication. The seminar had four batches of participants conducted on 23 and 25 November and 6 and 14 December 2022. The resource speaker was Ms. Cornelia Udani, a Gallup-certified Coach.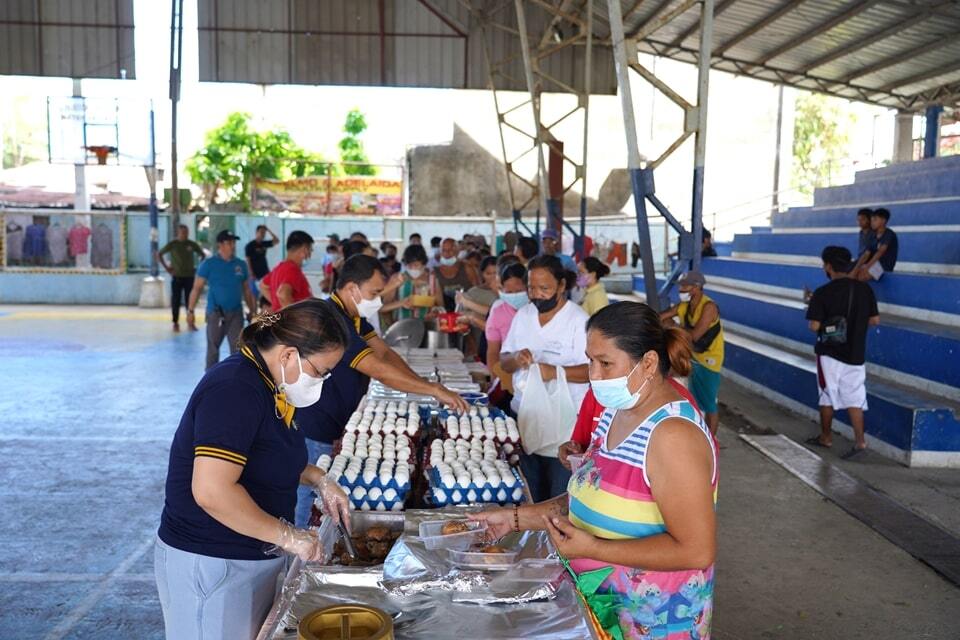 Volunteer SEARCAns prepare adobo, lugaw, and eggs to be given to residents of Barangay Mayondon in Los Baños, Laguna as part of the Center's SEARCATulungan Feeding Program.
In the spirit of warmth and compassion for Filipinos affected by the recent Typhoon Paeng, the SEARCATulungan Feeding Program, led by the Partnerships Unit (PU) in coordination with the General Services Unit (GSU), was launched on 14 November 2022 in Barangay Mayondon, Los Baños. SEARCA, in partnership with Dalcielo and Eyelectric Company, distributed healthy and nutritious food consisting of adobo, lugaw, and eggs to 254 Filipino families.

SEARCA employees together with the SEARCA Health and Wellness Committee pose for a picture after the Anniversary workout.
Also part of the anniversary celebration was a SEARCALusugan Anniversary Workout which was held on 28 November 2022 to improve staff productivity as physical activities strengthen people's immune systems.
Integral to the celebration was highlighting the Center's undertakings this year. To actively engage the offices, departments, and units to take part in the celebration, SEARCA launched a photo contest dubbed as "Tatak SEARCA" to encourage all departments and units to submit photos of their undertakings along the anniversary theme.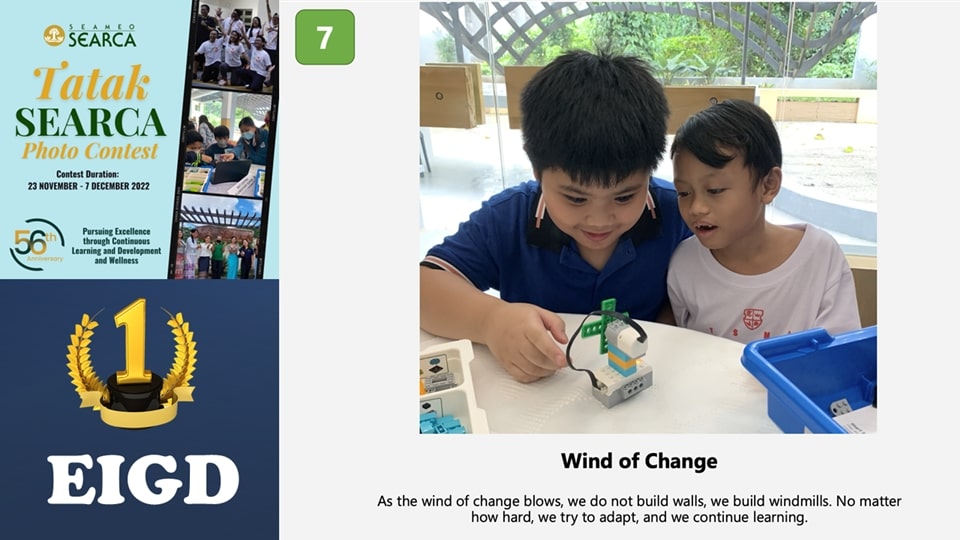 Tatak SEARCA Photo Contest First Place.
A photo depicting two young Southeast Asian nationals playing a LEGO brick windmill submitted by the Emerging Innovation for Growth Department (EIGD) won the first prize. The winning picture, titled "Wind of Change," depicts continuous learning using the windmill as a metaphor to ride with the winds of uncertainties.
The Facilities Management Unit (FMU) bagged the second prize with their photo of a grazing table showcasing nutritious local and international cuisines in a creative, innovative, and elegant set up.
The third prize went to a photo of a staff joyfully singing and dancing during the Center's outing by the Management Information Systems Unit (MISU). MISU also won the SEARCA Director's Choice for its photo of a behind-the-scenes footage during the Southeast Asian Youth Fest organized by the SEARCA Youth Ambassadors Platform (SAYAP).