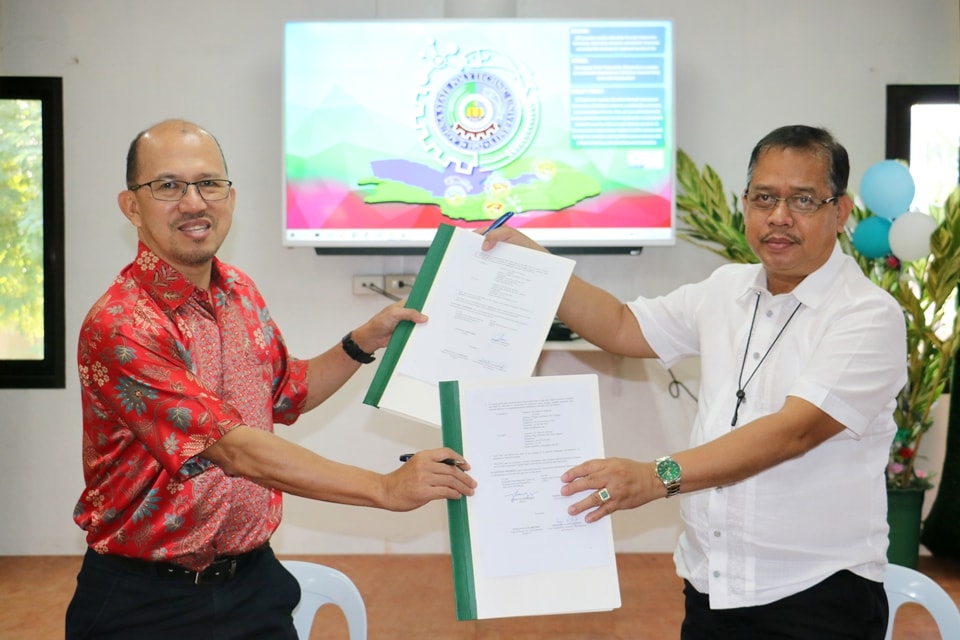 SEARCA Director Dr. Glenn B. Gregorio (left) and LSPU President Dr. Mario R. Briones, exchange copies of the MOU between SEARCA and LSPU signed on 17 December 2020.
The Laguna State Polytechnic University (LSPU) and the Southeast Asian Regional Center for Graduate Study and Research in Agriculture (SEARCA) formally signed a Memorandum of Understanding (MOU) for institutional cooperation on 17 December 2020 at the LSPU-Los Baños Campus in Barangay Malinta, Los Baños, Laguna, Philippines.
Under the five-year agreement, SEARCA and LSPU committed to collaborate on a number of programs and projects, including joint capacity building activities, and other activities related to education, training, and research in agriculture and fisheries.
The signatories to the MOU are Dr. Glenn B. Gregorio, SEARCA Director, and Dr. Mario R. Briones, LSPU President.
LSPU is a center of sustainable development initiatives in the province of Laguna. It provides advanced education, professional, technological and vocational instruction in agriculture, fisheries, forestry, science, engineering, and other allied fields.
On 1 October 2020, SEARCA visited LSPU's recently inaugurated Technology Business Incubation (TBI) for Agri-Fishery and Natural Products at its main campus in Siniloan, Laguna. The incubation center aims to nurture business startups in agricultural, aquatic, and natural resources-based techno-enterprise.
Dr. Corazon N. San Agustin, LSPU Vice President for Research, Development and Extension, said LSPU has been closely coordinating with SEARCA's Emerging Innovation for Growth (EIG) Department led by Dr. Rico C. Ancog to brainstorm on potential LSPU-SEARCA collaborative endeavors.
"We are very happy to be invited by SEARCA through EIG to showcase and discuss our works, especially on agri-business incubation," said Dr. San Agustin.
Dr. Gregorio highlighted that the Center is more than willing to support LSPU in its programs and activities.
"Let us help one another. We have the expertise and the network. LSPU can take part in displaying its products to SEARCA's S.H.A.R.I.N.G. that stands for SEARCA Hub for Agricultural and Rural Innovation for the Next Generation," he said.
Dr. San Agustin shared their ANIKA (Aning Katutubo) products, the flagship nursery project of LSPU. ANIKA promotes native fruit trees species through improved processing where the university processes and develops crops into marketable products.
"SEARCA wants to reach out to its neighboring communities and I can see there is a big potential with LSPU. We have a lot of projects where we can collaborate," Dr. Gregorio said.
The SEARCA delegation was composed of Dr. Romeo V. Labios, Operations Consultant for Partnerships; Ms. Beatrisa L. Martinez, Executive Coordinator; and Mr. Nathan P. Felix, Public Relations Associate. Mr. Joel M. Bawica, LSPU-Los Baños Campus Director, also witnessed the ceremonial signing.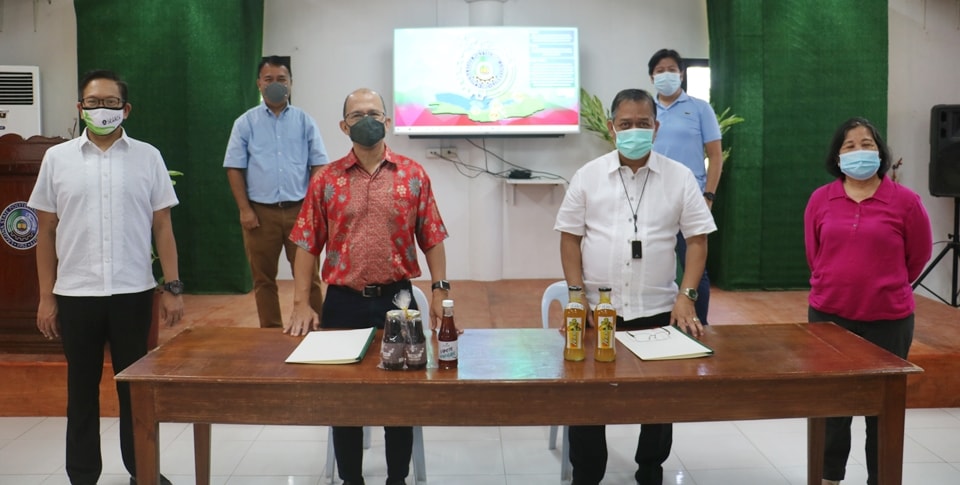 The ceremonial signing was witnessed by SEARCA Deputy Director Joselito G. Florendo (leftmost); Dr. Romeo V. Labios (standing, second from left), SEARCA Operations Consultant for Partnerships; and Mr. Joel M. Bawica (second from right) and Dr. Corazon N. San Agustin (rightmost) of LSPU.