The Philippine-American Academy of Science and Engineering (PAASE) organized a session on research and development (R&D) proposal evaluation and project review process held online via Zoom and YouTube on 10 August 2020. This is in line with the month-long celebration of the 40th PAASE anniversary and 2020 Annual Scientific Meeting (APAMS) Philippines with a conference theme, "Outreach to Philippine Regions."
Dr. Jaime C. Montoya, the Executive Director of Philippine Council for Health Research and Development (PCHRD-DOST) led a discussion of the Department of Science and Technology (DOST) system for R&D grant proposal evaluation and project overview. Mr. Joel H. Lales of the Department of Agriculture-Bureau of Agricultural Research (DA-BAR) Program Development Division, representing Philippine Agriculture Secretary William D. Dar, discussed the DA system for R&D grant proposal evaluation and project overview.
Dr. Francis de los Reyes, Professor, North Carolina State University, and Dr. Nygiel B. Armada, the Chief of Party of Fish Right Project Philippines, United States Agency for International Development (USAID), shared the USA systems for R&D grant proposal evaluation and project review.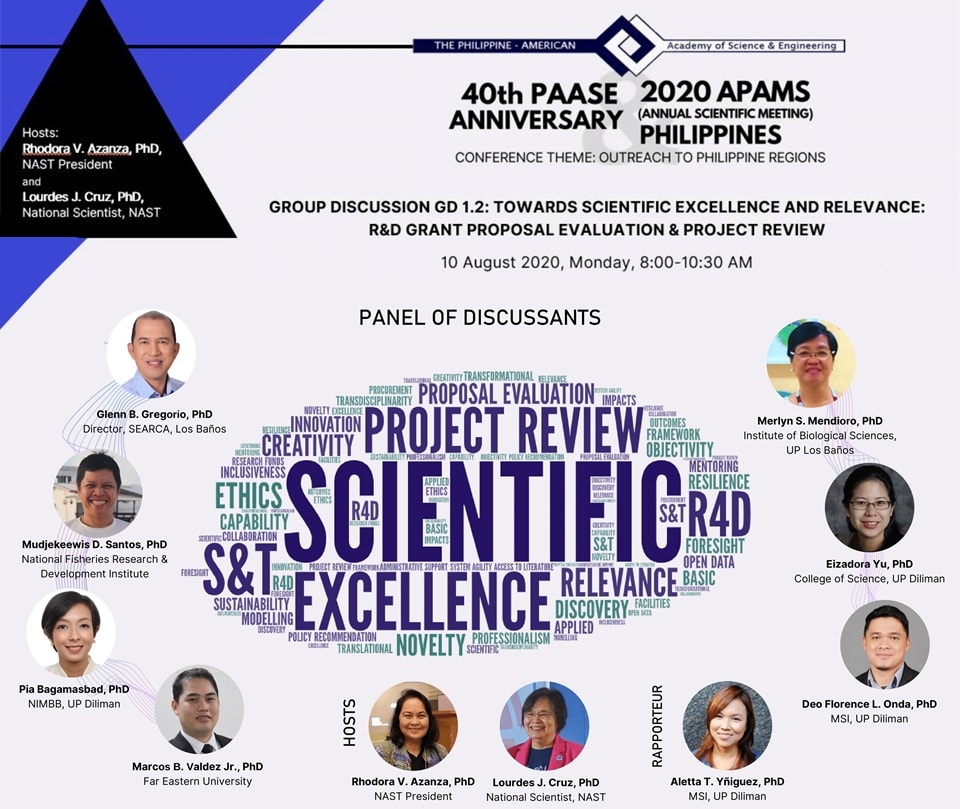 The session also solicited opinions from various experts in their own respective fields. Dr. Glenn B. Gregorio, Director of the Southeast Asian Regional Center for Graduate Study and Research in Agriculture (SEARCA) and a member of PAASE, spoke about reshaping agricultural research and development in higher education institutions (HEIs) at a global health emergency.
Dr. Gregorio emphasized the importance of the demand and the supply chain in R&D.
"On the demand side, we should ask what people would really need from R&D. On the supply side, we should ask what we should expect to be generated from R&D," he said.
He also talked about the need to prioritize providing an enabling environment to engage in mutual-learning and co-learning through the establishment of multi- and inter-disciplinary research labs, centers, and institutes; incentivizing scientific productivity that values beyond mere publication—that is, people, process, partnerships, patents, product, and profit; retooling in application for intellectual property rights, patents, technology transfer system, technology-based incubation, and entrepreneurship; providing more grants and extension awards that enable faculty and students to engage with industry, community beneficiaries, and other stakeholders across the agricultural supply chain; rearticulating COVID-19 responses for ongoing projects; and crafting of new research proposals and relate these to COVID-19.
Dr. Gregorio emphasized that "HEI are key players in society's overall ability to achieve the aspired food security and economic development. But they can aspire to contribute beyond- toward an economic development that is sustainable, inclusive, environment-friendly, and most importantly, resilient to current and future pandemics and other unanticipated disruptions."
Others in the panel of discussants are Dr. Mudjekeewis D. Santos, Scientist II, National Fisheries Research and Development Institute; Dr. Merlyn S. Mendioro, Director of Institute of Biological Sciences, University of the Philippines Los Baños (UPLB); Dr. Marcos B. Valdez, Jr., University Research Fellow, Far Eastern University; Dr. Eizadora Yu, Associate Dean, College of Science in UP Diliman (UPD); Dr. Pia Bagamasbad, Director of National Institute of Molecular Biology and Biotechnology, UPD; and Dr. Deo Florence Onda, Assistant Professor, Marine Science Institute, UPD.
Policy recommendations were put forward by Dr. Rhodora V. Azanza, President of the National Academy of Science and Technology (NAST) and Dr. Loures J. Cruz, National Scientist.