The Southeast Asian Regional Center for Graduate Study and Research in Agriculture (SEARCA) has formally launched its special program on youth called "Young Forces for Agricultural Innovation (#Y4AGRI)" on 12 August 2020, the United Nations International Youth Day.
#Y4AGRI was introduced during the SEARCA Online Learning and Virtual Engagement (SOLVE) webinar with the theme "Youth Disengagement in Agriculture: Empowering Future Leaders in Southeast Asia." Mr. Sonny P. Pasiona, SEARCA Communications Associate on Partnerships and Youth Program Focal Person, presented #Y4AGRI as an overarching program that builds on SEARCA's decades of experience in training the next generation of leaders in Southeast Asian agriculture through its scholarships and projects for the youth, from school children to young professionals.
"To show our commitment for the younger generations, our strategic plan for the next five years puts value on youth engagement in agricultural and rural development," said SEARCA Director Dr. Glenn B. Gregorio in a video message during the SOLVE webinar.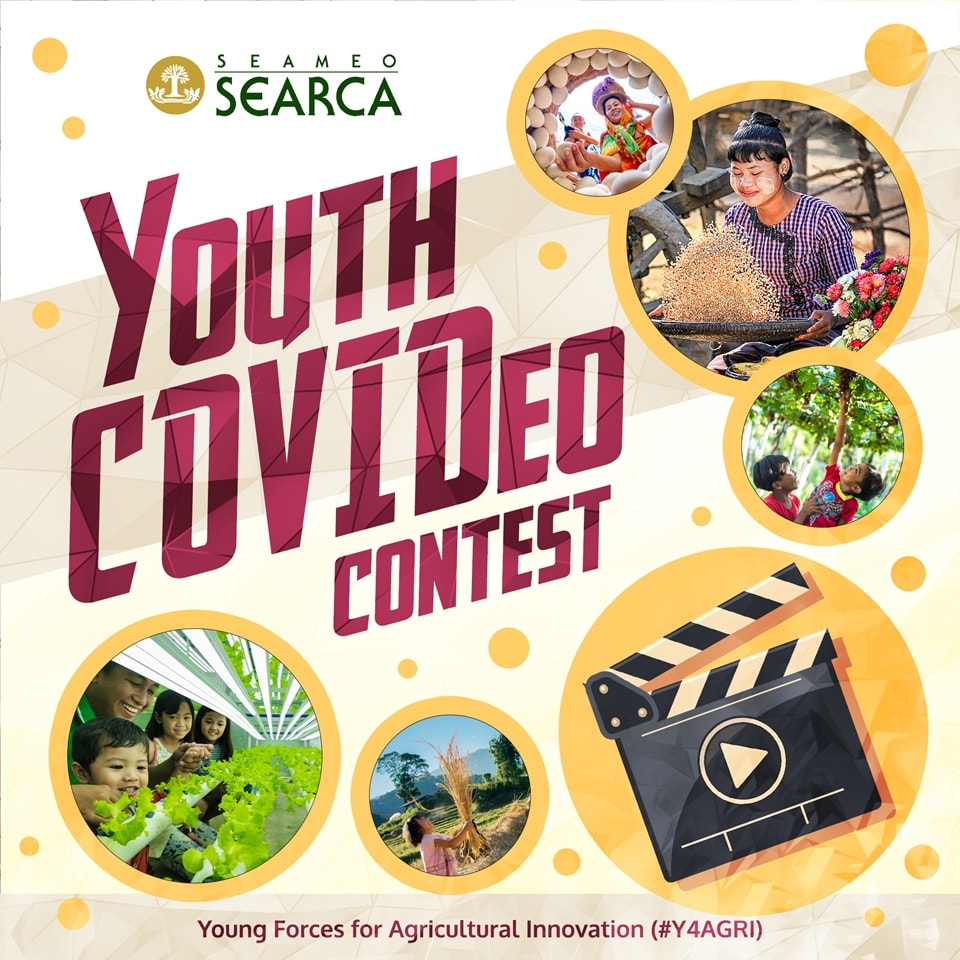 "#Y4AGRI is a platform for our young people to be heard, be engaged, and to be partners in attaining better, bigger, and smarter solutions for our farmers and farming families," Dr. Gregorio added.
SEARCA's youth program aims to elevate the interest of young people to venture into and pursue careers in agriculture and allied fields; enhance the individual, social, and technological capacities of young people through formal and non-formal education in agricultural innovation and food systems; and engage the youth in knowledge generation and policy dialogues on agricultural and rural investments.
Forthcoming activities of SEARCA for the youth include social media campaigns, learning events, recognition of outstanding youth leaders, partnerships-building, and policy dialogues to advance youth integration in agricultural and rural development.
In line with #Y4AGRI, SEARCA also launched the Youth COVIDeo Contest to put the spotlight on the Southeast Asian youth by showcasing their local food production practices amidst the pandemic in video format. The overall theme of the video contest is "Youth and Locally Grown Food." Entries will be accepted until 11 September 2020. Top 3 winners will receive cash prizes (1st-USD500, 2nd-USD300, 3rd-USD150), while the most-liked video will receive a smart tablet. Full guidelines of the contest are available at the SEARCA website.