Aklan, PHILIPPINES - The Southeast Asian Regional Center for Graduate Study and Research in Agriculture (SEARCA) joined the 2nd International Agri-ecotourism Congress hosted by the Aklan State University (ASU) at Paradise Garden in Boracay, Malay, Aklan, Philippines on 11-12 September 2023.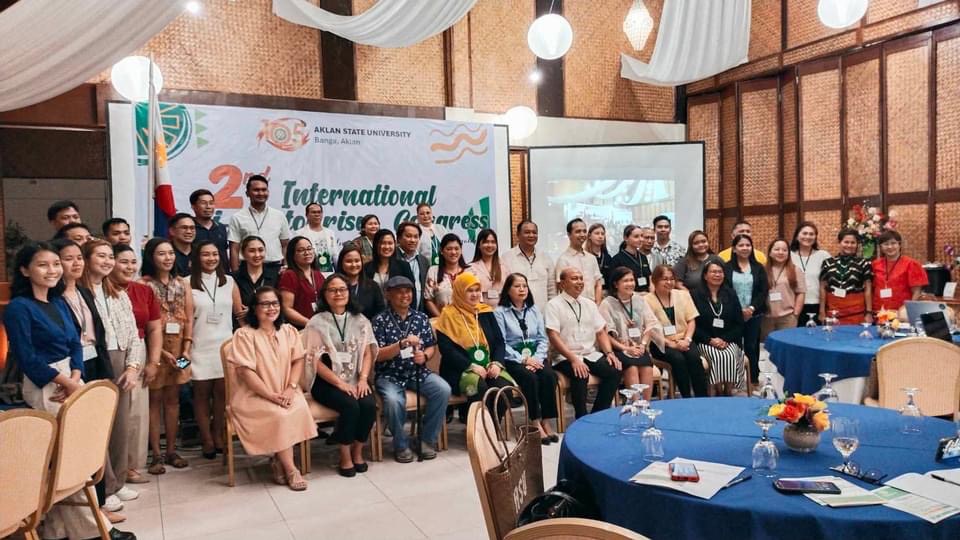 With the theme "Revitalizing agro-industrial connectivity toward sustainable ecology and resilient GloCal Village," the event aimed to serve as a platform for the dissemination of research results and sharing knowledge, experiences, and culture in establishing agri-ecotourism technologies and innovations to sustain and mainstream the agri-ecotourism industry to a diverse set of audience.
During the opening program, Aklan Governor Jose Enrique Miraflores underscored the importance of tourism in their province, its annual growth, and the challenges that it brings. His welcome message, read by a representative, also stressed the need to gear tourism toward benefiting everyone, whether from a social, economic, or environmental point of view. This, he said, is the significance of agri-ecotourism, as it aims to guide tourism development with respect for local communities, all in harmony with the environment.
In her inspirational message, Atty. Lily Freida C. Macabangun-Milla, director, International Affairs Staff, Commission on Higher Education (CHED), said that CHED is supporting education and lifelong learning in tourism. She said that this project was intended to make the university as the destination itself, as it leverages on the trifold function of the university (i. e., instruction, research, and extension) as it glocalizes the higher education institutions by taking advantage of global developments. She noted that tourism education comes to play in terms of the progress in the tourism sector in areas that are not the usual tourist destinations but could offer more in terms of agri-ecotourism. She emphasized that in building the international competitiveness of higher education institutions (HEIs), CHED "endeavors to uphold international commitments and support HEIs like ASU in promoting to build knowledge-based society and ensure that we have responsible global citizens for the world and of the world."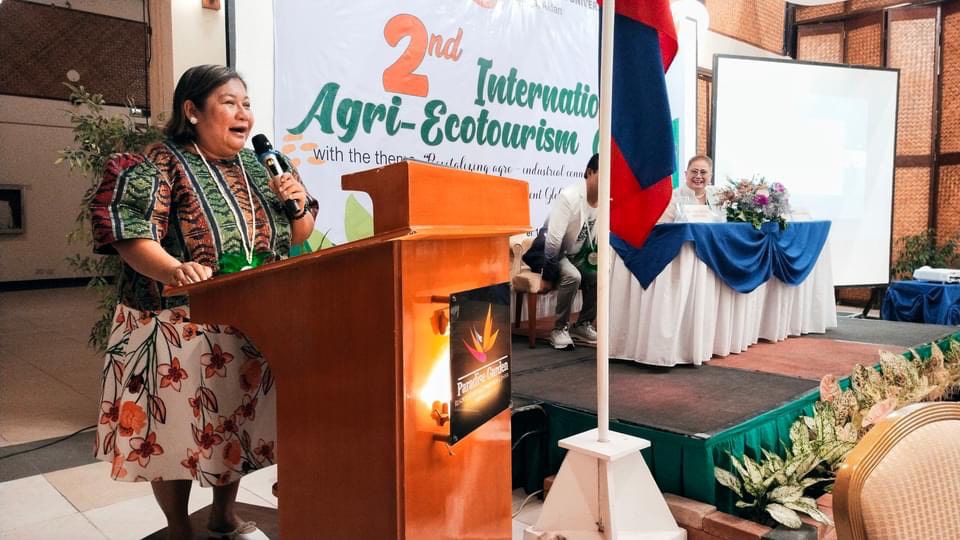 Atty. Lily Freida C. Macabangun-Milla, director, CHED-International Affairs Staff delivers her inspirational message.
In a video message, Philippine Senator Lorna Regina "Loren" B. Legarda who served as keynote speaker, emphasized that "future agro-industrial connectivity is not just a concept, but a part of the future where our actions align with the principles of sustainability and resilience in agriculture and industry." She urged both industrial and agricultural stakeholders to forge links to move forward together toward sustainable tourism. She emphasized that education is vital in developing responsible tourism that benefits all stakeholders, noting that "education and awareness-raising help highlight the beauty, diversity, and cultural importance of agricultural activities, while offering educational and recreational experiences. One person can stimulate rural development, support farmers and local communities and create sustainable and authentic tourism experiences, thereby promoting environmental conservation, raising awareness of sustainable agriculture, as well as offering a promising avenue for economic development, environmental preservation, and cultural exchange."
The congress featured three plenary speakers. Dr. Etriya Etriya, a lecturer from the Department of Agribusiness, Institut Pertanian Bogor (IPB) in Indonesia, presented a more concrete definition of agri-ecotourism. According to her, agri-ecotourism is a hybrid form of agritourism (activities based directly on agriculture) and ecotourism (responsible travel to natural areas that preserve the environment). She noted that "agri-ecotourism gives tourists an opportunity to contribute to small communities through their purchasing decisions; in turn, they have a chance to learn more about the history and environmental activities of the region."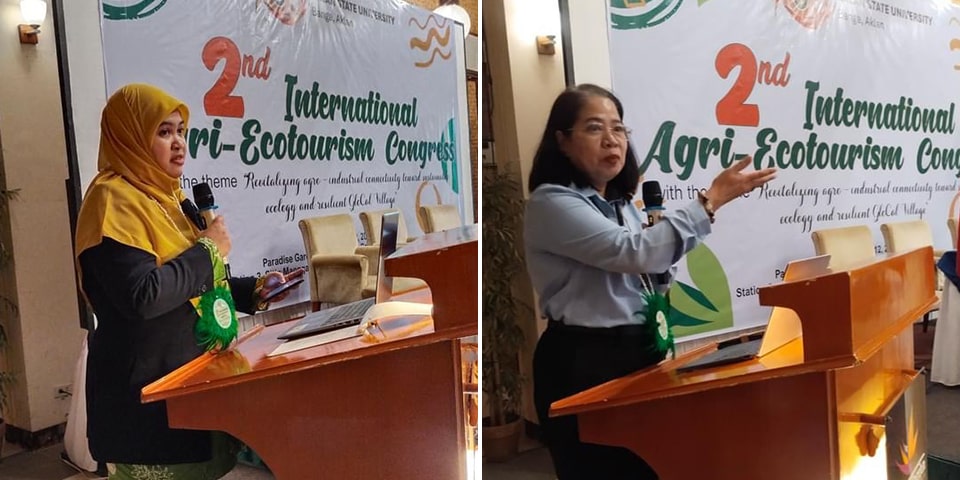 (L-R): Dr. Etriya Etriya from the Department of Agribusiness at IPB University in Indonesia; Dr. Nova A. Ramos, head of SEARCA's Training for Development Unit under the Education and Collective Learning Department; Dr. Arvin C. Diesmos, director, Biodiversity Information Management Unit, ASEAN Center for Biodiversity (ACB).
Dr. Nova A. Ramos, head of SEARCA's Training for Development Unit under the Education and Collective Learning Department, presented agri-ecotourism as a pillar of rural development, which is one of SEARCA's priorities. She shared the Center's capacity-building initiatives on agri-ecotourism, including its support for agri-innovators, that catered to legislators, educators, practitioners, and other stakeholders across the Southeast Asian region and beyond. She also highlighted sociocultural, economic, and environmental benefits of agri-ecotourism and its potential as a pathway for inclusive and sustainable rural development.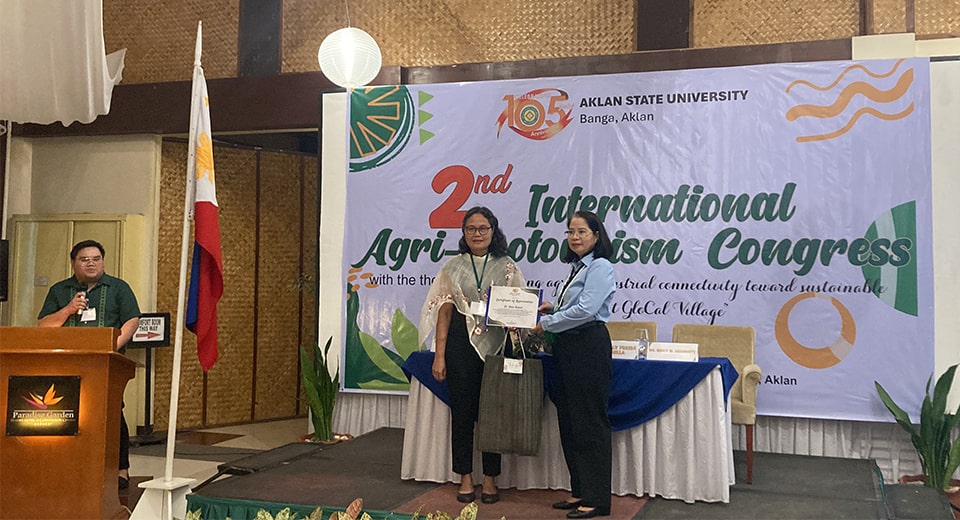 Dr. Ramos receives a certificate and token of appreciation from, Dr. Melba Raga-as, director, Research and Development Services, Aklan State University (ASU). Also in photo (leftmost) is Dr. Tonylen De Jose of ASU who served as moderator for the event.
The last plenary speaker was Dr. Arvin C. Diesmos, director, Biodiversity Information Management Unit, ASEAN Center for Biodiversity (ACB). In his presentation, he emphasized the importance of nature-based solutions to conserve and protect natural resources for the benefit of the agri-ecotourism industry.
The event also featured breakout sessions, with the participants divided into two groups to cover all the research carried out on agri-ecotourism, namely, Natural/Biological Science and Development category and the Social Science category. Presentations include research on biosolids from wastewater treatment plant, mangrove tea, kabuteng saging production and cultivation, exploration of local historical and cultural sites, business risks and resilience practices of Guimaras' coastal resorts, contribution of weaving industry on local weavers, and engaging youth in agri-ecotourism, among others.
The event brought together students, faculty researchers, scientists, research specialists, agricultural service providers, private sectors engaged in agri-ecotourism industry, local government units (LGUs), and other stakeholders in agri-ecotourism from France, Indonesia, and the Philippines.