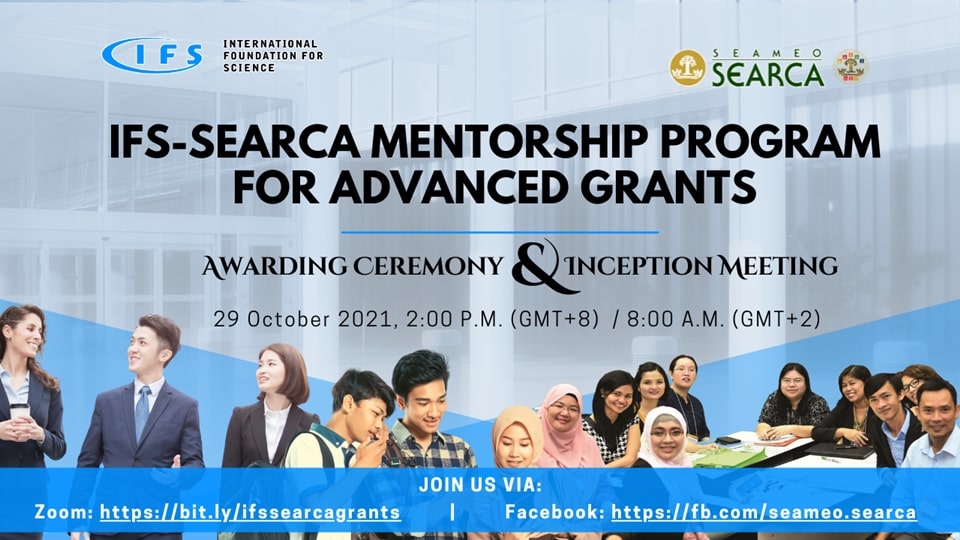 SEARCA Headquarters, Los Baños, Philippines – The Southeast Asian Regional Center for Graduate Study and Research in Agriculture (SEARCA) and the International Foundation for Science (IFS) will recognize the efforts of the eight Advanced Grants awardees through a Virtual Awarding Ceremony that will be held on 29 October 2021 via Zoom and live on SEARCA's Facebook page. The eight awardees were among the twenty-four young researchers from Indonesia, the Philippines, and Vietnam, who participated in the Mentorship Workshop held on 15-21 June 2021 for the IFS-SEARCA Mentorship Program for Advanced Grants.
The Awarding Ceremony will be open to the public and will be hosted by SEARCA's Education and Collective Learning Department-Training for Development Unit (ECLD-T4DU) and co-hosted by the Research and Thought Leadership Department (RTLD) via the SEARCA Online Learning and Virtual Engagements (SOLVE) platform. Participants of the Awarding Ceremony include the IFS-SEARCA team, successful grantees, and the team of mentors.
An Inception Meeting, which will be closed to the public, will immediately follow the Awarding Ceremony. In the inception meeting, the IFS will provide updates on the status of the grants and provide guidelines on mentorship building and the roles of the mentors during the research grant. A monitoring, evaluating, and learning (MEL) mechanism for the grant will likewise be introduced. At six-month intervals throughout the period of the IFS-SEARCA Advanced Grant Program, an Advanced Grant MEL Report will be prepared. The templates will be made available to the grantees for the mid-term and final reports.