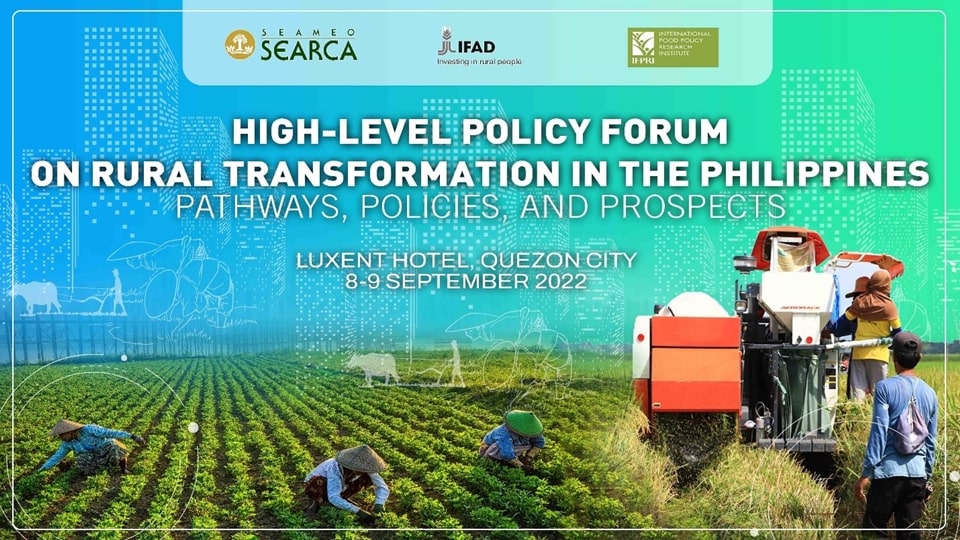 The Southeast Asian Regional Center for Graduate Study and Research in Agriculture (SEARCA), in partnership with the International Fund for Agricultural Development (IFAD)-Philippines and the International Food Policy Research Institute (IFPRI), will organize the High-Level Policy Forum on Rural Transformation in the Philippines: Pathways, Policies, and Prospects on 8-9 September 2022. The forum will be conducted in hybrid format via Zoom and at Luxent Hotel, Quezon City.
This activity aims to convene stakeholders from relevant Philippine government agencies, representatives from development and research organizations and think tanks, civil society and farmers organizations, the academe, and the private sector to tackle the state of rural transformation in the country. The discussion will pick up from the outputs produced during the implementation of the Philippine component of the IFAD-funded project on rural transformation.
Policy recommendations will be gathered and serve as inputs in the development of plans of action on how to support rural transformation in the Philippines. Regional stakeholder-attendees will provide insights on the rural transformation in other Asia-Pacific countries, in comparison with that in the Philippines, to identify the challenges, gaps, and opportunities toward achieving faster and more inclusive rural transformation and poverty eradication in the country.
The forum will also provide venue for stakeholders to discuss and provide inputs to the action plan to be developed for the organization of a Technical Working Group on Agriculture and Rural Development under the Network of Policy Advisors and Analysts in the ASEAN Region (NePAAA). This network was launched by the IFAD-funded project on agricultural transformation and market integration in the ASEAN region, through its implementing institutions, IFPRI and SEARCA.
The forum will begin with opening messages from Dr. Glenn B. Gregorio, SEARCA Director, and Dr. Francisco Javier Pichon, Head of the Mekong Hub of IFAD's Asia and the Pacific Division; followed by a keynote message from Dr. Rosemarie G. Edillon, Undersecretary for Policy and Planning Group of the Philippine National Economic and Development Authority (NEDA).
Session facilitators, speakers, and discussants will include: staff from SEARCA's Research and Thought Leadership Department (RTLD) led by Program Head, Dr. Gerlie T. Tatlonghari; Dr. Reehana Raza, Regional Director, and Mr. Abdelkarim Sma, Lead Regional Economist, both of IFAD's Asia and the Pacific Division, and Mr. Yolando C. Arban, Acting Programme Officer and Senior Advisor of IFAD-Philippines; IFPRI team led by Dr. Shahidur Rashid, IFPRI Director-South Asia; Ms. Marlene D. Ramirez, Secretary-General of the Asian Partnership for the Development of Human Resources in Rural Areas (AsiaDHRRA); Dr. Roehlano M. Briones, Senior Research Fellow of the Philippine Institute for Development Studies (PIDS); Ms. Karen P. Quilloy, Assistant Professor, and Dr. Agham C. Cuevas, Professor and Dean of College of Economics and Management, both of the University of the Philippines Los Banos (UPLB).
This event is by-invitation only.