The course aims to enhance the speaking and writing abilities of the participants, encourage and give them confidence to apply and pursue graduate studies in an international English program. The training focused on how to prepare a well-organized application letter and inquiry, a curriculum vitae appropriate for scholarship application, and what to expect and how to answer a scholarship interview. The participants were given Speaking Workshops where they did "small talk" introducing themselves, with the resource person observing how they speak and pronounce each word, and the Do's and Dont's of Introducing Oneself, among others. In the Writing Workshop, one activity was to organize an application letter, i.e., with appropriate salutation and closing, and proper body of the letter. The participants consist of 17 graduate students and young lecturers from RUA and 18 lecturers with graduate degrees from TUAF. They were divided into small groups to exchange ideas in preparing an application letter.
At the closing program in RUA, Dr. Seng Mom, the Vice Rector of RUA and SEARCA's Governing Board member, expressed her gratitude to SEARCA for its continuous support in giving scholarships, as well as honing the communication skills of their faculty and staff. In another note, Dr. Nguyen Huu Tho, Director of Office of Research and International Affairs of TUAF, was very glad for this opportunity and was looking forward to more collaborations with SEARCA in terms of capacity building of their staff.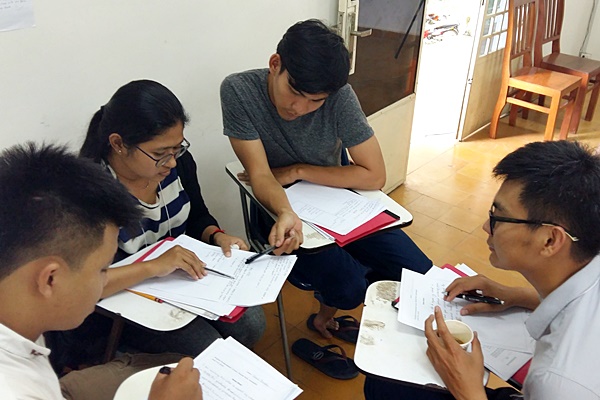 Likewise, the participants, both from RUA and TUAF, were very grateful for this opportunity to take part in the training and adding knowledge to their speaking and writing skills.
SEARCA implements these Institutional Development Assistance (IDA) initiatives through its Graduate Education and Institutional Development (GEID) Program. The IDA program intends to empower and equip strategically located universities with the necessary resources to cater to the demands for human resources required to boost economic development in the region. It is recognized that different institutions in Southeast Asia—particularly those located in the growth areas—have different institutional systems, structures, and resources. Therefore, designs and interventions for IDA may vary from assistance in the conduct of an institutional review, to fielding of experts to develop curricula or training modules, or capacitating staff and faculty through educational support interventions such as scholarships and in-house training.