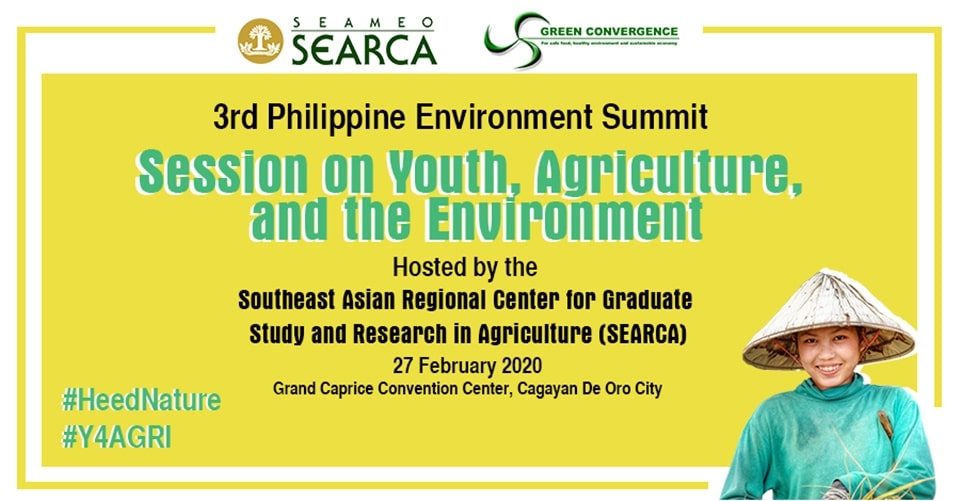 The Southeast Asian Regional Center for Graduate Study and Research in Agriculture (SEARCA) will be hosting the Youth, Agriculture, and the Environment Session of the 3rd Philippine Environment Summit on 26-28 February 2020 in Cagayan De Oro City, Philippines.
The summit is co-organized by Green Convergence and the Philippine Department of Environment and Natural Resources (DENR). Under the theme, "Paradigm (re)Shift: Heeding Nature," the three-day event will present programs and projects that advance the country's socio-economic development while protecting the environment.
In the youth session on February 27th, SEARCA will feature five young professionals who are leading initiatives to advance sustainable agriculture practices, environmental protection, and the circular economy. They are: Louise Mabulo, Founder of The Cacao Project and UNEP's Young Champion of the Earth; Cherrys Abrigo, Founder and Owner of Sierreza Café; Enzo Pinga, Business Development and Marketing Manager of IISLA Ventures; Rein Hillary Carrascal, Beauty Queen and Ambassador of Hapi LIFE Foundation; and Michelle Dagsaan, Higaonon Youth Representative of Samdhana Institute Program.
Dr. Glenn Gregorio, SEARCA Director, will give an overview of the session and promote SEARCA's initiatives in engaging the youth in agricultural and rural development. The youth speakers will then tackle their best practices, challenges, and call for action to synergize, replicate or upscale their projects. The youth session is the first in an ARD Discussion Series that SEARCA is initiating as an avenue to tackle, solicit ideas, and establish collaboration with stakeholder groups on emerging and on-the-ground challenges for achieving sustainable agriculture and rural development.
Meanwhile, SEARCA representatives will also present in other sessions at the summit. Dr. Blesilda Calub, Project Leader, will showcase SEARCA's School-Plus-Home Garden Project (S+HGP) while Ms. Rosario Bantayan, Program Specialist of the Training Unit, will present the highlights of the Workshop on Establishing Climate-Smart Villages (CSV) in the ASEAN region.
This year's summit aims to enhance convergence of various individuals and institutions to tackle issues in and accelerate solutions for sustainable development. Plenary talks, breakout sessions, exhibits, and networking activities will comprise the summit. Hundreds of participants from the academe, government, civil society, and business sectors are expected to attend the event.
The youth session will be livestreamed at the SEARCA Facebook Page on February 27th, 2:00 PM local time.