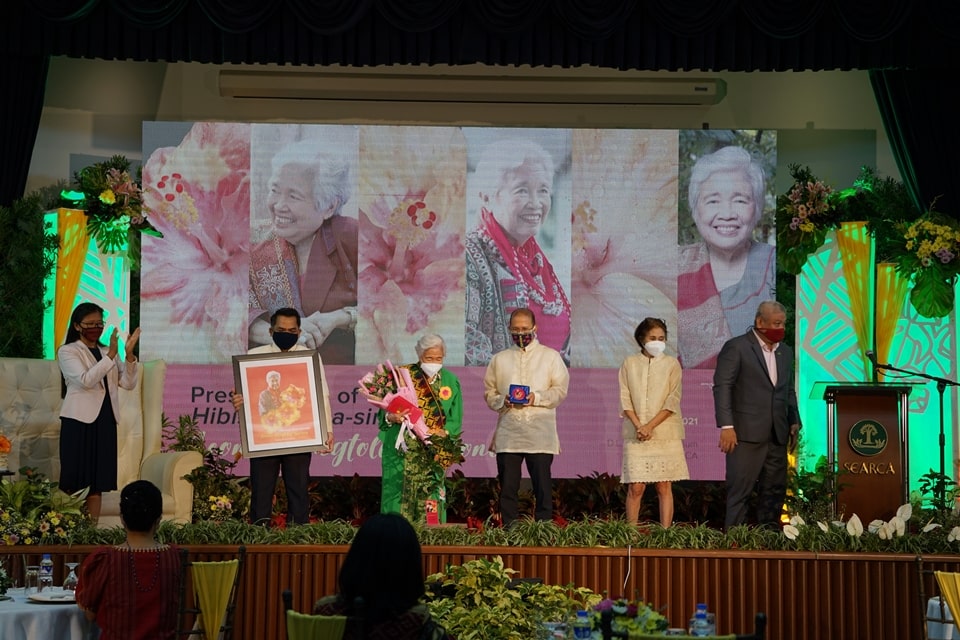 The H. rosa-sinensis 'Leonor Magtolis Briones' to Philippine Education Secretary Leonor Magtolis Briones (center) was presented by members of the UPLB community led by Plant Breeder Agripina O. Rasco (second from right), UPLB Institute of Plant Breeding. A portrait bearing a montage of the Secretary and the gumamela was presented by Dr. Jose V. Camacho, Jr. (second from left), UPLB Chancellor. A gumamela enamel brooch was pinned by Dr. Merdelyn C. Lit, UPLB Vice Chancellor for Research and Extension and Chair of the Committee on Naming of Hibiscus, Mussaenda and Other Ornamentals. A bouquet of the gumamela hybrid was given by Dr. Elpidio M. Agbisit, Jr., UPLB College of Agriculture and Food Sciences Dean. A paper weight bearing the gumamela montage was presented by Dr. Glenn B. Gregorio, SEARCA Director.
In a ceremony held at the Umali Auditorium of the Southeast Asian Regional Center for Graduate Study and Research in Agriculture (SEARCA), the University of the Philippines Los Baños (UPLB) presented one of the hybrids of Hibiscus rosa-sinensis (gumamela) in honor of the Philippine Department of Education (DepEd) Secretary Leonor Magtolis Briones on 16 October 2021.
Under the "Women in Public Services Series" of the UPLB Institute of Plant Breeding (IPB) Hibiscus Breeding Program, the Hibiscus rosa-sinensis 'Leonor Magtolis Briones' was awarded to Sec. Briones in recognition of her outstanding contributions to the Philippine society by setting professional standards for public service as a teacher and administrator in various public institutions.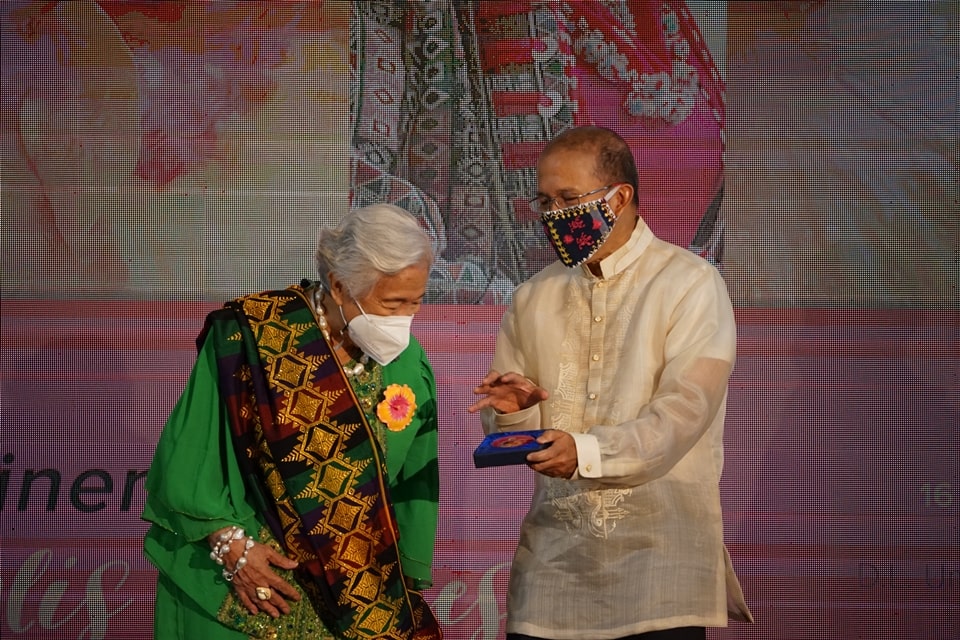 Dr. Gregorio presents a paper weight bearing a montage of the Secretary and H. rosa-sinensis 'Leonor Magtolis Briones' to Sec. Briones (left).
The DepEd Secretary is currently Professor Emeritus at the UP National College of Public Administration and Governance. She is also the former lead convenor of the Social Watch Philippines, former chair of the People's Public Finance Institute, and president of the Freedom from Debt Coalition.
The Hibiscus rosa-sinensis 'Leonor Magtolis Briones' is classified as coniferous, flowering all year round even on hot months. The leaves are dark green, glossy, hairless, and arranged alternatively along the stems. The leaf shape is cordate with serrate leaf outline and acute leaf tip. The corona is single, large, thick, cartwheel, overlapped, with ruffled edges.
The Hibiscus hybrid is primarily yellow-orange, with orange-pinkish overlay on petal surface and bright yellow blotches on petal edges. Its eye is large, amaranth, and pink in color. Delicate lines extend from the eye to the middle section of the corolla.
The hibiscus hybrid was developed by Ms. Agripina O. Rasco, University Researcher II at the UPLB College of Agriculture and Food Science (CAFS).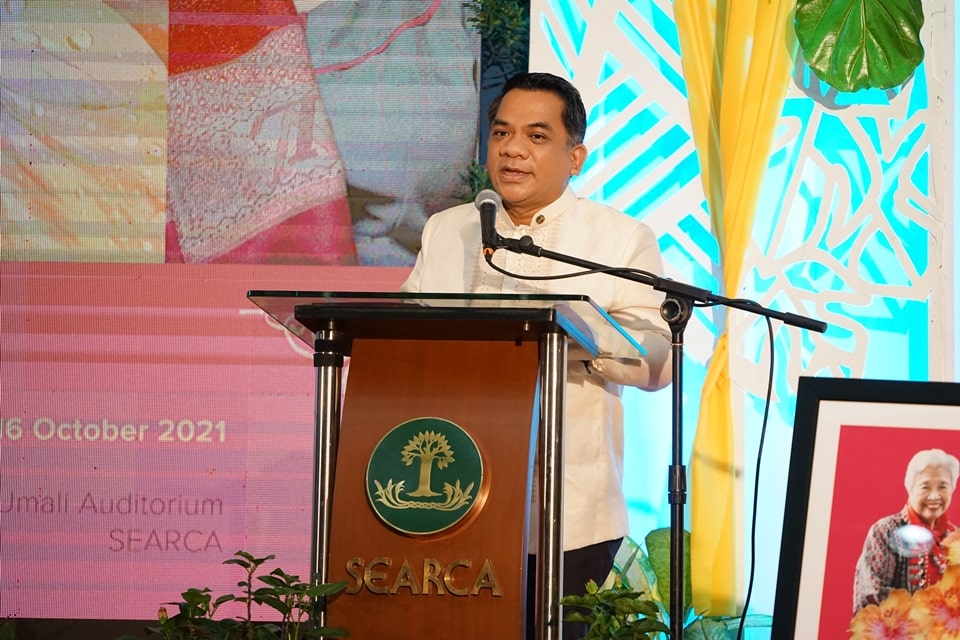 Dr. Camacho shares UPLB's efforts on integrating basic education in higher education through its instruction, research, and extension.
Described as someone who has notably served her respective communities for several decades, Sec. Briones was likened by Dr. Jose V. Camacho, Jr., UPLB Chancellor, to the H. rosa-sinensis 'Leonor Magtolis Briones' for her exemplary contribution in development management and good governance in the Philippines.
"The contribution and experience of Ma'am Liling in governance for more than 50 years perfectly fit the women in public service. Our mutual sense of purpose to elevate the quality of basic education has led to different collaborations within universities and DepEd," said Dr. Camacho.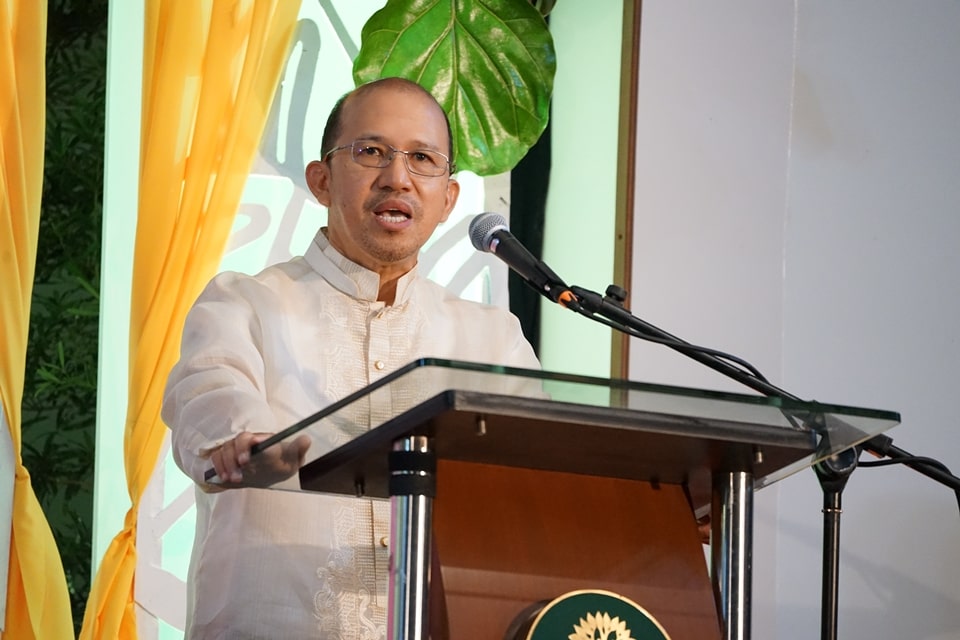 Dr. Gregorio delivers his closing message and expresses his gratitude to Sec. Briones for serving as a role model for SEARCA.
Echoing the words of Dr. Camacho, Dr. Glenn B. Gregorio, SEARCA Director, shared in his message the symbolism of H. rosa-sinensis 'Leonor Magtolis Briones' and how the Secretary has shown to be unyielding and resilient, teaching every Filipino learner and educator that learning should never stop, most importantly during the pandemic.
"The very colorful Hibiscus rosa-sinensis is truly symbolic of her multi-faceted professional life. She lives up to the saying, "Bloom where you are planted" because she continuously and beautifully bloom wherever life takes her."
Dr. Gregorio added, "SEARCA shares the vision of the Honorable Secretary to make agriculture more attractive and relevant to the youth to prepare them when they go to the universities and pursue higher learnings. It is the same vision to plant the seeds in our younger generation as early as possible and guide them as they head on to their journeys and blossom to become productive and responsible citizens not just in the Philippines but in Southeast Asia".
SEARCA, established by the Southeast Asian Ministers of Education Organization (SEAMEO) in 1966 as one of the centers for agricultural excellence in Southeast Asia, is hosted by the Philippine government on the UPLB campus in Los Baños, Laguna. DepEd serves as the focal agency of SEARCA. In June 2021, the DepEd Secretary was elected as SEAMEO Vice President for FY2021/2022 during the 51st SEAMEO Council (SEAMEC) Conference.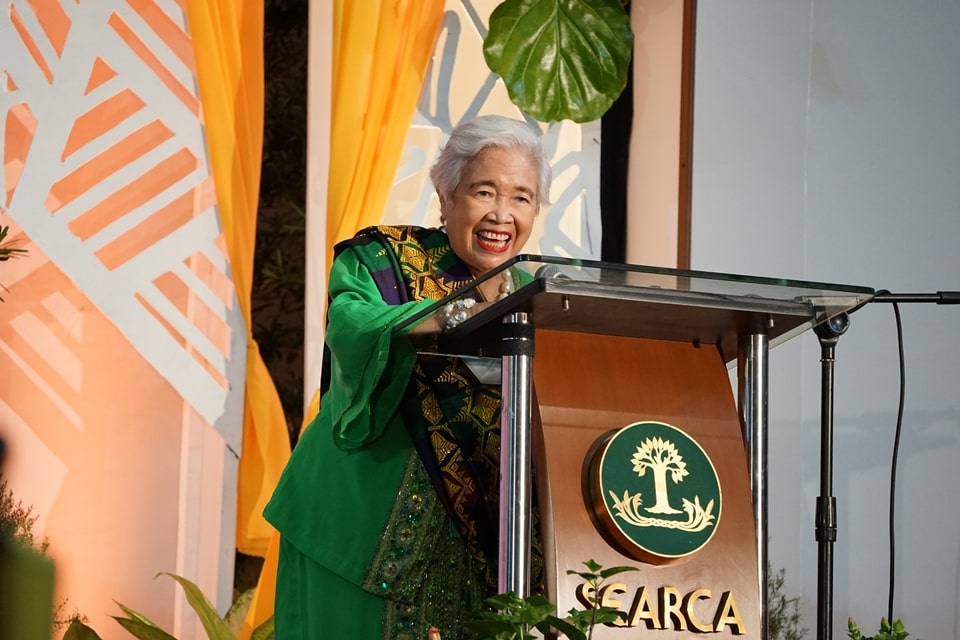 Sec. Briones gleefully smiles as she thanked the members of the awarding committee led by UPLB IPB and SEARCA.
In her acceptance message, Sec. Briones expressed her appreciation to UPLB-IPB and SEARCA for preparing this momentous occasion.
"I am humbled and deeply honored to have a wonderful variant of gumamela named after me… Thank you SEARCA for making all the arrangements and the nominations and of course, thank you to the Institute of Plant Breeding for this one-of-a-kind birthday celebration," said the Philippine education chief.
She ended her message challenging both Los Baños-based institutions in the time of the pandemic. Secretary Briones concluded, "To UP Los Baños and SEARCA, with your scholars and researchers, always remind them of their social and holistic responsibility – that they must serve basic education, develop a love for science, develop a love for nature, and develop a love for culture and the arts."
Joining Secretary Briones were her friends, nieces and nephew-in-law; DepEd officials composed of Usec. Alain Del Pascua, Asec. Salvador Malana, Asec. G.H. Ambat, executive assistants, and directors; UP community led by her former boss Dr. Emil Q. Javier, National Scientist and former UP President; and SEARCA officials Dr. Gregorio and Mr. Joselito G. Florendo, SEARCA Deputy Director for Administration.