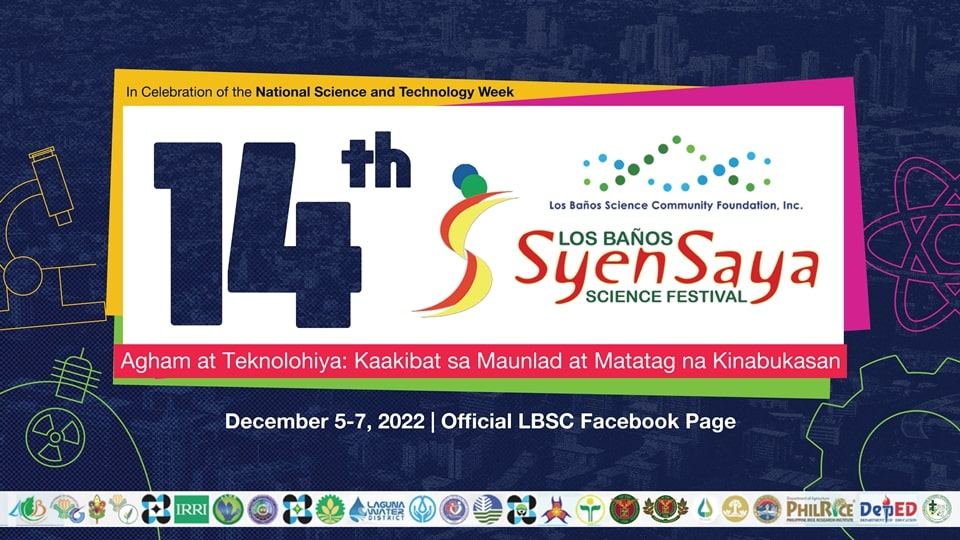 The Southeast Asian Regional Center for Graduate Study and Research in Agriculture (SEARCA) will host the Awarding and Closing Ceremony of the 14th SyenSaya, the annual science festival of the Los Baños Science Community (LBSC), on 7 December 2022. The event will feature R&D Awards that recognize outstanding researchers in LBSC and Youth Science Awards.
Organized by LBSC Foundation, Inc. (LBSCFI), this year's SyenSaya will be a three-day hybrid celebration to be held face-to-face and livestreamed by Facebook and Zoom. It carries the theme "Agham at Teknolohiya: Kabalikat sa Maunlad at Matatag na Kinabukasan," echoing the theme of the National Science and Technology Week (NSTW) held in November 2022.
The science festival will kick off on 5 December 2022 with the Opening Ceremony to be held face-to-face at the Philippine Council for Agriculture, Aquatic and Natural Resources Research and Development of the Department of Science and Technology (DOST-PCAARRD). The event will also be livestreamed on LBSCFI's Facebook page. Expected to grace the event are Mayor Anthony F. Genuino of the Municipality of Los Baños and Dr. Melinda dP. Bandalaria, LBSCFI President and Chancellor of the University of the Philippines Open University (UPOU).
The Wonderama Exhibit, which remains fully virtual this year, will also be officially opened on 5 December 2022. As one of the exhibitors, SEARCA will feature two agri startups, namely, FarmBox and GoEden. FarmBox is the grand winner of the Agri-Boost Camp 2021 funded by SEARCA and organized by Batangas State University. FarmBox supports local farmers through its crowdfunding platform that allows anyone to purchase farm boxes that contain essentials that partner farmers need. On the other hand, GoEden is a recipient of the SEARCA Grants for Research towards Agricultural Innovative Solutions (GRAINS). With SEARCA's support, GoEden implemented the project titled "Improving Farmers' Access to Agricultural Technology, Products and Services through Digitization and Consolidation of Local Agri-supply Stores." SEARCA's exhibit will share testimonials of agri-suppliers that benefitted from the project.
To be held on 6 December 2022 via Zoom and Facebook Live, the SyenSaya Technology Forum will have Ms. Emelita P. Bagsit, Regional Director of DOST-CALABARZON, and Ms. Diane Gail L. Maharja, OIC-Director and Innovation Staff from the National Economic Development Authority, as speakers. The forum will highlight the practical applications of science and technology in strengthening the economic resilience and promoting economic prosperity, specifically of micro-small and medium-sized enterprises, of the Los Baños community.
LBSCFI is intent on facilitating the transfer and adoption of science and technology research outputs and services generated by its member agencies to clients and users through various projects. The annual Technology Forum is one avenue for it.
Today, LBSCFI has 23 member agencies, all located in Los Baños and involved in research and development, extension, and education. SEARCA is among the founding members of LBSCFI and serves as the Foundation's Treasurer.