Thirty-four (34) SEARCA scholars from eight (8) SEAMEO member countries completed their degrees during this Fiscal Year 2018-2019. These scholars were recognized in a Testimonial Program held on 20 June 2019 at the SEARCA Headquarters in Los Baños, Laguna Philippines. Two other grantees of the University Consortium also attended the Testimonial, which was also witnessed by family and friends of the graduates as well as all SEARCA staff.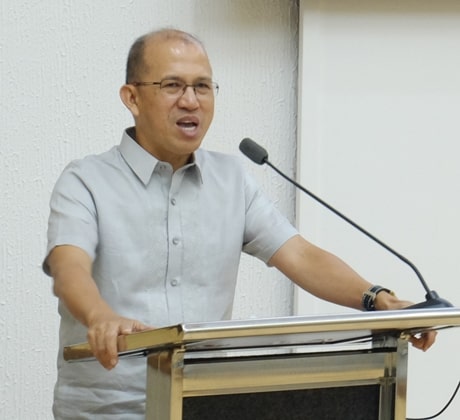 Dr. Glenn B. Gregorio, SEARCA Director, enjoined the graduates to be at the forefront of development. He also challenged them to step up and step out. Dr. Gregorio emphasized, "It means not limiting yourself in your thinking and aspirations, not allowing geographical barriers or perceived hindrances due to your field of expertise to keep you from maximizing your contribution to the global community, even as you work and make a difference in your local capacity." In closing, Dr. Gregorio encouraged the scholars with inspiring words from SEARCA's founding Director Dioscoro L. Umali: "Be the heroes we never were and live."
In her response, Ms. Deasy Fitriati, PhD in Agricultural Engineering graduate, shared how hard it is to study away from one's family. This is also the reason why she pursued to finish her PhD degree in a matter of two and a half years. She wanted to be an inspiration to her daughter and give honor to her mother who were both present in the event all the way from Indonesia. She expressed her appreciation to SEARCA for all the support provided for its scholars. Ms. Miko Mariz Castro, MS Agricultural Economics graduate, spoke about finding a balance between patience and persistence. She shared how she was able to hurdle her anxieties and know when to need other's help. She dedicated the speech to all her fellow scholars and acknowledged them for all the hard work they have done. She expressed her gratitude to SEARCA for providing a conducive learning environment and facilities available for the scholars any time.
Dr. Josefina T. Dizon, President of the Regional SEARCA Alumni Association and professor at the UPLB College of Public Affairs, congratulated the graduates and welcomed them to the ranks of SEARCA Scholarship Alumni.
Of the 34 graduates, 18 obtained PhD degrees, while the rest earned Master's degrees. In terms of country of origin, eight (8) are from the Philippines, six (6) from Indonesia, six (6) from Timor Leste, five (5) from Vietnam, four (4) from Myanmar, two (2) from Cambodia, and one (1) each from Lao PDR, Malaysia, and Thailand.
Twenty-five (25) of the scholars were fully funded by SEARCA, while the rest were funded by or jointly with the Center's partners, namely, the German Academic Exchange Service (DAAD), Nagoya University, and the Philippine Carabao Center (PCC).
Since 1968, SEARCA has been awarding scholarships to deserving Southeast Asian nationals to fulfill its mandate of building the capacities of individuals and institutions in the region for agricultural and rural development. These graduates join the ranks of more than 1,500 SEARCA scholarship alumni and are expected to extend SEARCA's reach in the region.