SEARCA, Philippines – The SEARCA Seed Fund for Research and Training (SFRT) Program held its Mid-Term Forum via Zoom on 12 March 2021. The five grantees from the latest cycle and their research team members participated in the event.
This current batch of SFRT grantees and their teams have been implementing their respective projects under extremely challenging circumstances. The pandemic has resulted to changes in plans, methodologies, timelines, among others, and the pace with which projects are being done. Though the grantees have mostly upheld their commitment to their contractual obligations as best they could, it was deemed necessary to discuss updates and the remaining period of this grant cycle to find ways to assist them move forward and complete their projects on time, as well as sustain project gains beyond the grant period.
Specifically, the online mid-term forum was held for the following purposes:
To determine progress of the project to date against the stated targets/expected outputs;
To revisit the timeline to ascertain if this could be met;
To discuss the project sustainability plan; and
To discuss outputs for publication/SEARCA publication formats.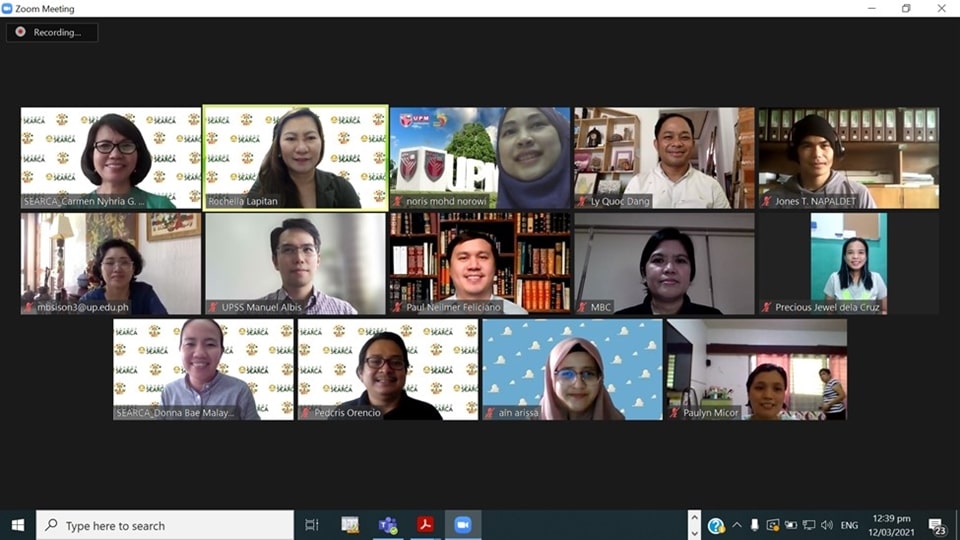 Participating grantees included Dr. Gregorio Y. Ardales Jr. on Skill advancement of incoming grade 12 students on agriculture through training and practical applications as a pathway to food security and economic development; Mr. Ly Quoc Dang on Mekong youth and sustainable agriculture interactions; Dr. Noris Mohd Norowi on Bridging the urban-rural divide on knowledge dissemination and learning process of secondary school children from lower income families working in the agricultural sector in rural areas of Malaysia; Mr. Paul Neilmer M. Feliciano and Mr. Manuel Leonard F. Albis on Do free trade agreements spur agricultural trade and promote greater integration: An empirical analysis on ASEAN-China free trade agreement; and Dr. Jones T. Napaldet on Re-description and documentation of floral diversity in Cordillera Central Rrange, Northern Philippines amidst rampant forest conversion into vegetable farms: An important foundation for biodiversity conservation.
The SFRT Program has been providing grants since 2005 to researchers, scientists, and development practitioners who wish to contribute to the development of Southeast Asia through research and knowledge dissemination initiatives.
Ms. Monalinda Cadiz, Program Specialist of SEARCA's Applied Knowledge Resources Unit (AKRU), discussed the Center's publication formats and the requirements for each. SFRT grant outputs are generally published under the discussion paper series (DPS) and with policy implications highlighted in policy briefs, other formats such as monographs and Asian Journal of Agriculture and Development (AJAD) articles were included as well in the presentation. This provided clarity to the grantees' concerns on their outputs and their publication.
The team from SEARCA which organized and facilitated the event included Dr. Pedcris M. Orencio, Ms. Carmen Nyhria G. Rogel, Ms. Rochella B. Lapitan, and Ms. Donna Bae Malayang, Program Head, Program Specialist, and Program Associates, respectively, of the Research and Thought Leadership Department.