The workshop was organized to build on the wealth of information and policy recommendations from the Second International Conference on Agricultural and Rural Development in Southeast Asia held on 12-13 November 2014 by parlaying these into knowledge products easily accessible to stakeholders and into activities that engage policy makers. Specifically, the workshop intended to (1) plan the content, design, and structure of the ARD book to be developed from the conference; (2) discuss the policy recommendations put forward by the Conference participants for feasibility, acceptability, and other parameters; and (3) recommend strategies for the dissemination of policy recommendations to relevant bodies.
SEARCA Director Dr. Gil C. Saguiguit, Jr. set the tone of the workshop with his message. He called the workshop as a natural progression from the highly successful conference and articulated his hope that meeting the objectives of the workshop would translate to benefits for stakeholders and reinforce SEARCA's standing in the area of inclusive and sustainable agricultural and rural development (ISARD) in Southeast Asia.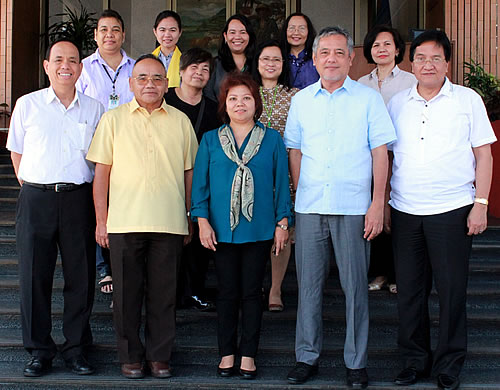 The event was participated in by SEARCA Senior Fellows, Conference Theme Chairs, and relevant SEARCA units. Among the Senior Fellows in attendance were Dr. Geronimo M. Collado, Dr. Ma. Concepcion C. Lizada, Dr. Luis Rey I. Velasco, Dr. Doris Capistrano who also served as an ARD2014 Theme Chair, and Dr. Cielito F. Habito, ARD2014 Technical Adviser, who facilitated the workshop. Dr. Francisco P. Fellizar, Jr., former Deputy Director of SEARCA and an ARD2014 Theme Chair likewise provided invaluable inputs to the discussions.
The SEARCA Senior Fellows Program strengthens the Center's ability to respond to contemporary and important concerns in agriculture and rural development. Senior Fellows, known for their extensive experience in various fields, provide advice and guidance in the conceptualization of programs as well as technical inputs in project development, implementation, and related concerns.
Also present were staff of SEARCA's Research and Development Department led by Dr. Bessie M. Burgos who co-facilitated the workshop, and staff of the Knowledge Resources Unit under the Knowledge Management Department led by Dr. Maria Celeste H. Cadiz. (Carmen Nyhria G. Rogel and Junette A. Baculfo)