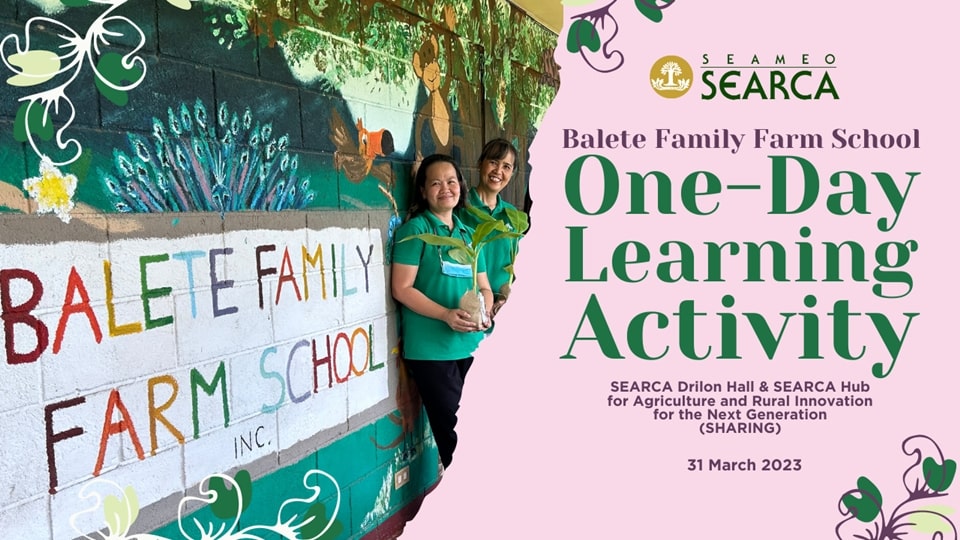 Recognizing the need to empower schoolgirls and farming families through quality education, the Southeast Asian Regional Center for Graduate Study and Research in Agriculture (SEARCA) is set to conduct a one-day learning activity for the Balete Family Farm School (BFFS), Inc. on 31 March 2023.
BFFS is the only all-female farm school in Asia. The school is engaged in various livelihood projects to help finance its scholarship program for poor but deserving young girls to get a high school education with an orientation on agricultural entrepreneurship.
In celebration of the International Women's Month, SEARCA and BFFS will provide an avenue for graduating family farm school students to present their business plan as part of the Family Enterprise Project (FEP) before a panel of experts from SEARCA.
SEARCA hopes to empower the next generation agriculture leaders and professionals through knowledge sharing and experiential learning. Specifically, the one-day learning activity aims to build the knowledge and confidence of family farm students in creating an agri-based business plan through an oral presentation of their output, which SEARCA experts will evaluate; provide additional learning on agripreneurship among the family farm school students and teachers through delivery of lecture of SEARCA expert; and create a mindset on how agriculture can be creative among youths.
This initiative aligns with two of the Center's priorities, which are gender and youth engagement in agriculture and rural development (ARD), and agribusiness models for increased productivity and income.