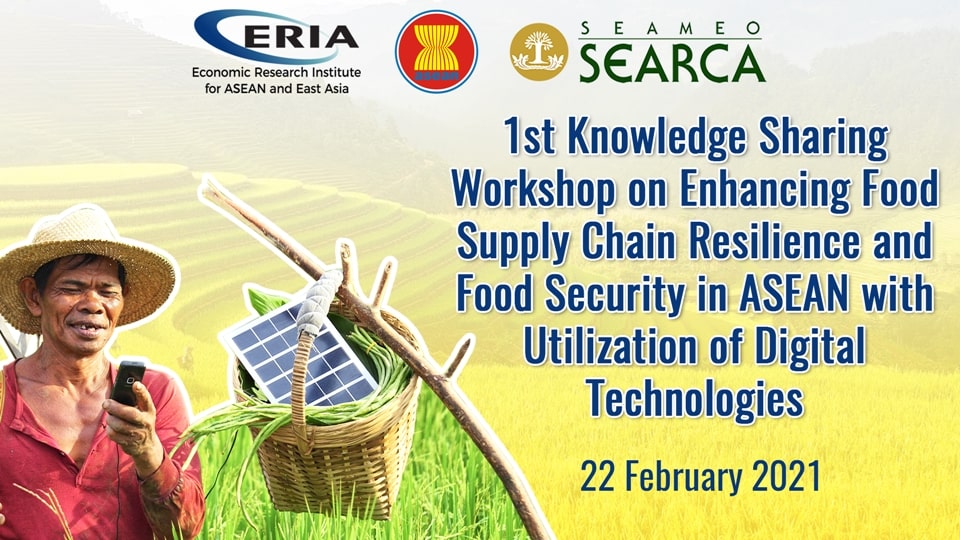 SEARCA in collaboration with the Association of Southeast Asian Nations (ASEAN) Secretariat and the Economic Research Institute for ASEAN and East Asia (ERIA) will be holding the 1st Knowledge Sharing Workshop for the "Project on Enhancing Food Supply Chain Resilience and Food Security in ASEAN with Utilization of Digital Technologies." The workshop will be conducted online via Zoom on 22 February 2021 (Monday), at 9:00 AM (GMT+7 Jakarta).
The online workshop aims to discuss and level-off on the applications, trends, and development of digital technologies in the agricultural sector with the ASEAN Member States (AMS), and to gather their inputs and suggestions for developing the ASEAN Guidelines for Accelerating Transformation of Food and Agriculture through Digital Technologies and Innovation, which is the main output of the project's component 3 that is being implemented by SEARCA. The ASEAN guidelines intend to quip the ASEAN region with recommendations and implementation considerations for making informed decisions that will shape the digital transformation of agriculture in the region. The other components of the project that will also provide insights into the development of the ASEAN guidelines include a macro-data analysis of the overall impact of COVID-19 on agricultural production and food value chain resilience in ASEAN, and an assessment of actual status of the application of digital technology in the food and agriculture sectors.
In this activity, SEARCA will be presenting the component's inception report while other components will share the initial results of their research. Experts from the livestock, fisheries, smallholder farming, and finance sectors will also be invited to share their experiences on the use of digital technologies in their respective sectors. It is expected that government officials from the agriculture and trade ministries of the AMSs along with other stakeholders will join this event.