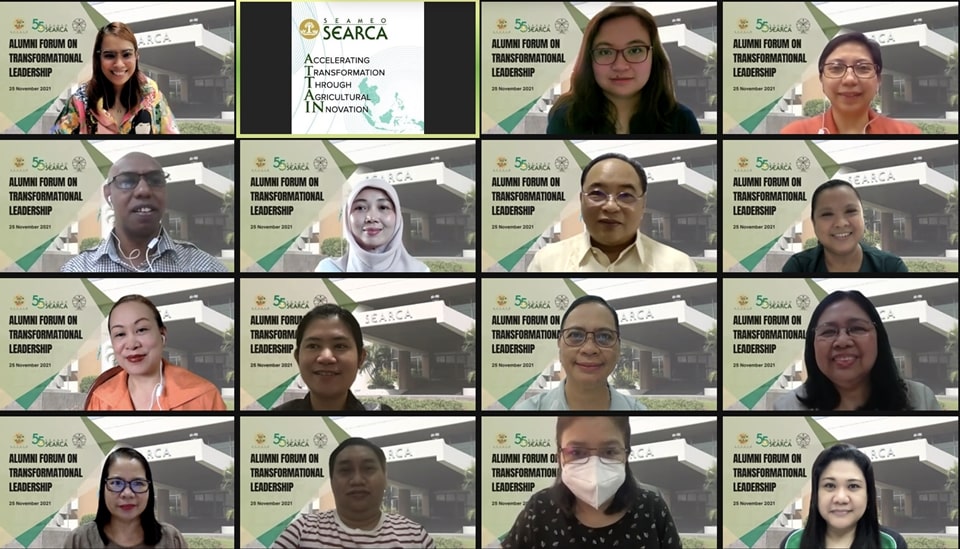 SEARCA, through the Graduate Scholarship and Institutional Development Unit (GSIDU) and the Regional SEARCA Alumni Association (RSAA), organized an Alumni Forum on Transformational Leadership on 25 November 2021. The forum celebrated SEARCA's 55th Anniversary and discussed the experiences and reflections of selected SEARCA alumni on what it takes to be a transformational leader.
Dr. Glenn B. Gregorio, SEARCA Director, welcomed everyone to the forum and thanked the alumni's continuous support for over six decades. SEARCA considers its scholars to be the seeds that were sown and are continuously bearing fruits of goodwill and higher learning as alumni. They are SEARCA's ambassadors that champion excellence in agriculture and rural development in the region. Dr. Gregorio also referred to both scholars and alumni as the powerhouse of SEARCA, especially in times of uncertainty.
Dr. Josefina T. Dizon, Professor at the College of Public Affairs and Development, University of the Philippines Los Baños (UPLB), and President of RSAA, shared the values that the alumni should emulate. She summarized these values as a new acronym for SEARCA -Strength in unity, Engagement, Adaptiveness, Resilience, Collaboration, and Acceleration. By embracing these values, both scholars and alumni can sow seeds of innovation towards agricultural transformation in Southeast Asia. Dr. Dizon also recognized SEARCA as instrumental for the alumni's achievements.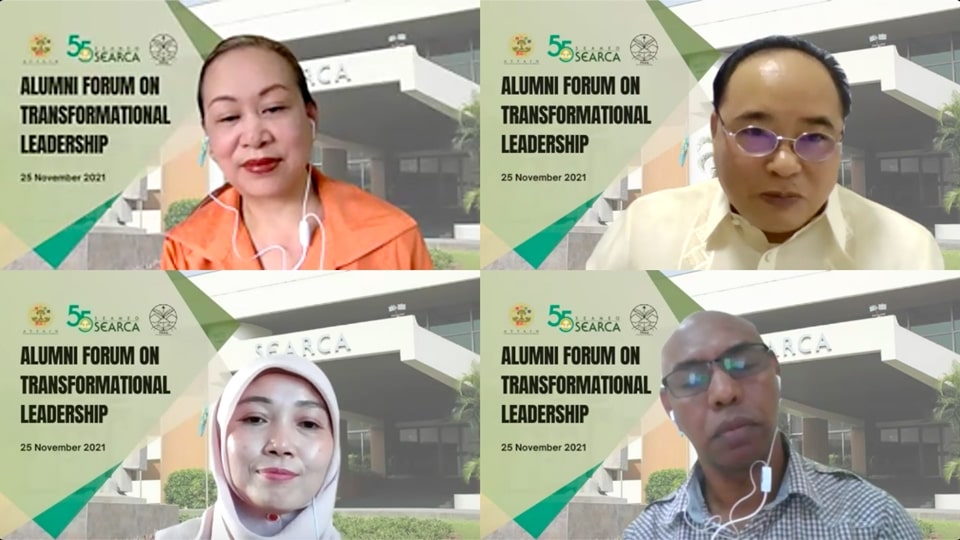 (Top, L-R) Dr. Serlie Barroga-Jamias (Moderator), Dr. Weerapon Thongma (Thailand) (Bottom, L-R) Dr. Asikin Yoeu (Cambodia), and Mr. Natalino Babo Martins (Timor Leste)
Dr. Weerapon Thongma (Thailand), Dr. Asikin Yoeu (Cambodia), and Mr. Natalino Babo Martins (Timor Leste) served as panelists for the forum and shared their leadership journey. Dr. Weerapon Thongma is an Associate Professor and the President of Maejo University in Thailand with almost 35 years of experience in leadership in the academe. Dr. Asikin Yoeu is an Undersecretary of State at the Ministry of Agriculture, Forestry and Fisheries, Cambodia. For over 11 years, Dr. Asikin continued to serve Cambodia through her leadership in the academe and the Cambodian Government, starting in 2018. Mr. Natalino Babo Martins is the Deputy Project Manager of Conservation International in Timor Leste. For nine years, Natalino has shared his expertise and leadership in various projects funded by the United States Department of Agriculture.
Another SEARCA scholarship alumna, Dr. Serlie Barroga-Jamias, Professor, College of Development Communication, UPLB, served as Moderator during the forum. At UPLB, she has served in administrative positions for 12 years, such as being Director of Public Relations, two times and as Vice Chancellor for Community Affairs.

(Top, L-R) Dr. Serlie Barroga-Jamias (Moderator), Dr. Weerapon Thongma (Thailand), Dr. Asikin Yoeu (Cambodia)(Bottom, L-R) Mr. Natalino Babo Martins (Timor Leste), Dr. Josefina T. Dizon (RSAA President), and Dr. Asdi Agustar (RSAA Vice President)
The alumni's stories, values, and personal lives have become powerful testimonies during the alumni forum. Factors such as education, a supportive employment or work environment, inclusivity policies in the government, appreciation for young leaders, dedication, and the willingness to serve the country, are all part and parcel of their journey as transformational leaders in their respective fields. The panelists also highlighted the importance of having a vision, which in their case, stemmed from their humble beginnings. The turning point to their journey was when SEARCA provided an opportunity to realize their vision. The combination of their vision and the opportunity handed to them through the scholarship led them to where they are now.
The panelists highlighted that leaders can be from any gender as long as they commit, they lead by example, and they gain the people's trust. After all, leadership is about inspiring people to accomplish things that they thought they could never do. It is about seeing opportunities amidst the hardships and challenges.
Dr. Asdi Agustar of Andalas University, Indonesia, and Vice President of RSAA, closed the forum by highlighting that SEARCA plays its role by giving birth to a cadre of leaders in different fields. These leaders inspire change in those who follow, thus, ushering transformation towards regional development.
SEARCA underscores the importance of harnessing the potential to address pressing issues of poverty and food security. The forum highlighted that the alumni are SEARCA's best resources and partners, especially in areas in dire need of transformation.