LOS BAÑOS, LAGUNA - The Southeast Asian Regional Center for Graduate Study and Research in Agriculture (SEARCA) provided a grant to the Mindoro State University (MinSU) to establish a techno-demo-learning site for calamansi research. A virtual signing of the Letter of Agreement between SEARCA and MinSU on the establishment of the learning site was done on 24 May 2021 via the Zoom platform to further strengthen the ongoing partnership. The ceremony was participated in by Dr. Glenn B. Gregorio, SEARCA Director, and Dr. Levy B. Arago, Jr., MinSU President, as signatories, and by Prof. Joselito G. Florendo, SEARCA Deputy Director for Administration, and Dr. Christian Anthony C. Agutaya, MinSU Vice President for Research, Development, and Extension, as witnesses.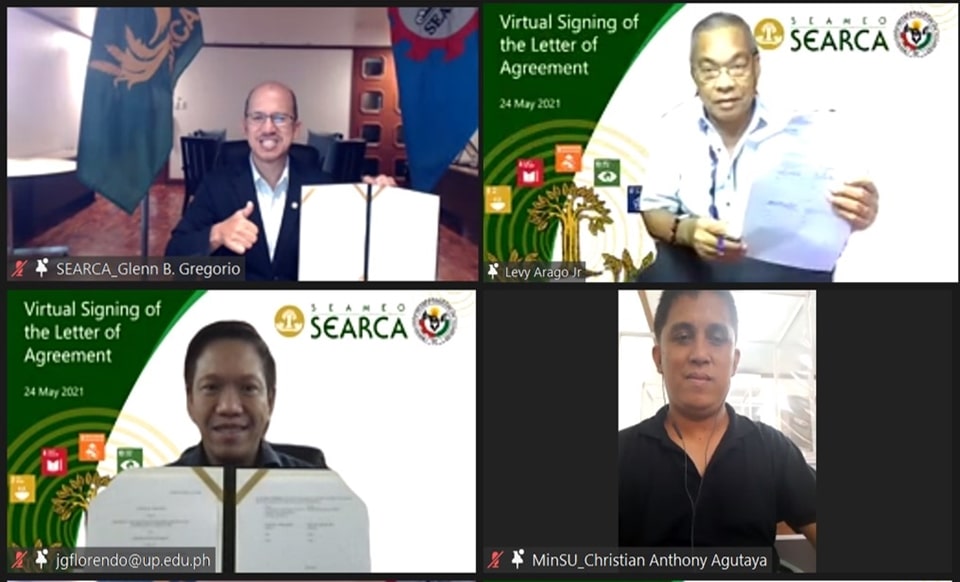 SEARCA and MinSU executives signed the Letter of Agreement to establish a techno-demo-learning site for calamansi research on 24 May 2021
The techno-demo-learning site for calamansi research is envisioned to contribute to the promotion of faculty and student exchange for research and development and technology promotion and transfer initiatives. This is one of the objectives of the Department of Agriculture – Bureau of Agricultural Research (DA-BAR)-funded project, "Upgrading the Calamansi Value Chain towards Improving the Calamansi Industry of Oriental Mindoro", the results of which have led to the establishment of the site.
SEARCA will provide the funds to establish a 2,500 m2 calamansi grove, provide input supplies, small farm tools and equipment, the cost and labor fees for land preparation, planting of new seedlings, and rehabilitation of old and diseased trees. The calamansi grove will showcase good agricultural practices and can be used as a training and research area for students and researchers from various institutions and groups, with the aim of being certified / accredited as an Agricultural Training Institute (ATI) Learning Site.
The project management team, composed of SEARCA and the University of the Philippines Los Baños (UPLB) experts, led by Dr. Pedcris M. Orencio and Dr. Edna A. Aguilar as Project Proponent and Project Leader, respectively, prepared the recommended protocols for the establishment and management of the calamansi techno-demo-learning site. The protocols include good agricultural and management practices for calamansi production such as soil sampling and analysis, land preparation, fertilizer application, irrigation, and pruning.
Beyond the project, MinSU can be a provincial center for teaching and promoting good agricultural practices (GAP) for calamansi and, with SEARCA and UPLB, continue promoting and exchanging new knowledge and research outputs through the students and faculty.