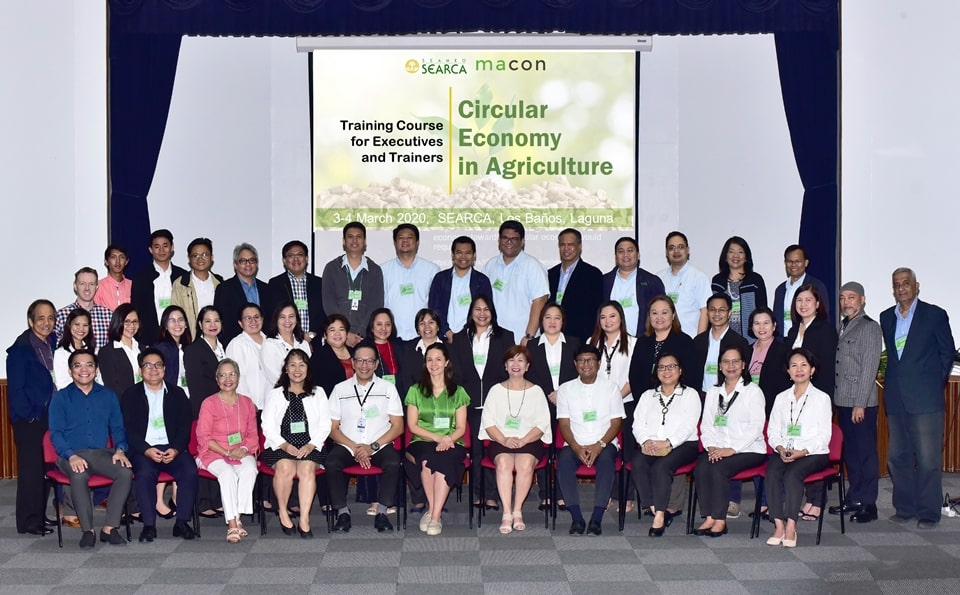 The Circular Economy training course participants with resource person Dr. Sanna Taskila, SEARCA officials, and training management team
LOS BAÑOS, LAGUNA, Philippines - Driving innovative technologies and opportunities towards achieving greater regional agricultural sustainability brings the Southeast Asian Regional Center for Graduate Study and Research in Agriculture (SEARCA) to the fore in exploring the concept of circular economy as a business innovation for resource efficiency in the agricultural sector.
To mainstream the promising potential of circular thinking, SEARCA gathered 46 executives, heads, and trainers from agencies and organizations in the Los Baños Science Community (LBSC), including the Center's heads and selected staff, in a Training Course on Circular Economy in Agriculture on 3-4 March 2020 at the SEARCA Headquarters.
The two-day course highlighted the significance of integrating circular economy as a state-of-the-art model anchored on a closed loop management of resources and wastes to ensure a food-secure population in a resource-resilient agricultural sector. The training pitches for a transformative shift that further links increased profitability and productivity with sustainability as a paramount priority, in new and advanced design processes, value chains, and agricultural opportunities.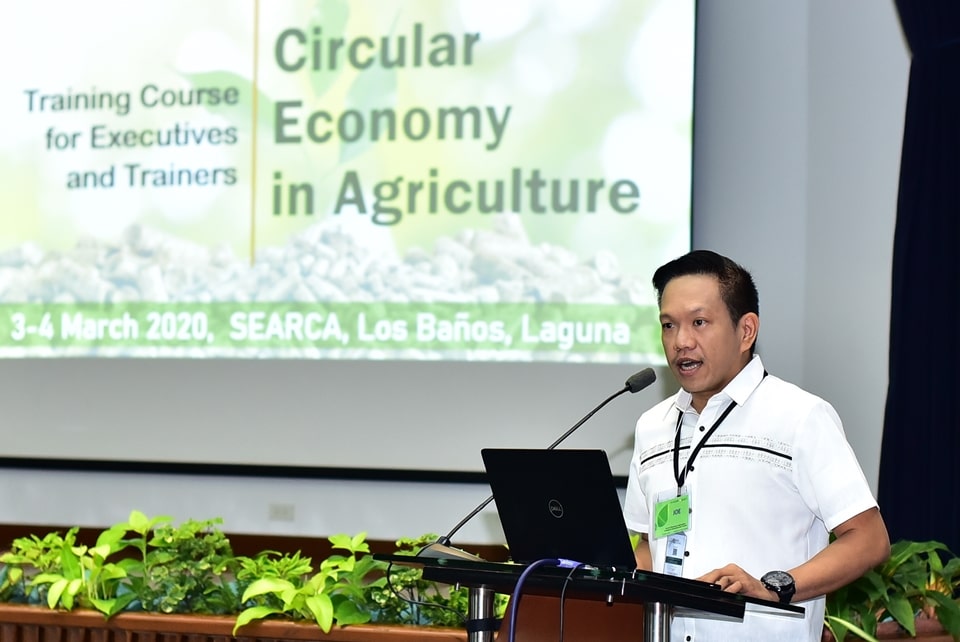 SEARCA Deputy Director for Administration Mr. Joselito G. Florendo emphasizes the significance of circular economy as one of SEARCA's thematic focus
In his opening remarks, Mr. Joselito G. Florendo, SEARCA Deputy Director for Administration, asserted that the training course is one of the Center's significant contributions towards identifying progressive solutions for sustainability and climate change resiliency in the agricultural sector. He stressed how circular economy can serve to realize SEARCA's commitment to uphold Sustainable Development Goal (SDG) No. 12 on Responsible Consumption and Production, along with its 11th Five Year Plan, with circular economy as one of the Center's thematic focus in addressing the plight of farmers and their families in the grassroots.
Towards this end, he made a call to action as he noted the need for stakeholders to balance today's resources with the future's growing demands in the agricultural sector.
"The business-as-usual attitude is no longer an option if we want to ensure the future of our food supply and the well-being of the farmers and communities that produce it. It is a challenge for everyone to save resources while improving the profitability of agricultural production and responsible consumption," Deputy Director Florendo said.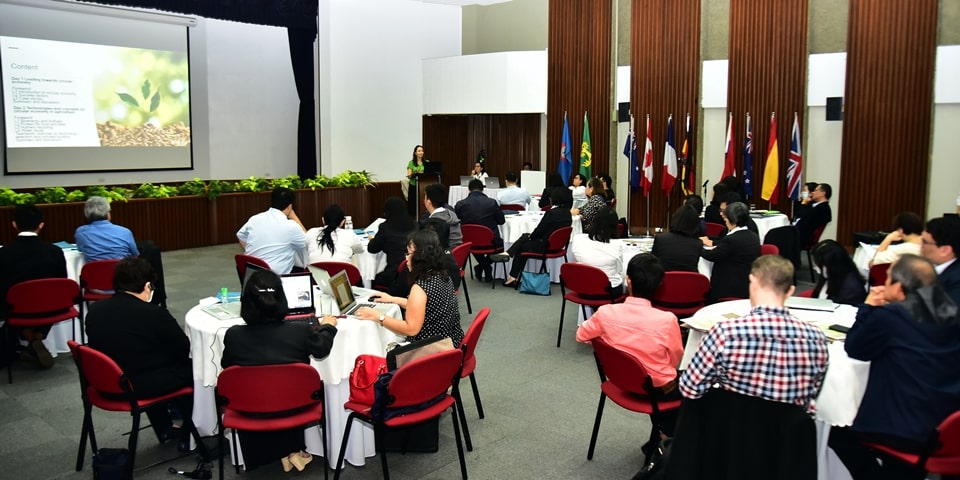 Dr. Sanna Taskila leads the two-day training course on circular economy for executives and trainers in the LBSC
Dr. Sanna Taskila, Deputy Managing Director of the Finnish company Mikko Akohas Consulting Oy (MACON), served as the resource person and facilitator for the entire two-day training course. Dr. Taskila has over 15 years of experience in process and environmental engineering, development of side stream valorization concepts, and leading R&D activities related to sustainable use of natural resources.
The first day of the course captured the general picture of the circular economy perspective as Dr. Taskila discussed the definition, impacts, benefits, and challenges of circular economy. Participating executives and decision-makers on implementation or selection of circular economy activities were oriented on how a transition into circularity in the agricultural production and value chain could work on the ground through current sector-wide initiatives and pioneering cases on bioenergy, biofuels, and nutrient recycling. Participants were asked to identify the strengths that would help drive a circular economy in the country's agricultural sector.
On the second day, Dr. Taskila provided more in-depth elaboration on how to operationalize the circular economy approach to trainers, as she discussed the feasibility analysis, steps, and considerations on how to improve production and value chain design and processes at different levels, and thus making it more sustainable through circular agriculture innovations. She further presented specific cases on biorefining, biofuel, and bioethanol production, biochar, pyrolysis of biomass, water treatments, and other success stories demonstrating how wastes are turned into valuable inputs and raw material in other agricultural processes.
In the workshop, participants divided into seven groups worked on how to integrate the circular economy principles on their chosen agricultural sector/product. The groups presented the success factors, namely: enabling environment, market, technology, and raw materials, along with the product's value pyramid design, to further illustrate the recycling and re-use of wastes in the production and consumption processes. The proposed circular economies were designed for fish, mango, carabao dairy products, coconut, and banana farms.

Groups impart their 'circular thinking' and present a situationer of success factors for the potential of circular economy innovation in their respective agricultural product/sector