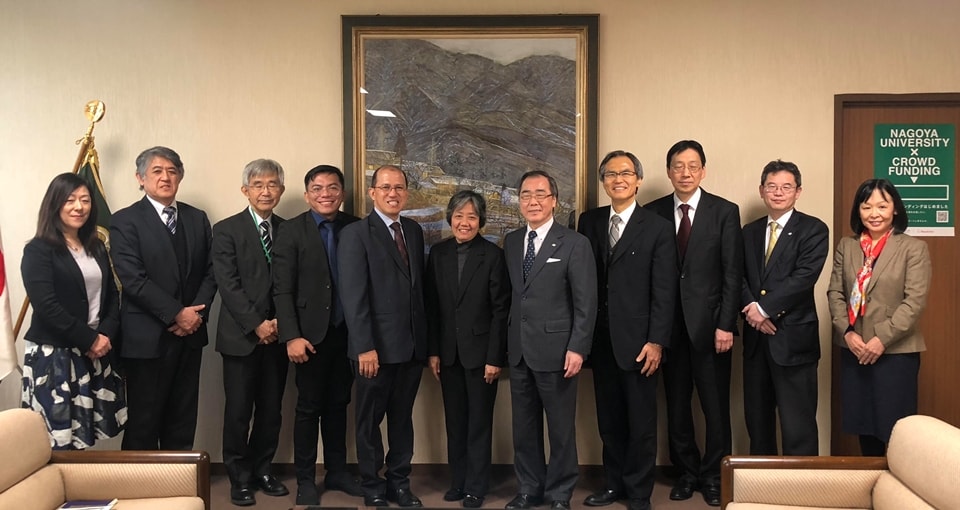 Dr. Gregorio, Dr. Ancog, and Professor Matsuo with other Nagoya University officials present at the meeting were Prof. Dr. Kazuhito Kawakita, Vice President and Trustee; Prof. Dr. Masafumi Nakahigashi, Vice President; Prof. Dr. Fumio Isoda, Director of Asian Satellite Campuses Institute (ASCI); Prof. Dr. Satoru Tsuchikawa, Dean of Graduate School of Bioagricultural Sciences (GSBS); Prof. Dr. Akira Yamauchi, Vice Dean of GSBS; Prof. Dr. Aya Okada, Professor of Graduate School of International Development (GSID); and Dr. Editha C. Cedicol, ASCI.
NAGOYA, Japan – Dr. Glenn B. Gregorio, Director of the Southeast Asian Regional Center for Graduate Study and Research in Agriculture (SEARCA), was graciously received by Prof. Dr. Seiichi Matsuo, President of Nagoya University (NU), and his cabinet during his visit on 12 February 2020.
The visit aimed to further strengthen the SEARCA-Nagoya University collaboration on joint scholarship support, academic and research cooperation, and academe-industry-government interconnectivity implementation to revitalize the agriculture sector in the Southeast Asian region.
Through its 11th Five-Year Plan, Dr. Gregorio envisions SEARCA to be a gateway to the future of agricultural development by building an open innovation and open science spaces that will serve as the venue for future trends and opportunities for agriculture and rural development in the Southeast Asian region for the next 10 years.
He stressed that "this re-imagined, transformational strategy is built on the premise that advancements in agricultural technology, coupled with a changed policy and social consciousness, are fundamentals in changing the agricultural and rural development landscape."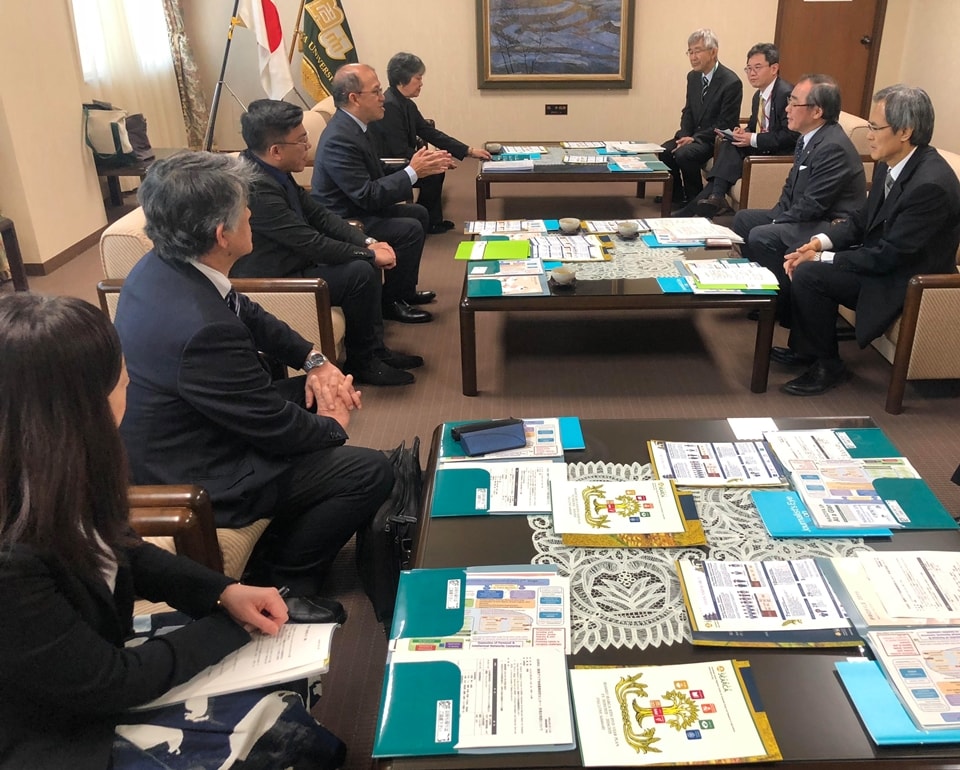 Prof. Dr. Seiichi Matsuo (third from top right), President of Nagoya University, and his cabinet graciously received Dr. Glenn B. Gregorio (second from top left), SEARCA Director, and Dr. Rico C. Ancog (third from top left), SEARCA Technical Consultant for Project Development and Technical Services (PDTS).As part of its strategy, SEARCA actively explores various models on academe-industry-government implemented by advanced countries in the world. Of particular interest is the case of NU that for years has systematically wielded strong industry-academe partnership in strategically advancing its curricular programs and research and development work.
Being located in the Aichi Prefecture, a major industrial hub in Japan, NU has been supporting the automobile, aerospace, ceramics, and a number of industries through the conduct of basic researches.
In turn, the private sector also infuses necessary funds for university researches to pursue cutting-edge technological studies, thereby further complimenting the support given by the government. The active collaboration of NU with the industry sector also ensures the strong matching between university curricular programs with the human resource demand of the work sector.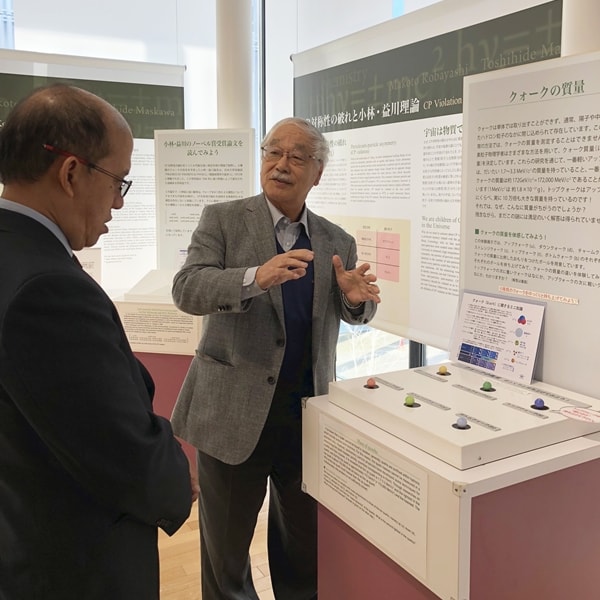 Dr. Gregorio was given a tour of the Nobel Laureates Museum of Nagoya University.Of the total 13 Nobel Laureates won by Japanese nationals, six were scientists from NU. This major milestone were greatly attributed to carefully-planned industry-academe-government collaboration pursued by the university such as in the case of Professor Ryoji Noyori and Professor Isamu Akasaki who were awarded for advanced research on "studies on asymmetric synthesis" and "basic studies on LED technology," respectively.
As related by the NU officials, the industry-academe-government cooperation continues to be increasingly important in establishing new processes from the creation of intellectual property to its utilization with the aim of contributing towards social well-being.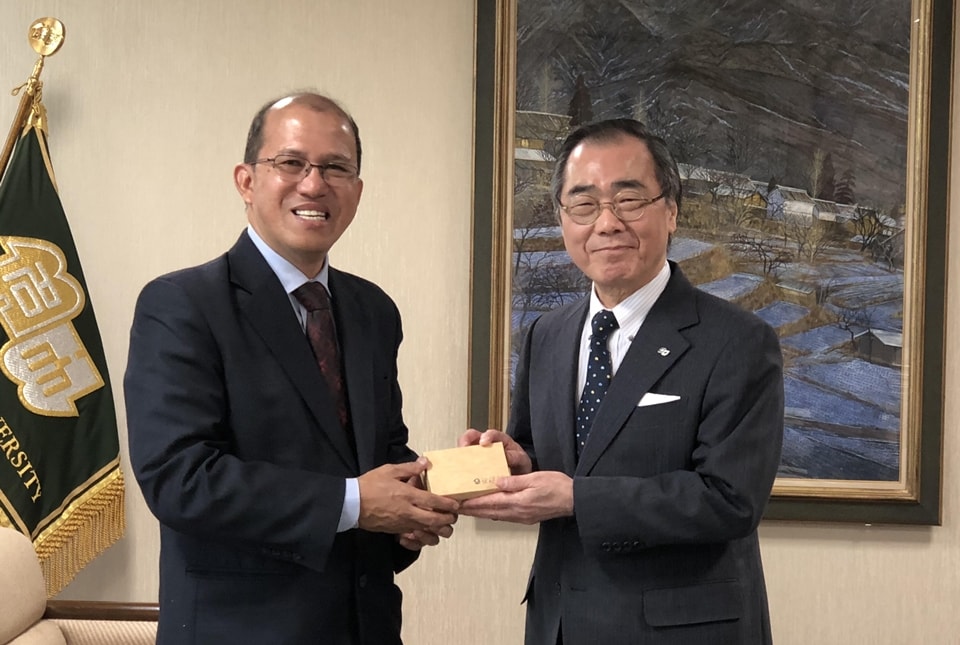 Dr. Gregorio (left) presents a token to Professor Matsuo during his visit to Nagoya University.As SEARCA embraces an open innovation culture, it sees reaching out to innovation ecosystem as one of the strategies to respond to persistent challenges in agricultural and rural development, and in re-imagining its purpose and position in the development world.
In the coming years, SEARCA intends to facilitate the partnering up of players and actors of the innovation community in the Southeast Asian countries such as incubator houses, venture capital funders, universities and other research institutions, as well as startups, small and medium enterprises, and corporations.