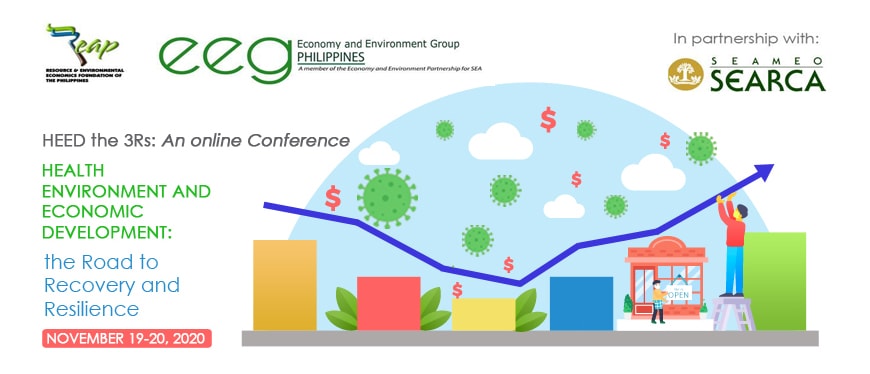 The Economy and Environment Group Philippines (EEG Philippines), a program of the Resource and Environmental Economics Foundation of the Philippines (REAP) Incorporated, together with the Southeast Asian Regional Center for Graduate Study and Research in Agriculture (SEARCA), will hold the 1st National Conference on Health, Environment and Economic Development: The Road to Recovery and Resiliency (HEED the 3Rs) from 19 to 20 November 2020 via Zoom online platform. The conference aims to gather researchers, practitioners, policymakers, and other representatives from disciplines of health, environment, economics, and other related fields and discuss the latest progress and developments in areas related to COVID-19. This event will likewise serve as a platform to share information and insights, initiate collaborations, and forge partnerships and integration among local stakeholders as it recognizes the importance of transdisciplinary research in addressing global and local economic and environmental challenges.
As conference partner, SEARCA will host a session with the theme One Health/Eco-health Perspectives in Agri-Food Systems: Sustaining Livelihoods and Improving Wellbeing on 19 November 2020. The session aims to further examine environmental events that have adversely affected Filipinos and identify policy, governance, and management strategies/interventions that balance health, environmental and economic goals towards recovery and resiliency, particularly of smallholder farming families and fisherfolks. The session will include presentations on a development organization's framework of action for COVID-19 and the prevention of future pandemics; youth engagement and employment for sustainable agri-food systems; and African Swine Fever impacts on food systems, environment, and economy.
This theme is in line with SEARCA's priority area on One Health/Eco-Health applications to agricultural and rural development (ARD). One Health/Eco-Health is a holistic approach to health that emphasizes how the complex relationships among ecosystem components affect human health and environmental quality. It is used to examine how more sustainable ecosystem management can help protect and improve human health as well as contribute to economic development. It is a way of viewing and resolving complex problems at the intersection of health, environment, livelihoods, and development.
The plenary sessions of the HEED the 3Rs Conference will feature keynote talks from distinguished government officials and thematic experts that include Honorable Vice President Maria Leonor G. Robredo; Hon. Stella Luz A. Quimbo Representative, Second District of Marikina Economic Development; Dr. J. Prospero E. De Vera III Chairperson, Commission on Higher Education; Dr. Cielito F. Habito Professor, Ateneo de Manila University and Chairman Brain Trust: Knowledge and Options for Sustainable Development Inc.; and Dr. Gem B. Castillo National Director, REAP-EEG Philippines.
The Conference' Opening Program and Plenary Sessions will be open to the public through its live stream via SEARCA's Facebook page. The HEED the 3Rs Conference flyer can be downloaded from SEARCA's website: https://bit.ly/3fk21mX.