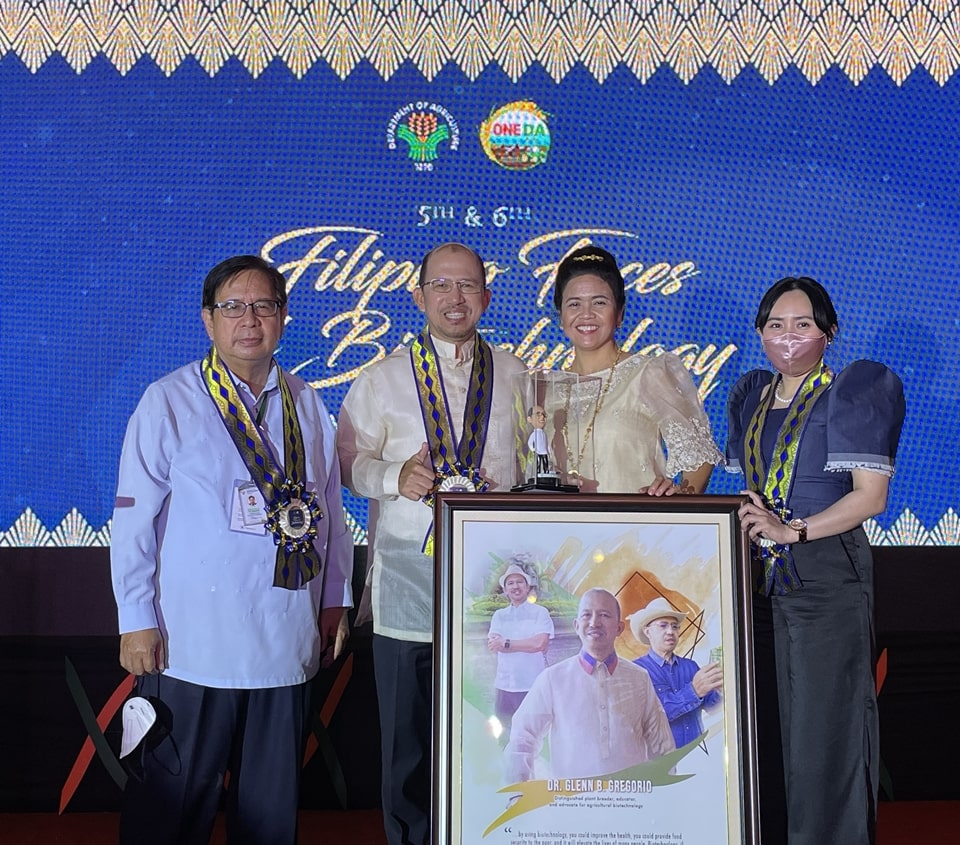 SEARCA Director and Filipino Face of Biotechnology 2021 Dr. Glenn B. Gregorio (second from left), with Philippine Department of Agriculture (DA) Undersecretary Fermin D. Adriano (leftmost); Ms. Annalyn L. Lopez (rightmost), DA-Biotechnology Program Office (BPO) Director; and his wife Ms. Myla Beatriz (second from right).
MANILA, Philippines – Dr. Glenn B. Gregorio, Director of the Southeast Asian Regional Center for Graduate Study and Research in Agriculture (SEARCA) and Professor at Institute of Crops Science, University of the Philippines Los Baños, is one of the recipients of the 6th Filipino Faces of Biotechnology (FFOB) conferred by the Philippine Department of Agriculture-Biotechnology Program Office (DA-BPO).
The award is given to outstanding Filipino individuals who have greatly contributed and played a significant role in the advancement of biotechnology in the Philippines and beyond.
Agriculture Undersecretary Fermin D. Adriano opened the awarding ceremony by emphasizing the essence of recognizing Filipinos who made a dent in the field of Philippine agribiotechnology.
"I treat the awardees today as the vanguards of biotechnology. We recognize your contribution for all the things you can do for the good of this country. DA recognizes the discoveries of what Filipino scientists can produce that can alter the force of history," he said.
In his special message, Agriculture Secretary William D. Dar emphasized DA's purpose in reinforcing biotechnology to Filipino people most especially on the farm level.
"The Department of Agriculture continues to employ realistic approaches in communicating the beneficial applications and impacts of biotechnology on food security, food safety, and agricultural resiliency and sustainability," said Philippine agriculture chief.
Dr. Dar added that the Filipino Faces of Biotechnology Awards bring closer to people biotechnology and its applications by sharing personal and powerful stories that inspire Filipinos to continuously propel the benefits of biotechnology.
Dr. Gregorio is also a Professor at the University of the Philippines Los Baños (UPLB), SEARCA's host institution since its inception in 1966.
The award adds to the numerous achievements of Dr. Gregorio and of SEARCA's unmatched legacy in the past decades in enabling an environment for effective and safe utilization of agricultural biotechnology in Southeast Asia.
In 2000, SEARCA in partnership with the International Service for the Acquisition of Agribiotech Applications (ISAAA) established the SEARCA Biotechnology Information Center (SEARCA BIC) to serve as the Philippine biotechnology information node that is part of the Global Knowledge Center on Crop Biotechnology.
Along with Thailand and Malaysia, the Philippines' SEARCA BIC was among ISAAA's first and most active information centers in Asia as a response to information needs in order to promote a wider public understanding of crop biotechnology, and monitor the local agri-biotech environment.
In his acceptance message, Dr. Gregorio expressed his gratitude to DA-BPO.
"Thank you very much for recognizing me as one of the Filipino Faces of Biotechnology. I know the faces of biotech were the only ones awarded this evening but I would also like to acknowledge the "body" and the "spirit" of our success – none other than our teams and our loved ones who are with us in the process to make biotech a reality," said Dr. Gregorio.
He ended his message by highlighting biotechnology as the gamechanger for our agri-food system. Dr. Gregorio concluded, "Due attention must be given to our resource-poor farmers by providing them unbiased access to information, best practices, and new technologies that empower them."
The award was presented on 2 December 2021 at the 5th and 6th Filipino Faces of Biotechnology Awarding Ceremonies held at The Rizal Park Hotel. Joining Dr. Gregorio in the 6th FFOB are Dr. Alicia G. Ilaga, Mr. Juanito Rama, and SEARCA Dioscoro M. Umali Achievement Awardee Dr. Ramon C. Barba. The 5th FFOB comprise Dr. Ma. Carmen A. Lagman, Dr. Arthur R. Baria, Dr. Mary Beth B. Maningas, and Dr. Teresita M. Espino.