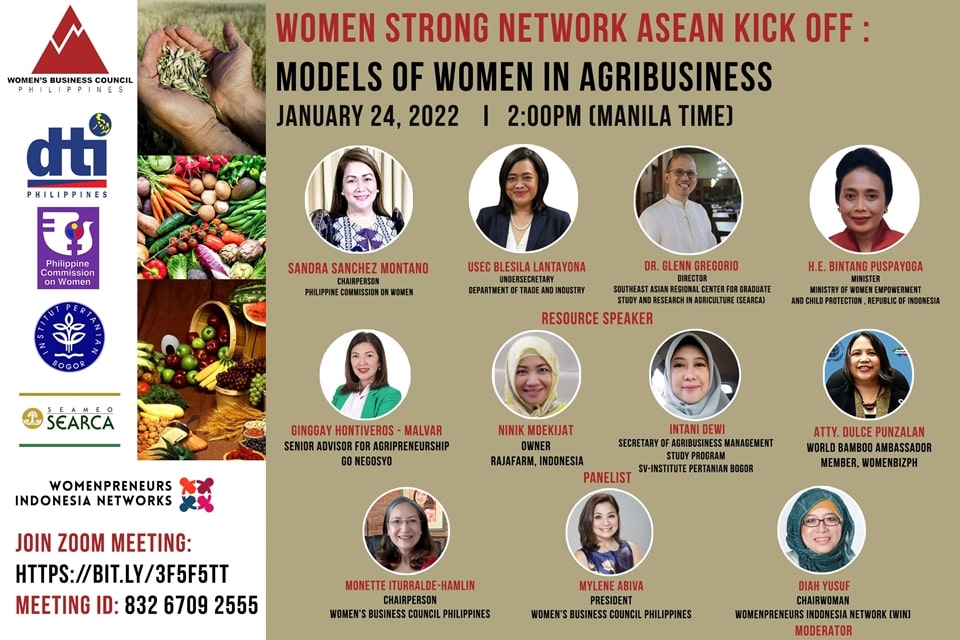 "Let us not discount the dynamic roles that women are taking as we navigate the evolving landscape of food security, nutrition and environment protection," said Dr. Glenn B. Gregorio, Director of the Southeast Asia Regional Center for Graduate Study and Research in Agriculture (SEARCA), at the Women Strong Network ASEAN Kick Off: Models of Women in AgriBusiness held online on 24 January 2022.
The launching of the Women Strong Network was jointly organized by the Women's Business Council of the Philippines (WomenBizPH), Philippine Department of Trade and Industry (DTI), Philippine Commission on Women (PCW), IPB University, Indonesia, and SEARCA.
WomenBizPH was established by DTI in 1997 as the leading private sector partner of the government in advancing women's agenda in the Asia-Pacific Economic Cooperation (APEC) and in the ASEAN region.
"In addition, the Council serves as the leading voice of women in commerce that provides policies and solutions to DTI and the PCW," said Ms. Mylene Abiva, WomenBizPH President.
Women leaders across the ASEAN region were invited to share the fruits of their experiences in business management and how women can be key agents in agriculture, nutrition, and rural development. The kick-off program concentrated on the trends and issues women agribusiness leaders face today as well as initiatives in amplifying resources to facilitate national and regional economic recovery.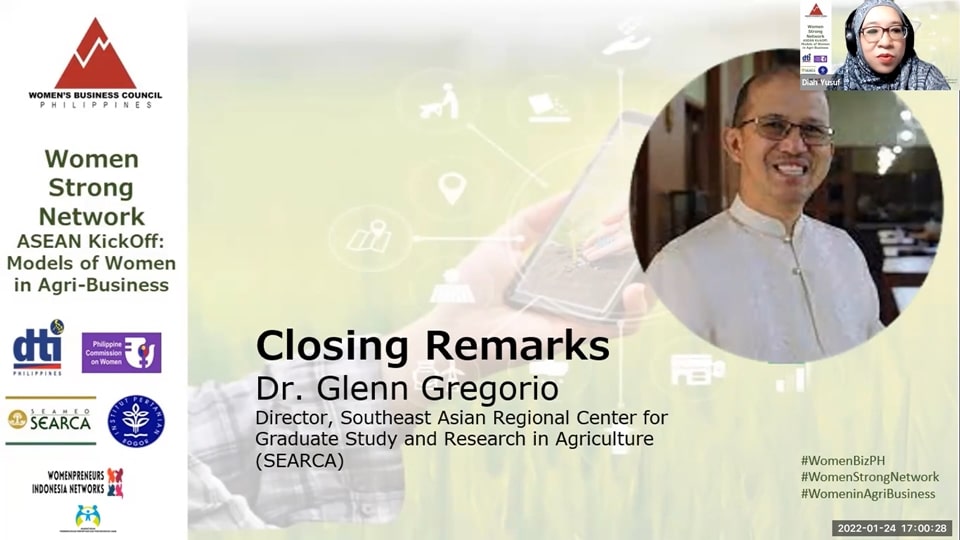 In Dr. Gregorio's message, he expressed his gratitude to the efforts of WomenBizPH and its partners in organizing a platform for women in the agriculture sector.
"We have witnessed how agriculture took the frontline during this global crisis. The necessity of producing and mobilizing food to feed the population has been a challenge that was highlighted with the limitations brought by the pandemic. SEARCA lauds the initiatives of our partner, Women's Business Council Philippines, in leading this kick-off empowering more women to engage and build networks in the ASEAN region," said Dr. Gregorio.
He also emphasized that SEARCA reinforces the need to empower women leaders in capacitated Micro, Small, and Medium Enterprises (MSMEs) located in rural communities to send a strong signal of the vital role of women in food security and in regional building.
"SEARCA prioritizes women as part of our Gender and Youth Engagement in Agricultural and Rural Development or ARD priority area geared towards Accelerating Transformation through Agricultural Innovation or ATTAIN."
Dr. Gregorio concluded his message by stressing out the importance of partnerships across genders as a crucial step in providing in-depth knowledge and platforms for women towards the ASEAN Gender Outlook.
"Men, women, and people of all genders, let us join hands as we kick-off to a BETTER, BIGGER, SMARTER and STRONGER normal that is highly relevant in the Philippines, the ASEAN region, and beyond."