Ms. Soledad Villanueva, Principal of the host school, presented the framework of the SHGP. She shared how she has mobilized resources to implement the project in Bagumbayan Elementary School despite not being one of the six pilot schools. "When I was principal of Labuin Elementary School in Pila, a pilot school of the project, I was very fortunate to have attended the series of workshops and trainings conducted by SEARCA, DepEd, and UPLB. When I transferred to Bagumbayan, I made sure to apply the knowledge and skills I gained from the project," she shared to the participants.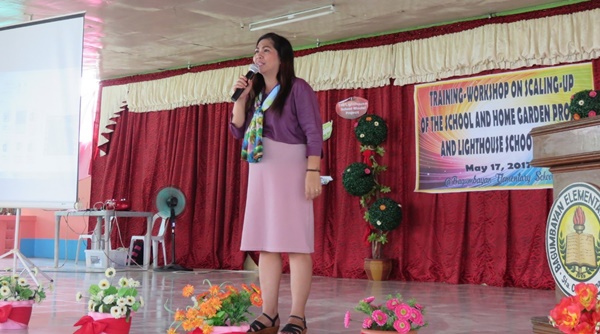 Ms. Michelle Samia, SHGP Coordinator of Labuin Elementary School, delivered a lecture on Edible Landscaping− one of the distinct technologies introduced by the project. She gave an overview on the objectives, crop management, and elements of design that should be taken into consideration for an edible landscape.
Ms. Glenda Aruejo, SHGP Coordinator of Crisanto Guysayko Memorial Elementary School in Nagcarlan, presented the process of Strategic SWOT Analysis. Participants then prepared and presented SWOT analysis regarding school gardening in their respective school district.
On the other hand, Mr. Celso Masa, SHGP Coordinator of San Andres Elementary School, discussed to the participants concepts on garden layout construction. Participants also prepared sample layouts, which were exhibited through a participatory gallery walk.
The team of Ms. Leticia Germina, one of SHGP Coordinators from Pedro Guevara Memorial National High School in Sta. Cruz, cooked up nutritious recipes with ingredients that can be readily obtained from the school gardens.
This workshop was spearheaded by DepEd-Laguna through the initiative of Mr. Lamberto S. Perolina, Education Program Supervisor in Agriculture.
In a message during the workshop's Opening Program, Dr. Blesilda Calub, SHGP Project Leader and a University Researcher from UPLB, thanked DepEd-Laguna for spearheading such endeavor. She also expressed her happiness to know that the SHGP coordinators they trained for the Project are now becoming trainers themselves. (Elson Ian Nyl E. Galang)