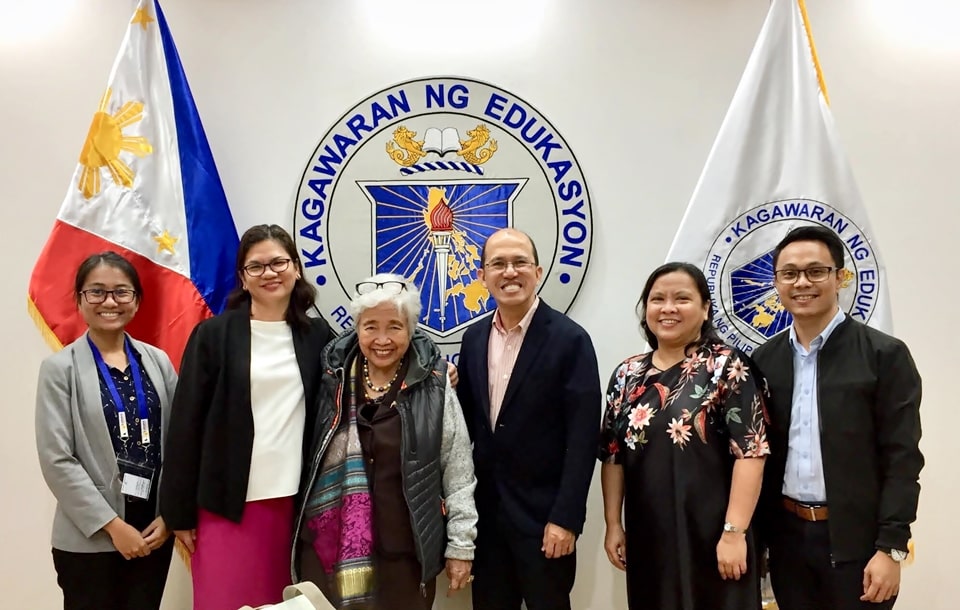 Secretary Briones (third from left), DepEd OIC-Assistant Secretary for Curriculum and Instruction Alma Ruby Torio (second from left), and DepEd International Cooperation Office Project Development Officer Farida Bianca Velicaria (leftmost) with the SEARCA delegation composed of Dr. Gregorio (third from right); Dr. Maria Cristeta N. Cuaresma (second from right), SEARCA Program Head for Graduate Education and Institutional Development; Mr. Sonny P. Pasiona (rightmost), SEARCA project staff. (Photo courtesy of DepEd)
Dr. Glenn B. Gregorio, Director of the Southeast Asian Regional Center for Graduate Study and Research in Agriculture (SEARCA), presented to Philippine Department of Education (DepEd) Secretary Leonor M. Briones the Center's programs that can promote agriculture through the K to 12 curriculum during his courtesy visit on 28 August 2019.
Dr. Gregorio highlighted the School-Plus-Home Gardens Project (S+HGP), a SEARCA initiative that revived and revitalized DepEd's school garden program. The project was piloted in one high school and five elementary under DepEd in Laguna province to test the effectiveness of an integrated, participatory, and science-based approach to school gardening that improves the nutrition, education, and economic well-being of schoolchildren.
Through the S+HGP, SEARCA enabled teachers from the pilot schools to integrate concepts of organic agriculture, nutrition, and climate change in lesson plans of Grades 4 and 7 in the following subject areas: English, Science, Mathematics, and Edukasyong Pantahanan at Pangkabuhayan (EPP) for Grade 4 and Technology and Livelihood Education (TLE) for Grade 7. This was done with the supervision of DepEd-Laguna.
The S+HGP is one of the programs that the two institutional leaders are eyeing to scale up to promote the importance of agriculture among young learners.
Secretary Briones was particularly interested in strengthening and institutionalizing the agriculture track of the basic education curriculum in the Philippines.
In line with this, Dr. Gregorio discussed SEARCA's plan of extending its education programs to support the K to 12 basic education curriculum, particularly in promoting agriculture to the youth in partnership with DepEd and its affiliates. This may include faculty development through graduate scholarships and short courses, and curriculum development that will update, embed, and localize learning materials in agribusiness context.
Dr. Gregorio also presented to Secretary Briones the Center's accomplishments for Fiscal Year 2018-2019 and provided updates on the ongoing development of SEARCA's 11th Five-Year Plan.
SEARCA staff who joined Dr. Gregorio in the courtesy visit were Dr. Maria Cristeta N. Cuaresma, Program Head for Graduate Education and Institutional Development, and Mr. Sonny P. Pasiona, Project Development and Technical Services staff.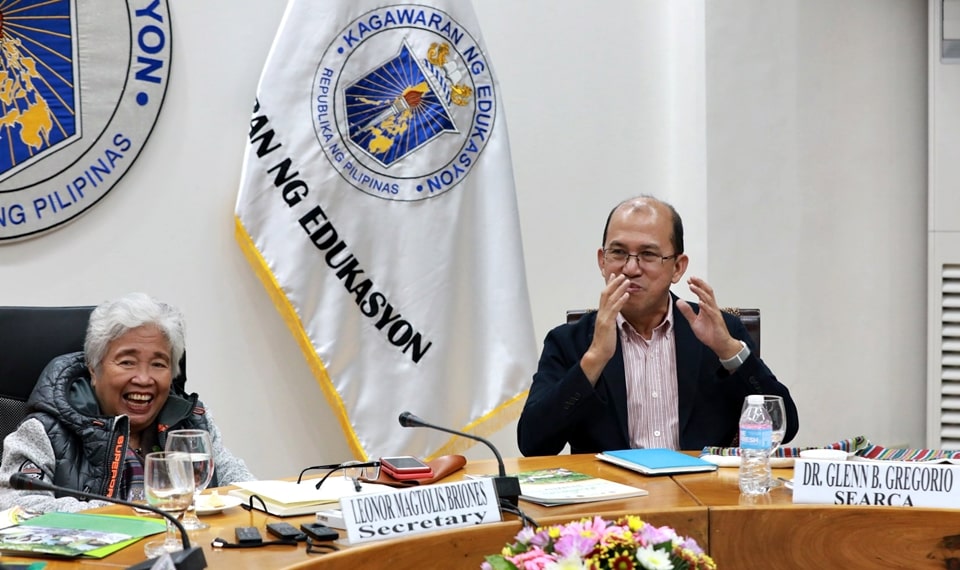 Dr. Glenn B. Gregorio (right), SEARCA Director, shares a light moment with Dr. Leonor M. Briones, Secretary, Department of Education (DepEd), Philippines, as he presents various ways in which SEARCA and DepEd could collaborate to promote agriculture among the youth. (Photo courtesy of DepEd)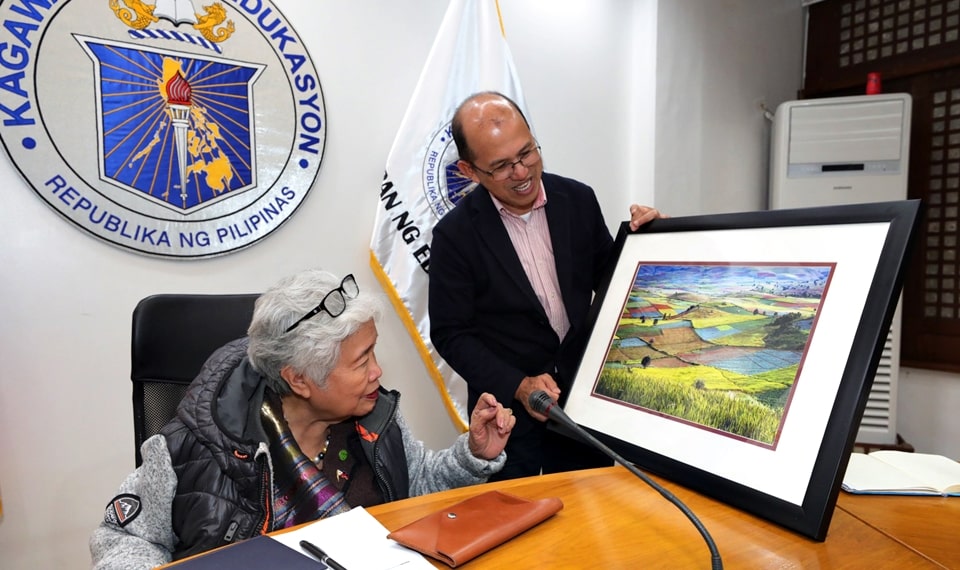 Dr. Gregorio presents an institutional token from SEARCA to Secretary Briones. (Photo courtesy of DepEd)