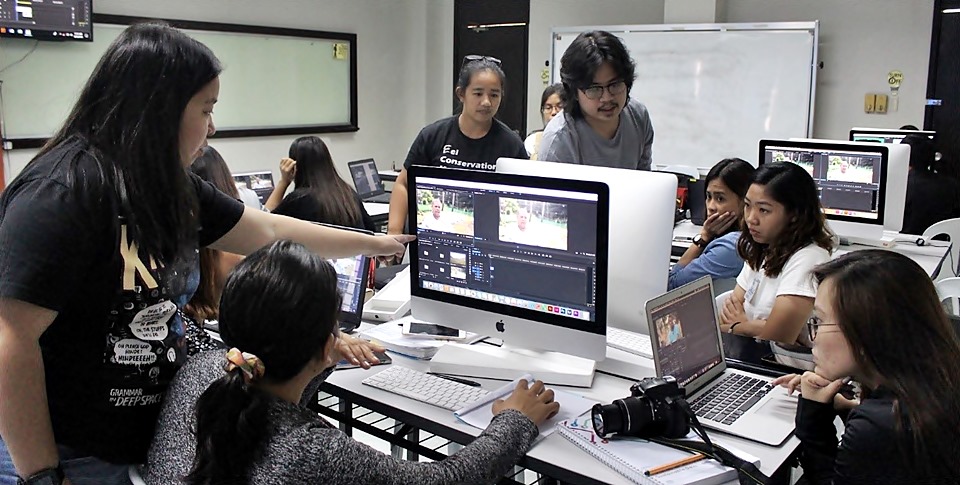 Learners join a hands-on exercise on video editing led by video production specialists from the UPLB College of Development Communication during the second day of the 3rd Face-to-Face Session of the IKM Mentorship Program, 25 April 2019.
LOS BAÑOS, Philippines – The Southeast Asian Regional Center for Graduate Study and Research in Agriculture (SEARCA) has successfully trained learners on video editing and online media production during the third face-to-face (F2F) session of the Information and Knowledge Management (IKM) Mentorship Program: Communicating Agriculture and Fisheries Research for Inclusive and Sustainable Development (CAFRISD), on 24-26 April 2019, at the SEARCA Residence Hotel Annex.
The IKM Mentorship Program is a capacity-building project funded by the Philippine Department of Agriculture–Bureau of Agricultural Research (DA-BAR). It aims to facilitate improved agricultural and fisheries research reporting and knowledge management. It employs a blended learning approach that combines online and face-to-face learning tools and methods.
The 16 learners are technical and information officers from the different regional offices of the Bureau of Fisheries and Aquatic Resources (BFAR) and other DA-attached agencies.
"Video production skills are very useful especially at this time when technology has changed how people, including our farmers and fisherfolk, access information," said Dr. Fernando C. Sanchez Jr., Chair of the SEARCA Governing
Board, in his welcome remarks delivered by Ms. Nancy M. Landicho, Program Specialist and Officer-in-Charge of SEARCA Project Development and Technical Services (PDTS).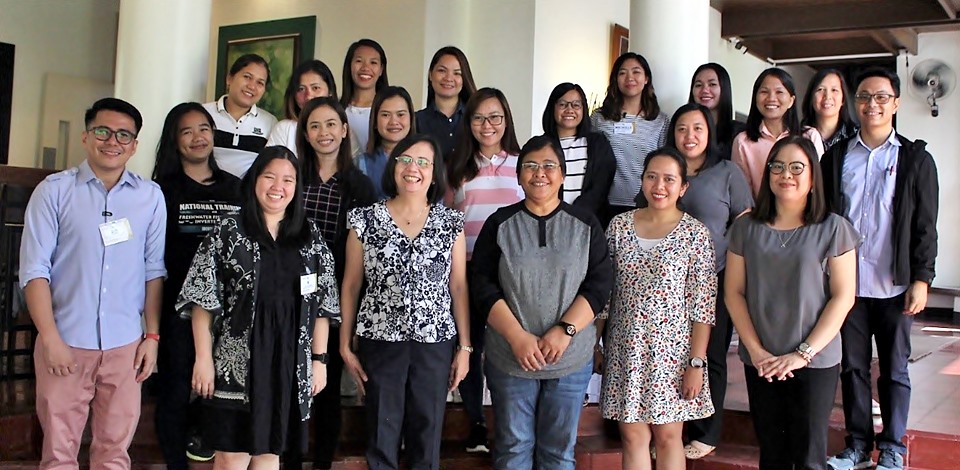 The Batch 2 learners of the IKM Mentorship Program with Ms. Julia Lapitan (first row, fourth from the left) of the DA-BAR together with the mentors from the UPLB College of Development Communication and staff of SEARCA's Project Development and Technical Services
Meanwhile, Ms. Julia A. Lapitan, Head of DA-BAR's Applied Communication Division, delivered the opening remarks on behalf of Dr. Nicomedes P. Eleazar, DA-BAR Director. In his speech, Dr. Eleazar highlighted the role of the learners as communicators.
"As communicators, you have a big role to fill so we can achieve the goals that were set before us. IKM does not only focus on the technology, but more on people and processes. Its role transcends to bring people together, creating an enabling, encouraging environment, in our case, for our farmers and fishers and their communities," he said.
Mr. Joseph Lydio R. Roble III and Mr. Antoni Kristofer R. Lim, both video production specialists from the UPLB College of Development Communication, led the lectures and hands-on exercise on video production and editing.
"I liked the hands-on activity the most. It's my first time to use a video editing software in a computer. I've realized that there's so much more to explore to make your video more interesting and appealing to the eye," said Michelle E. Javier, learner-participant from the DA-Bureau of Plant Industry.
The three-day session also featured an introduction to online media writing and production. Ms. Rikki Lee B. Mendiola, Online Learning Specialist, facilitated an exercise in which learners examined trending topics on Twitter and Facebook and discussed successful online initiatives related to agriculture and fisheries.
The F2F session concluded with a presentation of the learners' draft of their audio-visual presentations featuring a specific research or technology of their respective institutions.
The session was co-facilitated by Ms. Mendiola and Asst. Prof. Elaine DC. Llarena, Asst. Prof. Pamela Joyce M. Eleazar, and Asst. Prof. Edmund G. Centeno, all of UPLB-CDC. They actively mentor the learners in developing their modular outputs and keep track of their progress. The Final Assessment and Testimonial Ceremony of the Batch 2 learners is slated on August 2019. (Sonny Pasiona)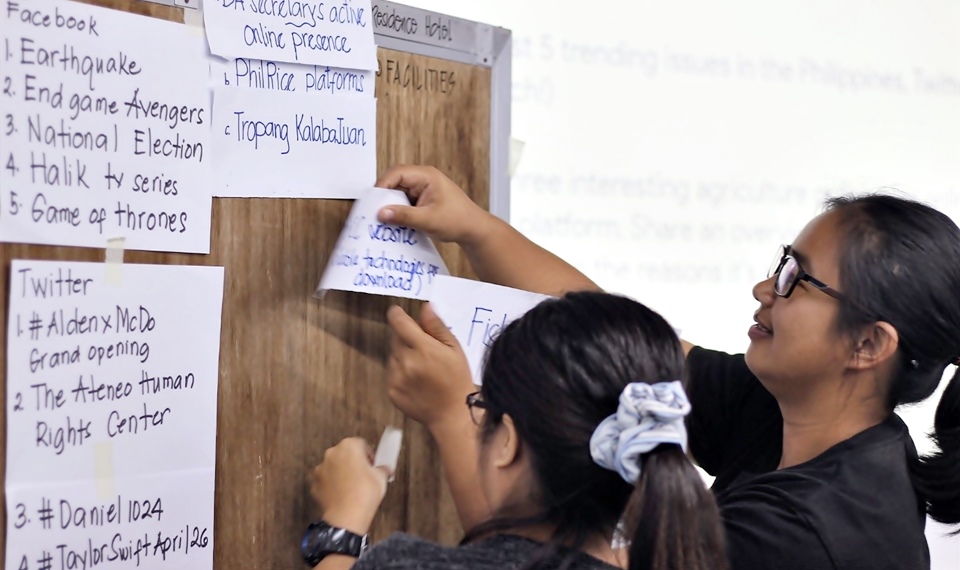 Learner-participants in a workshop identifying online trending topics and successful online initiatives in agriculture and fisheries