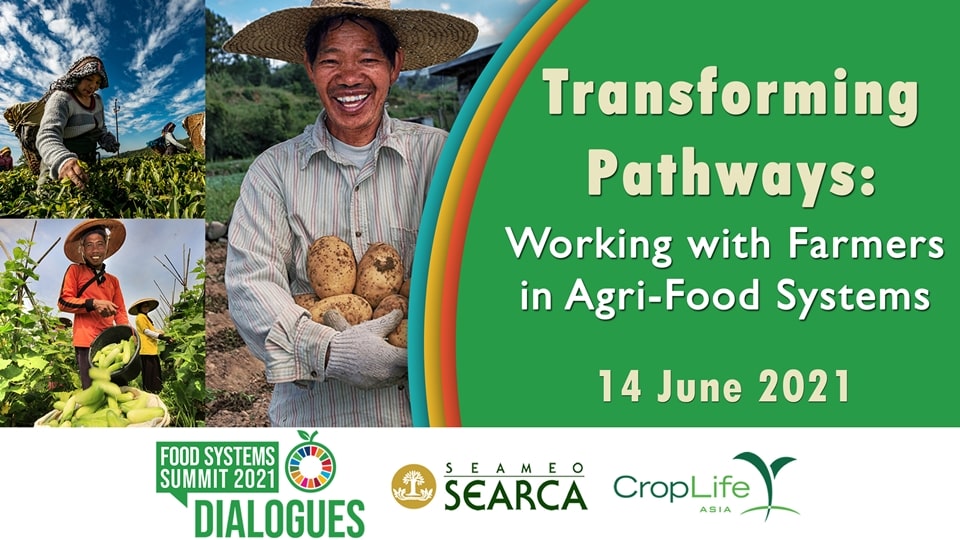 Committed to elevating the lives of farmers and farming families, the Southeast Asian Regional Center for Graduate Study and Research in Agriculture (SEARCA) together with CropLife Asia (CLA) will host an independent dialogue titled Transforming Pathways: Working with Farmers in the Agri-food Systems on 14 June 2021, 1:00 p.m. to 4:00 p.m. (GMT+8) via Zoom. The online forum will be conducted as part of this year's United Nations Food Systems Summit (UNFSS).
As a UNFSS independent dialogue, the forum intends to provide a platform that brings together farmers and stakeholders from the academe, industry, and government (AIG) to share information, knowledge, and experiences related to (1) digital technologies in producing safe and nutritious food for all; (2) policies that promote an enabling environment for nature positive production; and (3) partnerships to build resilience to vulnerabilities, shocks, and stress. It likewise aims to identify action points and strategies for increased utilization and improved farmer collaboration with the AIG towards transformed food systems.
Experts from the AIG sectors will be leading three parallel breakout sessions to gather insights from the farmers on the influencing conditions that should be in place to foster change in the farming sector. Through these sessions, SEARCA and CLA will determine the actions from the government, academe, and private institutions necessary to support farmers in the transformation towards sustainable agri-food systems.
Around 40 farmer leaders or representatives of farmer associations from Indonesia, the Philippines, Thailand, and Vietnam are expected to participate in the event. Observers from networks of SEARCA and CLA will also be in attendance.
As part of the Decade of Action to achieve the Sustainable Development Goals (SDGs) by 2030, the UNFSS envisions launching bold new actions to deliver progress on all 17 SDGs, each of which relies to some degree on healthier, more sustainable, and equitable food systems. The summit aims to convene key players from the worlds of science, business, policy, health care, and academia, as well as farmers, indigenous people, youth organizations, consumer groups, environmental activists, and other key stakeholders to bring about tangible, positive changes to the world's food systems.