The Southeast Asian Regional Center for Graduate Study and Research in Agriculture (SEARCA), in partnership with SyCip Gorres Velayo & Co. (SGV), was commissioned by the Asian Development Bank (ADB) to formulate the National Agriculture and Fishery Modernization and Industrialization Plan (NAFMIP) 2021-2030, the 10-year directional plan of the Department of Agriculture (DA), Philippines.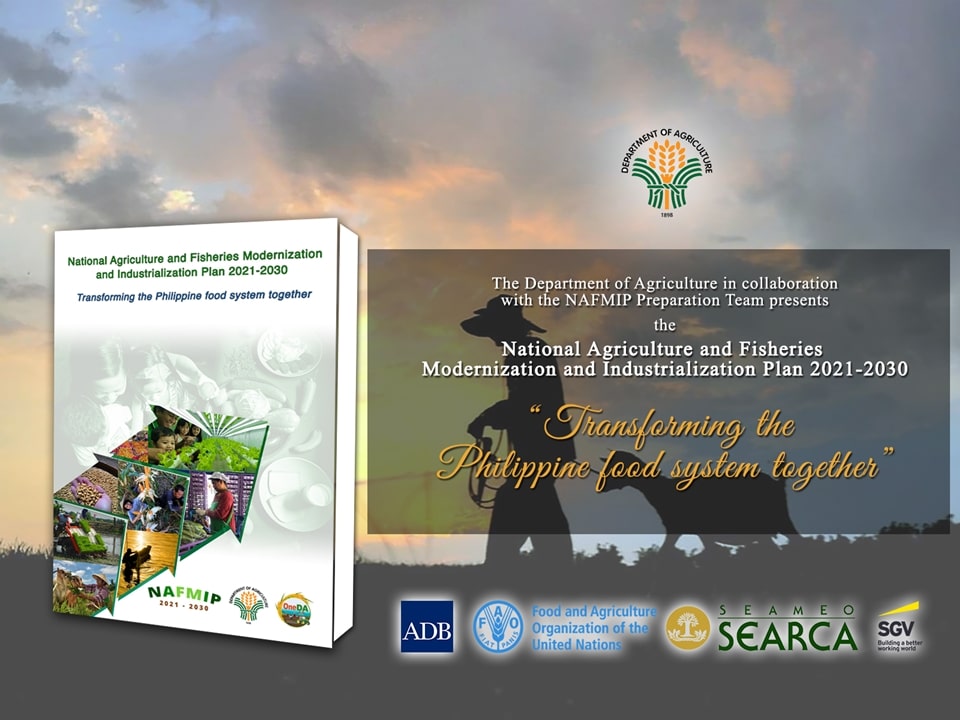 The NAFMIP is anchored on the New Thinking for Agriculture, including its eight paradigms and highlights thrusts to modernize and industrialize the agriculture and fisheries sector It aims to increase the productivity (Masaganang Ani) and double the livable income (Mataas na Kita) of farmers and fisherfolks in the next ten years. The priority programs and projects of DA focusing on the New Thinking and the relevant laws and development frameworks vital to agriculture and fisheries development also served as bases in developing the plan.
To ensure its inclusiveness and relevance, a series of consultations and validation workshops with different stakeholders was conducted. Among the stakeholders consulted are the DA regional offices and attached agencies and bureaus. Moreover, cascading and technical workshops has been carried out to present and discuss the interrelated plans to DA and its stakeholders. The interrelated plans that form part of the NAFMIP include the following: commodity system-based planning, integrated spatial planning, and sustainable land and water management in identification of suitable investment. Ensuring that the plan will be properly communicated down to the grassroots, thereby strengthening agri-fishery stakeholders' participation, NAFMIP also incorporated a strategic communication plan that provides detailed strategies on how it will be effectively conveyed from planning up to its implementation. Lastly, the NAFMIP was designed as a trans-administration plan with actionable strategies that transcends any political changes and devolution.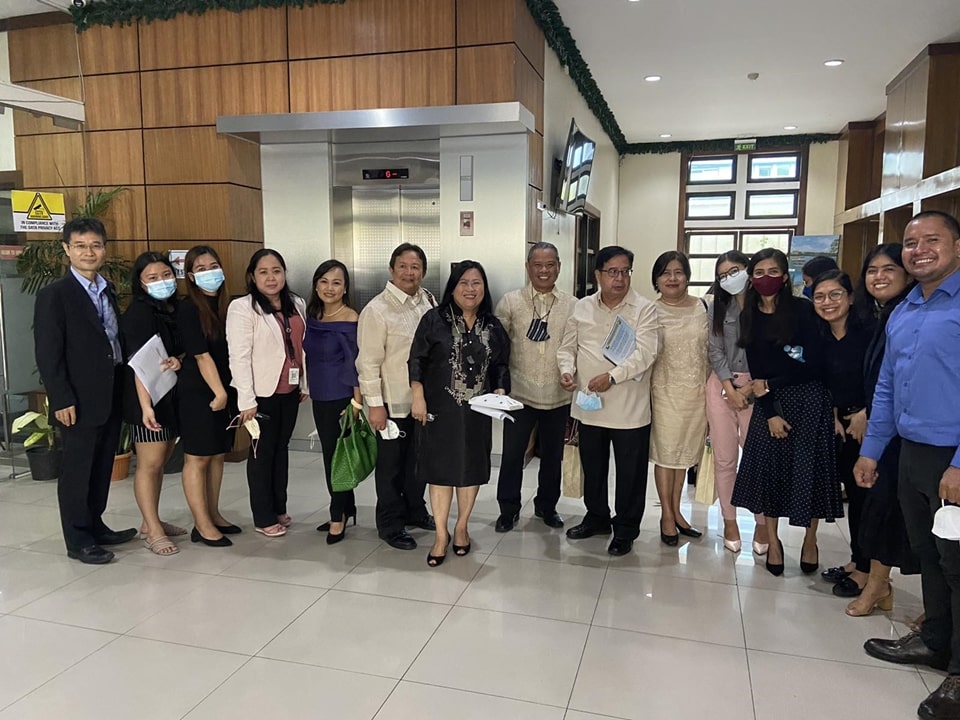 Some of the members of the NAFMIP Preparation team, led by Asec. Agnes Miranda (seventh from left) with Mr. Glenn Baticados (eighth from left), SEARCA Program Head for Emerging Innovation for Growth, and Usec. Fermin Adriano (ninth from left) of DA. Also in the photo are Mr. Takeshi Ueda (leftmost) of ADB and DA-PMS-PPD staff, project consultants, and experts. (Photo Credits: Dr. Marites Tiongco)
The NAFMIP Preparation Team (NPT) is composed of high-caliber experts and consultants from SEARCA, FAO, and SGV. Hired directly by ADB, Mr. Cesar Umali Jr. serves as the Development Planning Specialist and Team Leader. The SEARCA consultants are led by Dr. Marites M. Tiongco, Agribusiness Value Chain Expert, who is joined by Dr. Eufemio T. Rasco, Jr., Agricultural Crops, Livestock, and Poultry Expert; Dr. Caesar B. Cororaton, Policy Trade and Regularizations Expert; Dr. Maria Celeste H. Cadiz, Editor; Dr. Cris Tiburan Jr., GIS Expert; Dr. Cleto Nañola Jr., Fisheries and Marine Expert; and Dr. Patricia Ann J. Sanchez, Sustainable Land Management Expert.
The formulation of the NAFMIP was conducted in close coordination and with guidance from the DA-PMS-PPD under the unwavering supervisions of Usec. Fermin Adriano, Undersecretary for Policy and Planning, and Asec. Agnes Miranda, Assistant Secretary-designate for Planning and Project Development and Director of DA-PMS.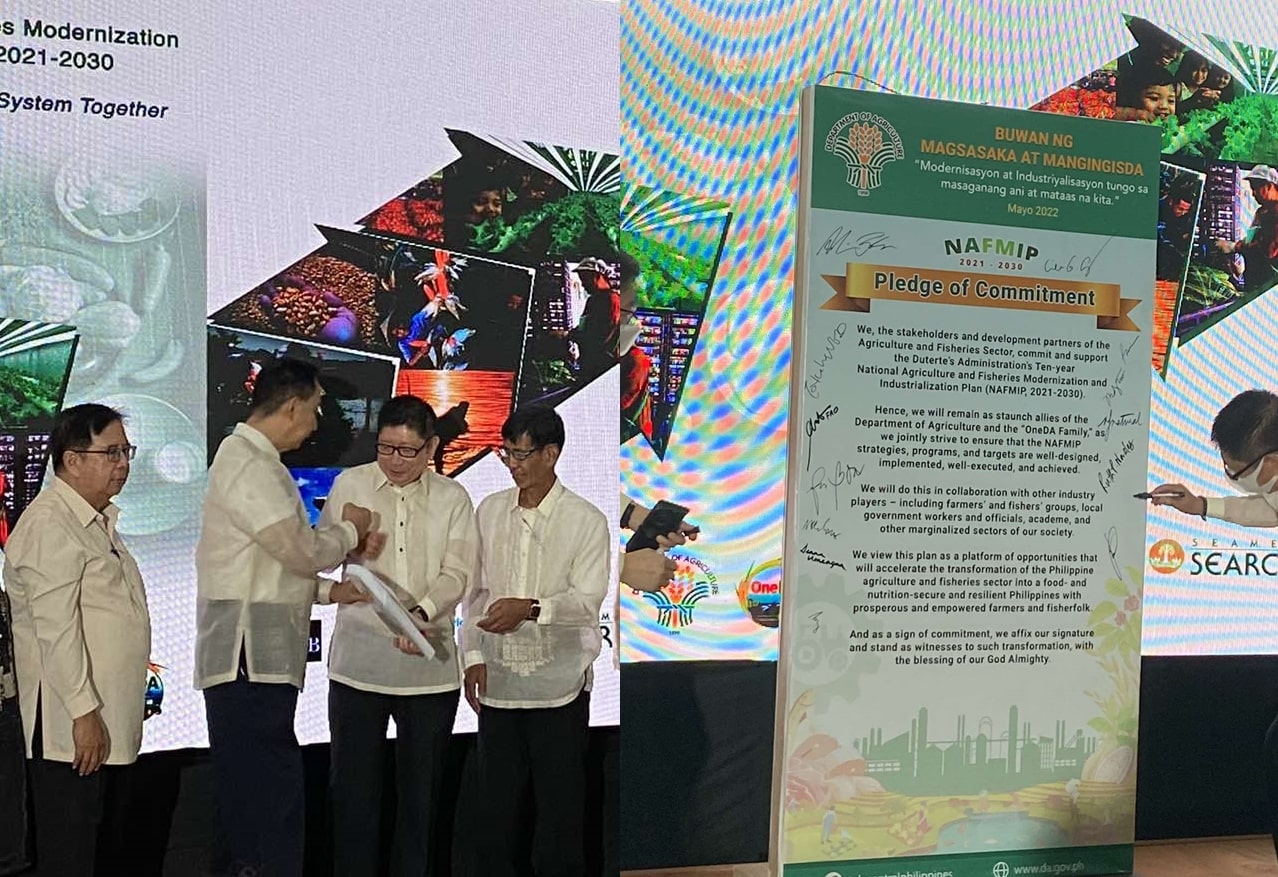 Ceremonial NAFMIP Public Launching and turnover to agri-fishery stakeholders as well as signing the pledge of commitment to support the NAFMIP implementation held on 16 May 2022 at the DA-Agricultural Training Institute-Rural Development Education Center (ATI-RDEC) in Quezon City. (Photo Credits: Dr. Marites Tiongco)
The NAFMIP was presented and launched publicly during the 2022 National Farmers and Fisherfolks' Month held on 16 May 2022. The ceremonial acceptance of the NAFMIP 2021-2030 by the agri-fishery stakeholders and the signing of pledge of support of Farmers and Fishers to the NAFMIP was led by Sec. William D. Dar. The plan was warmly and positively accepted by the agriculture and fishery stakeholders present at the event.
SEARCA turned over 300 printed copies of NAFMIP to DA on 4 July 2022.