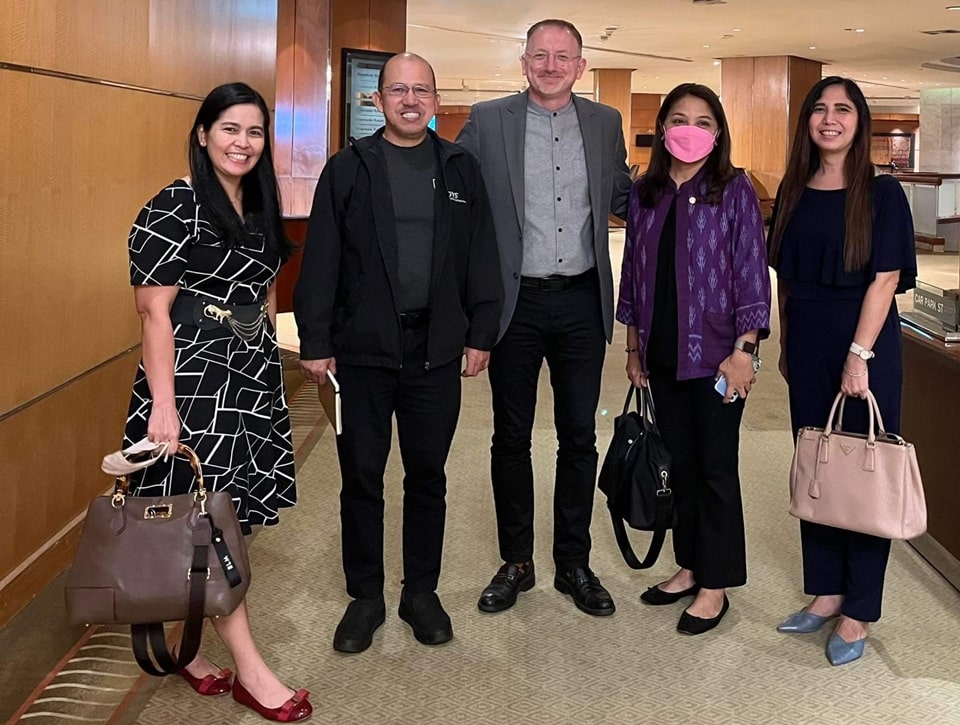 The Southeast Asian Regional Center for Graduate Study and Research in Agriculture (SEARCA) met with several regional agencies based in Thailand to explore possible collaborations in the areas of agriculture, technology, and research.
Winrock International
On 28 November 2022, SEARCA Director Dr. Glenn B. Gregorio and William Sparks, Winrock International Country Director, met in Royal Orchid Sheraton Hotel and Towers, Bangkok, Thailand, and discussed potential collaborations. They were joined by Ms. Sharon A. Malaiba, Head, Partnerships Unit (PU), and Ms. Beatrisa L. Martinez, Executive Coordinator. The meeting particularly focused on how SEARCA can be engaged in Winrock's project on Regional Agriculture Innovation Network (RAIN). The United States Department of Agriculture (USDA)-funded Thailand RAIN project identifies, validates, scales, and shares climate-smart agriculture technologies and practices that have been validated through a rigorous, evidence-based, participatory process.
During the dialogue, both parties agreed to explore the possibility of SEARCA assisting in the scanning aspect of the RAIN project.
Inter-Center Collaboration with SEAMEO STEM-ED
SEAMEO Regional Centre for Science, Technology, Engineering, and Mathematics Education (STEM-ED) Programme Director Dr. Kessara Amornvuthivorn discussed with Dr. Gregorio the STEM-ED's intention to collaborate with SEARCA in promoting and implementing Smart Agriculture among STEM students. STEM-ED aims to develop, maintain, and continuously strengthen capacities in STEM education, serving as a regional knowledge repository and creator through high-quality research in STEM education both in Thailand and in the SEAMEO region.
Dr. Gregorio discussed several SEARCA projects on smart agriculture and how these can be of interest to STEM-ED. Both parties agreed to a follow-through discussion to further deliberate in detail the possible inter-center collaboration between SEARCA and STEM-ED.
SEAMEO Council Presidency of the Philippines
The Southeast Asian Ministers of Education Organization (SEAMEO) Secretariat (SEAMES) and the Department of Education (DepEd), Philippines conducted a meeting-workshop with Philippine-based SEAMEO centers, SEARCA and SEAMEO Regional Center for Educational Innovation and Technology (INNOTECH), on 1 December 2022 to prepare for the SEAMEO Council Presidency of the Philippines from 2023 to 2025. Dr. Ethel Agnes P. Valenzuela, SEAMES Director, and Atty. Gerard L. Chan, DepEd Undersecretary for Legislative Affairs and Partnerships, presided over the workshop and led the crafting of the roadmap for the SEAMEO presidency.
In his opening remarks, Undersecretary Chan welcomed all participants and encouraged everyone for a fruitful and meaningful exchange of discussion. He expressed that the SEAMEO Council Presidency of the Philippines should not only showcase the works of DepEd but all the SEAMEO centers in the country and their initiatives.
The SEARCA delegation was led by Dr. Gregorio. With him were Assoc. Prof. Joselito G. Florendo, Deputy Director for Administration; Ms. Malaiba; Ms. Beatrisa L. Martinez; and Ms. Mary Ann R. Martinez, Executive Assistant to the Deputy Director for Administration.
The workshop focused on the roles of the SEAMEO Council President; areas of collaboration with SEAMEO centers; proposed activities per priority area; overall theme of the SEAMEO Council Presidency; and proposed themes for the SEAMEO Council Presidency.
Courtesy Visit to Embassy of the Philippines, Thailand
The DepEd delegation led by Undersecretary Chan and the SEARCA delegation led by Dr. Gregorio paid a courtesy visit to H.E. Millicent Cruz Paredes, Ambassador of the Philippines to Thailand, on 1 December 2022. The parties were warmly received by Ambassador Paredes at the Embassy's residence in Bangkok, Thailand.
During the courtesy visit, Ambassador Paredes shared the special assistance by Thailand's Royal Highness Princess Maha Chakri Sirindhorn to selected schools in different provinces in the Philippines. The Royal Highness Princess Maha Chakri Sirindhorn projects are focused on addressing poor nutrition in schools, the establishment of a small-scale integrated farm in schools, and handwashing facilities.
Director Margarita C. Ballesteros, Director IV, Head of the DepEd International Cooperation Office (ICO), apprised Ambassador Paredes of the status of the projects of Her Royal Highness Princess Maha Chakri Sirindhorn in the country. She further assured Ambassador Paredes that DepEd, through ICO, is constantly monitoring the condition of the projects. Ms. Malaiba discussed with Ambassador Paredes SEARCA's School-plus-Home Gardens Project in a nutshell and how the Center can assist Her Royal Highness Princess Maha Chakri Sirindhorn in her projects not only in the Philippines, but at the regional level as well.
Also present during the courtesy visit were Assoc. Prof. Florendo, Ms. Beatrisa L. Martinez, and Ms. Mary Ann R. Martinez.