The Opening Ceremony was led by Dr. Sitha Kemmarath, SKU Vice President for Research and Postgraduate Studies, and Dr. Maria Cristeta Cuaresma, SEARCA Program Head for Graduate Education and Institutional Development. Dr. Cuaresma said that the training is part of SEARCA's Institutional Development Assistance (IDA) to SKU. By improving the participants' English proficiency, she hopes that participants will be encouraged to pursue graduate studies in an international setting and contribute to the internationalization efforts of the university. Dr. Kemmarath expressed appreciation for SEARCA's continued support to SKU through the conduct of short courses and trainings and awarding of scholarships to a number of its lecturers.
Dr. Somphong Chanthavong, Dean of the Faculty of Agriculture and Environment and Lao PDR's representative to the SEARCA Governing Board, welcomed the SEARCA delegation and is providing all the logistics needed for the course.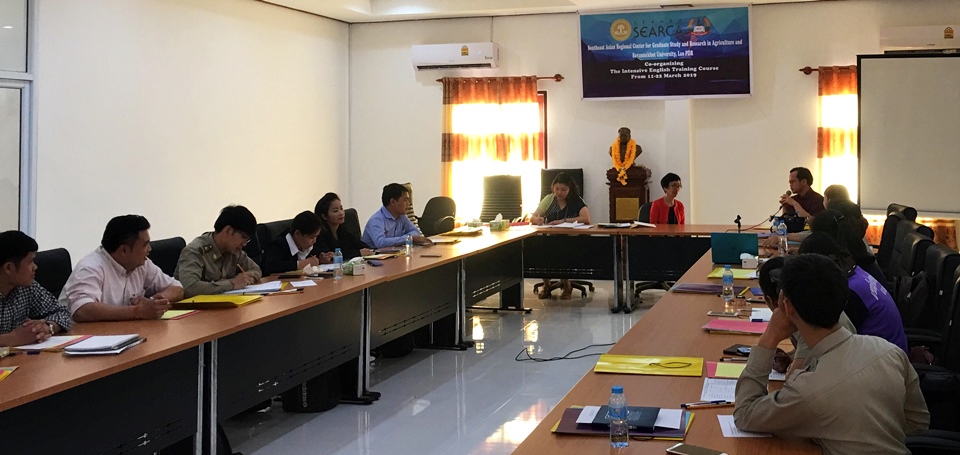 The training team is led by Prof. Emerita P. Cervantes, a retired Assistant Professor from the University of the Philippines Los Baños where she also served as Head of the English Division and Coordinator of the Language Instruction Towards Excellence (LITE) Program of the College of Arts and Sciences. Her team has also been SEARCA's Technical Service Provider for the Basic English Course for SEARCA's incoming scholars since 2016. For this training at SKU, Prof. Cervantes is joined by Ms. Ann Michelle de Ocampo who is a Speech Communication major.
The Graduate Education and Institutional Development Department of SEARCA manages its IDA program, which intends to empower and equip strategically located universities with the necessary resources to cater to the demands for human resources required to boost economic development in the region. SEARCA recognizes that different institutions have different systems, structures, and resources so that designs and interventions for IDA vary according to the specific needs of its partner beneficiaries. Aside from SKU, IDA partner universities in the region include the Royal University of Agriculture in Cambodia, Yezin Agricultural University in Myanmar, the National University of Timor Leste, and Thai Nguyen University of Agriculture and Forestry in Vietnam.