The Education and Collective Learning Department (ECLD) of SEARCA offered the Online Training on Scientific Writing for scholars from August 15 to September 5, 2022, every Monday and Thursday. The training program was attended by 2nd and 3rd-year scholars who already have research data that they can develop further into journal articles. The training aimed to introduce principles and practical techniques for communicating scientific information to an academic audience.
The College of Development Communication (CDC), University of the Philippines Los Baños (UPLB), conducted the training with Asst. Prof. Avril Adrianne De Guzman-Madrid from the Department of Science Communication as technical coordinator and Ms. Charlene Mae B. Arkaina, University Extension Specialist and an affiliate instructor in the same department, as training support staff.
The training officially opened with 26 participants from Indonesia, Cambodia, Philippines, Thailand, Myanmar, Malaysia, Lao PDR, and Timor Leste. Dr. Maria Cristeta N. Cuaresma, Senior Program Head of ECLD, highlighted that the annual training offerings are customized for the scholars' needs to further build their capacities. The program was meant to assist scholars in disseminating their research results through scientific papers that will eventually benefit society. The program was also highly relevant for those whose study posts require publication in a refereed journal before graduation.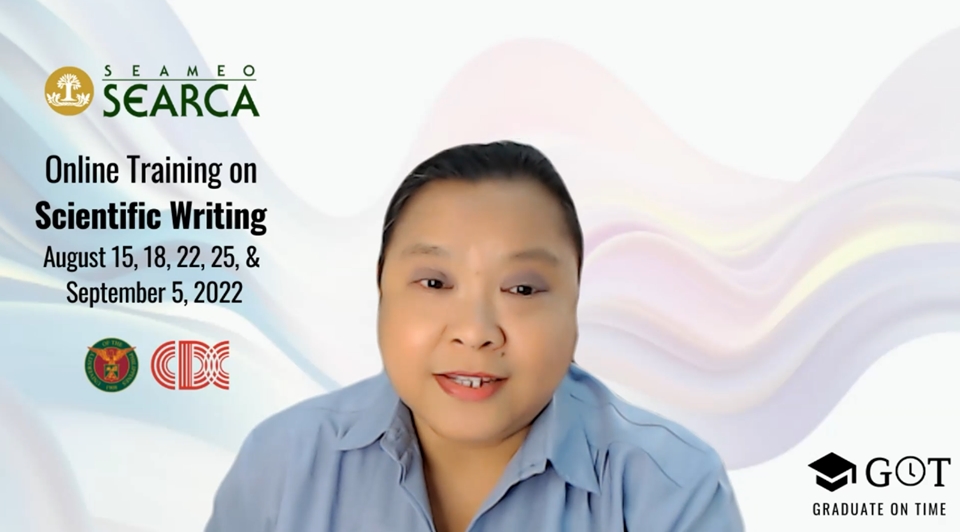 Dr. Maria Cristeta N. Cuaresma, Senior Program Head of ECLD during the opening program of the training.
A Special Session on a Meet & Greet with Journals' Editors gave the scholars an opportunity to have a conversation with experts on the publishing process. The training invited Pertanika Journals at Universiti Putra Malaysia (UPM), HAYATI Journal of Biosciences at IPB University, Journal of Environmental Science and Management (JESAM), School of Environmental Science and Management (SESAM), UPLB, and the Asian Journal of Agriculture and Development (AJAD), SEARCA.
Spanning five training days, the scholars learned about the scientific communication and the peer-review process, planning the publication of the scientific paper, techniques in writing scientific articles, creating great tables and charts, principles of clear and effective scientific writing, and revising and editing for publication. These discussions were accompanied by workshops that helped the scholars apply the new concepts they have learned. Making use of "checklists", the scholars were guided on how to independently judge whether their article is ready for submission to a journal. The checklists also helped them ensure that they were accurate and consistent with the data, facts, numbers, tables, figures, symbols, and measurement units used in the manuscript. Further guiding them in the journal publication process are the resource persons from CDC's Department of Development Journalism, Department of Development Broadcasting, and the Department of Educational Communication.
For its culminating activity, the scholars experienced the peer review process by reviewing their co-learners' articles and receiving comments to improve their work. Divided into four parallel sessions based on specific sub-themes, the scholars were joined by invited SEARCA officials, consultants, and previous grantees to help them further improve their work.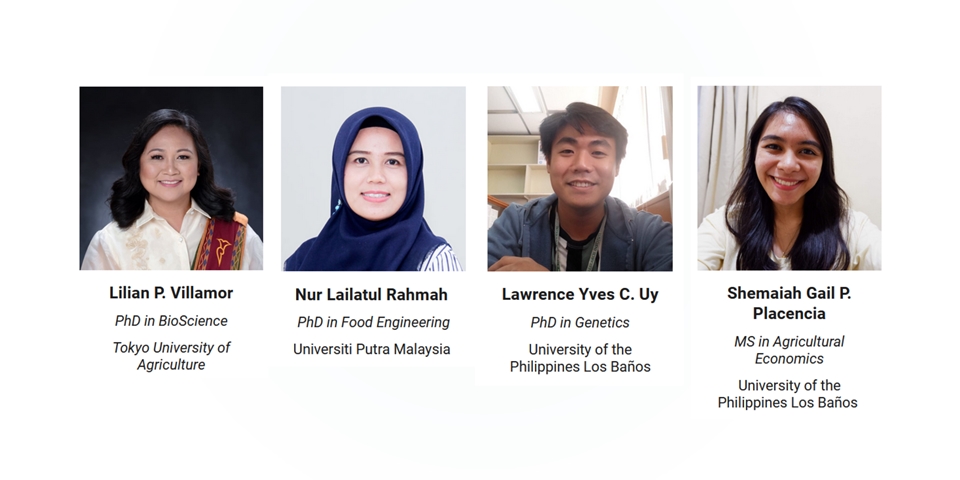 Four scholars were selected for the journal article that is almost ready to be submitted. Ms. Lilian P. Villamor studying PhD in Bioscience at Tokyo University of Agriculture was selected for her article on Morphological and Molecular Characterizations of White Swamp Buffaloes in Pinamungajan, Cebu, Philippines. Ms. Nur Lailatul Rahmah studying PhD in Food Engineering at Universiti Putra Malaysia was recognized for her work on the Kinetic Study of Total Phenolic Content from Piper betle L. Extract Using Subcritical Water Extraction. Mr. Lawrence Yves C. Uy, studying PhD in Genetics at UPLB was chosen for his article on the Production of High-maltose Sugar Syrup from Selected Rice (Oryza sativa L.) Bran by Enzymatic Method. Ms. Shemaiah Gail P. Placencia, taking up MS in Agricultural Economics from UPLB was selected for her study on Multinomial Regression on the Choice of Agri-credit Source Among Cavendish Banana Farmers: Evidence from Southern Philippines.
Sharing her experience about the training, Ms. Anne Gellie Pablo from Kasetsart University said that she had the best experience during the program. Ms. Nur Lailatul Rahmah shared the poignant reminders given to the class by the resource persons which now guide her in writing her article.

(L-R) Ms. Anne Gellie Pablo from Kasetsart University and Ms. Nur Lailatul Rahmah from UPM gave their testimonial messages during the closing program.
Dr. Cuaresma noted that publications are a vital part in the scholars' studies and for their promotion at work, hence, SEARCA annually offers the training. She also hoped that the training was able to build the confidence of the scholars to submit their journal articles. Dr. Cuaresma quoted Benjamin Franklin and encouraged scholars to write something worth reading and do something worth writing. She highlighted the importance of communicating results that address pressing issues in society towards alleviating the lives of the people.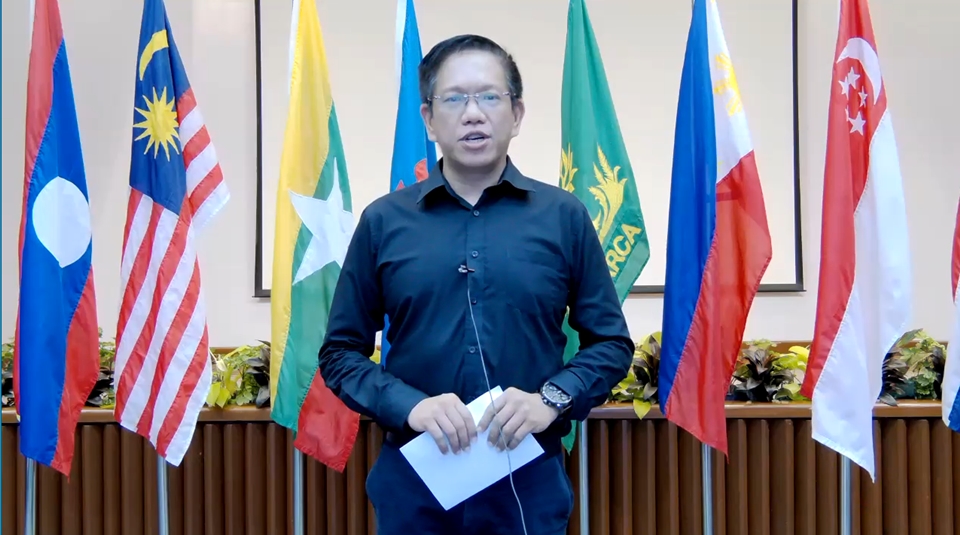 Assoc. Prof. Joselito G. Florendo, Deputy Director for Administration of SEARCA, during the closing program.
Formally ending the training, Assoc. Prof. Joselito G. Florendo, Deputy Director for Administration of SEARCA, commended the scholars' desire to further develop their skills despite the heavy academic load they carry. SEARCA hopes that this training program will aid in updating and upgrading some of the scholars' knowledge and know-how especially with the fast-paced changing technological world. Assoc. Prof. Florendo also hopes that with the sessions the scholars have attended, they will envision strategies for strengthening their research outputs towards graduating on time, and in the future, develop the institutional research quality of their institutions.
The Online Training on Scientific Writing is part of the customized training offered by SEARCA annually as part of a wider range of academic and extracurricular learning events that serve as tools for scholars to complete their academic requirements and support their social well-being. These activities also contribute to SEARCA's mandate of building the capacity of future agriculture leaders and professionals. Besides the Scientific Writing Training, SEARCA also provides training on Basic English for new scholars, Writing Thesis Proposals, Presentation Skills Training, and Data Analysis and Basic Statistical Designs.