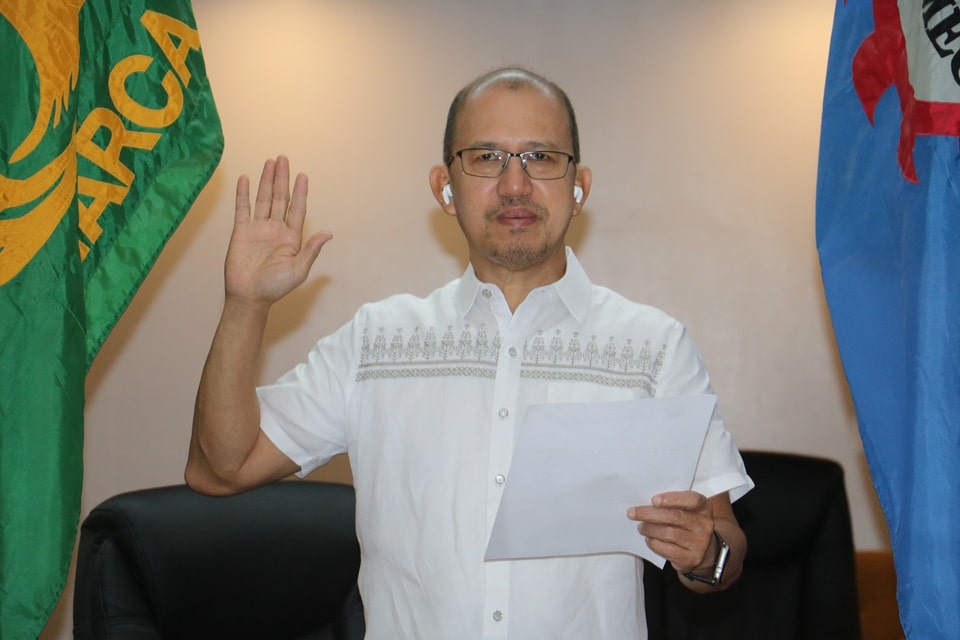 Dr. Glenn B. Gregorio, a Professor at the University of the Philippines Los Baños (UPLB)-College of Agriculture and Food Science and Director of the Southeast Asian Regional Center for Graduate Study and Research in Agriculture (SEARCA), took his oath as Chairperson of the Technical Panel for Agriculture (TPA) under the Commission for Higher Education (CHED) on 9 November 2020 in a ceremony held online via Zoom.
Commissioner Oversight Dr. Ronald L. Adamat gave his insights on the pressing issue of enticing agriculture to Filipino students as a prelude to the oath taking ceremony. He mentioned that, "it's high time that we involve agriculture and technical experts in this undertaking of revisiting the familial road and transforming the landscape of agriculture."
Dr. Adamat stressed the need for a working group to govern agriculture in the education sector since there has been a steady decline in agriculture education enrollment.
"We have reports that agriculture process suffered enrollment in the last six years. More so, our efforts are being challenged by nature since the Philippines is visited by strong typhoons in the past few days," he said.
Dr. J. Prospero E. De Vera III, CHED Chairman, discussed new directions in HEIs with the Technical Panel and Technical Evaluators as partners. He emphasized that "CHED needs experts to tell us the empirical studies made, things happening on the ground so when we make decisions they will be evidence-based and empirically defensive."
The Center's significant role to the Philippine agricultural education was also put in limelight by the Chairman. He mentioned that "we are funding SEARCA so our professors can continue their professional development. This is in addition to the graduate study programs that the commission is funding. Never in the history of CHED, have we given this much funds for professional development and for graduate studies. And we thank SEARCA, under Dr. Gregorio, for its willingness to work with CHED so we can customize professional development along the lines of regional and international standards."
SEARCA has been providing graduate scholarships since 1968. A total of 1,833 Master's and PhD scholarships has awarded by SEARCA to Southeast Asian countries.
Dr. Gregorio took his oath before Dr. De Vera, together with other members of the Technical Panel including Dr. William C. Medrano, Dr. Nora B. Inciong, Dr. Danilo A. Abayon, Dr. Domingo E. Angeles, Dr. Candida B. Adalla, and Ms. Nikole Ma. Nomfa S. Alicer. Dr. Rosanna P. Mula and Dr. Aimee Lynn B. Dupo of the University of the Philippines Los Baños (UPLB), SEARCA's host institution, also took their oath as Technical Evaluators.
In his response as the TPA Chairperson, Dr. Gregorio highlighted how the COVID-19 crisis has underscored the role of HEIs to produce agriculture graduates with a transformative mindset who are experts in understanding the growing complex social concerns and are able to effect positive change now and in the future.
"Universities must now strengthen multi- and interdisciplinary studies, contextualizing their specific research efforts within larger societal problems. We need more students and researchers who are good in doing basic science and who can also navigate the development dimension of their work to shorten the gap between research productivity and its translation to economic development," Dr. Gregorio pointed out.
He also shared the importance of HEIs as key players in the overall ability to achieve the aspired food security and economic development in the Philippines.
The TPA Chairperson further underscored that "we can aspire to contribute beyond—toward an economic development that is sustainable, inclusive, environment-friendly, and most importantly, resilient to current and future pandemics."