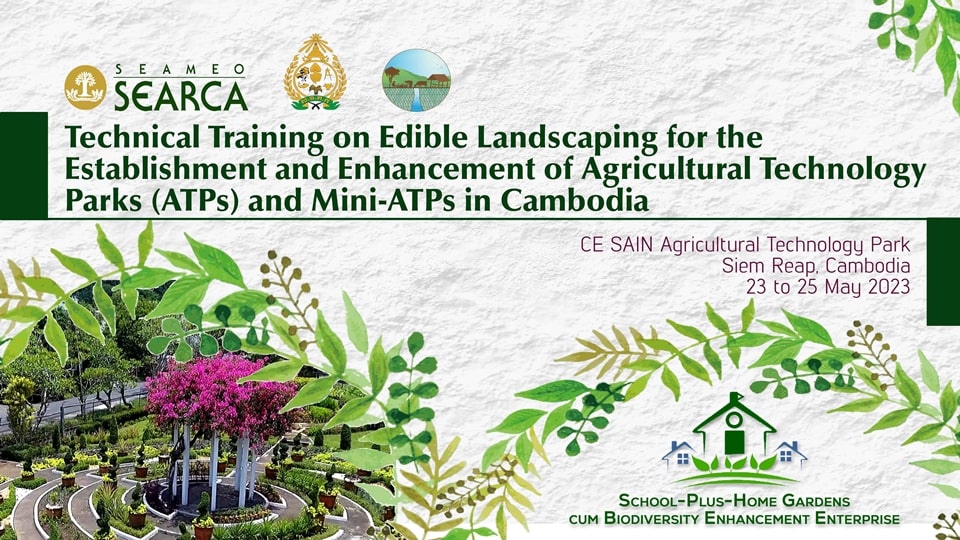 SIEM REAP, Cambodia—In pursuit of inspiring and motivating students about the science and art of crop production through school gardening, the Southeast Asian Regional Center for Graduate Study and Research in Agriculture (SEARCA) and the Center of Excellence on Sustainable Agricultural Intensification and Nutrition (CE SAIN) of the Royal University of Agriculture (RUA) will jointly conduct a technical training on edible landscaping to be held at CE SAIN Agricultural Technology Park (ATP), Siem Reap, Cambodia from 23 to 25 May 2023.
At least 20 high school teachers and school garden and nutrition coordinators from five partner high schools in Phnom Penh and Siem Reap, Cambodia, will gain technical know-how on crop production and garden set-up structures applicable to its ATPs and mini-ATPs. Moreover, they will learn the basic techniques for designing, implementing, and maintaining edible landscape gardens.
Edible landscaping is a practical integration of food plants within an ornamental or decorative setting that uses edible crops in a landscape design. It enhances a garden set-up with unique ornamental components entwined with additional health, aesthetic, and economic benefits. Thus, students will appreciate the science of farming and the art elements and principles of landscape design.
The lectures and hands-on activities will be led by Mr. Bryan Apacionado, assistant professor from the College of Agriculture and Food Science of the University of the Philippines Los Baños (CAFS-UPLB). He will demonstrate how to produce organic concoctions and extracts as plant growth enhancers and sustainable alternatives to chemical-based fertilizers.
On the other hand, Dr. Nur Azura binti Adam, SEARCA's deputy director for programs, will provide lectures on beneficial insects and natural enemies, as well as principles of integrated pest management (IPM).
The technical training will be capped with a field visit to mini-ATPs in Siem Reap, Cambodia. Also, participants will present their updated action plans that will serve as inputs to SEARCA and CE SAIN's School-plus-Home Gardens cum Biodiversity Enhancement Enterprise (SHGBEE) participatory action research project in Cambodia.
This technical training on edible landscaping was one of the offshoots of the first collaborative capacity-building initiative of SEARCA and CE SAIN in 2021. Dubbed the Trainers' Training for Integrating SHGBEE in the Establishment of ATPs and Mini-ATPs in Cambodia, this weekly online training ran from November 2021 to March 2022. The training was designed to educate and facilitate knowledge sharing on the establishment of school and home gardens; integrate the key concepts of agriculture, food and nutrition, biodiversity enhancement, and entrepreneurship in lesson plans or academic curricula; and promote strategies that will inspire and motivate the youth in Cambodia to pursue agriculture-related courses. Participants from Cambodia have seen edible landscaping as a relevant technology to setting up aesthetic garden structures in ATPs and mini-ATPs.