As part of the ongoing project on Leveling Up Philippine Higher Education Institutions in Agriculture, Fisheries and Natural Resources (LevelUPHEI AFAR) funded by the Philippine Commission on Higher Education (CHED), the Southeast Asian Regional Center for Graduate Study and Research in Agriculture (SEARCA) launched the 10-week Online Training Course on Research Designs and Methods for Higher Education Institutions (Research4HEIs) in the Philippines on 14 February 2022 via the SEARCA Online Learning and Virtual Engagements (SOLVE) platform.
Eighteen mid- to junior faculty members, researchers, and education leaders from 16 State Universities and Colleges – Association of Colleges of Agriculture in the Philippines, Inc. (SUC-ACAP, Inc.) member institutions from across the Philippines are attending the training-workshop which will run until 11 March 2022.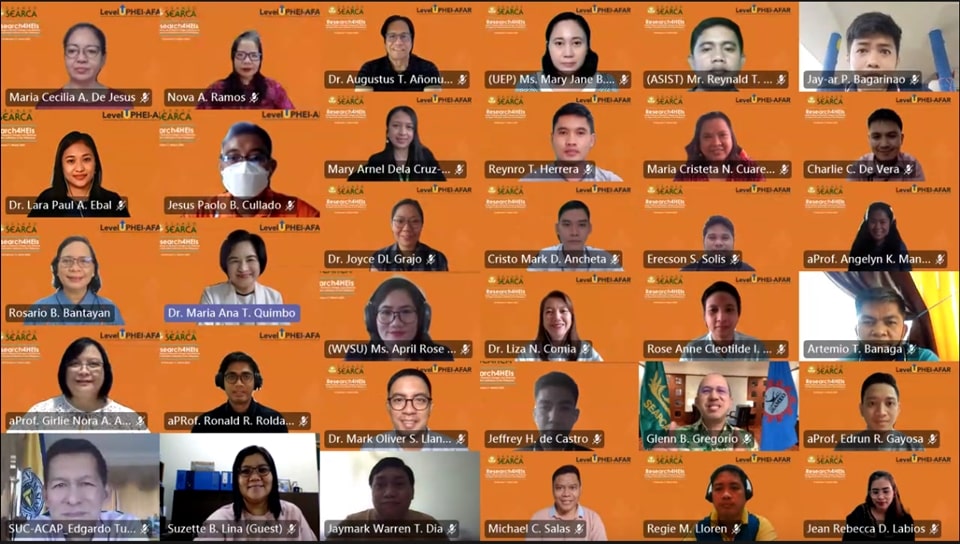 With scientific research as one of the mandates of state universities and colleges, the training course aims to enhance the capacity of faculty members and researchers of Philippine higher education institutions (HEIs) in coming up with well-planned research designs and methods to generate evidence effectively and efficiently.
Speaking at the opening session of the training, Dr. Edgardo E. Tulin, President, Visayas State University (VSU) and concurrent President of SUC-ACAP, underscored the importance of having a good understanding on how to develop a vigorous research design which is internally and externally valid, and the use of appropriate analytical methods as critical factors in attaining high-quality research. He also expressed his appreciation that the training course has included interesting and relevant topics that are important for junior researchers when conducting research.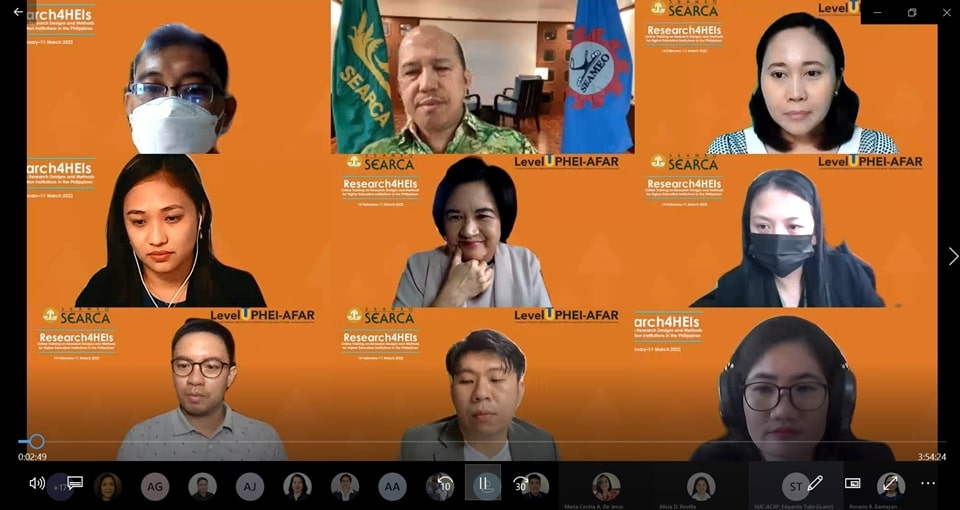 On the other hand, in his welcome message, Dr. Glenn B. Gregorio, SEARCA Director, emphasized that the Covid-19 pandemic actively highlighted the fast-evolving food systems and its effect in changing the landscape of agriculture education. While referring to the end-result of the online training wherein participants are expected to design a research proposal ready for submission, he challenged each participant to stay focused and be able to demonstrate the ability of higher education institutions to be creative and innovative in crafting their research agenda.
Dr. Maria Ana T. Quimbo, Professor, Institute of Governance and Rural Development, College of Public Affairs and Development (CPAf), University of the Philippines Los Baños (UPLB), serves as the Technical Coordinator and Lead Faculty of the online training course. She formed a team of13 faculty members and experts in the fields of Quantitative and Qualitative Research Methods from the Institute of Statistics and the Department of Social Sciences, College of Arts and Sciences (CAS), UPLB, who serve as Resource Persons and co-facilitators.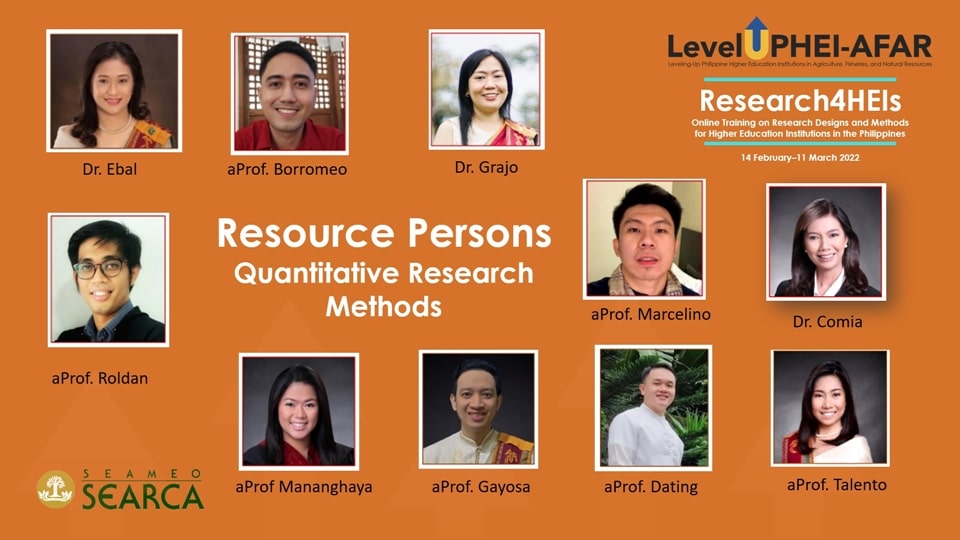 Providing the training workshop's overview, Dr. Quimbo explained that the 10-week online training course was designed to build the participants' capacity to develop a research framework focusing on their objectives/hypotheses based on their knowledge of the situations/conditions under which they are to conduct their research. Dr. Quimbo highlighted that the major output of Research4HEIs is a Re-entry Action Plan (REAP) that includes developing a research proposal. This provides the participant an opportunity to apply the learnings and skills gained for which he/she will receive constructive and academic feedback.
Immediately after the opening program, the training proceeded with the first three sessions for the day under the Quantitative Research Methods. During the first session, Dr. Laura Paul A. Ebal, Assistant Professor at the Institute of Statistics (InStat), UPLB-CAS, introduced the participants to Basic Statistical Concepts. She discussed the importance of statistics in conducting research, terminologies in statistics, and provided an overview on different methods and techniques in collecting, measuring, and presenting data.
For the second session, Mr. Ronald R. Roldan Jr., Assistant Professor at InStat, UPLB-CAS, gave the Introduction to the R Software, an open-source programming language that is widely used as a statistical software and data analysis tool. This was followed by Coaching and Hands-on Session on these two topics, which served as practicum on how to use the R software.
For the first week, the succeeding sessions covered various topics on Quantitative Research that include: Survey Designs and Estimation, General Statistical Methods, Basic Experimental Designs, and Multivariate Methods. For these topics, other resource persons from InStat, UPLB-CAS who shared their expertise in the training-workshop and coaching sessions include Dr. Joyce DL Grajo, Dr. Liza N. Comia, Assistant Professors Maurice Borromeo, Angelyn Mananghaya, Edrun Gayosa, Rocky T. Marcelino, Mark Jay P. Dating, Sherlin Mara Talento.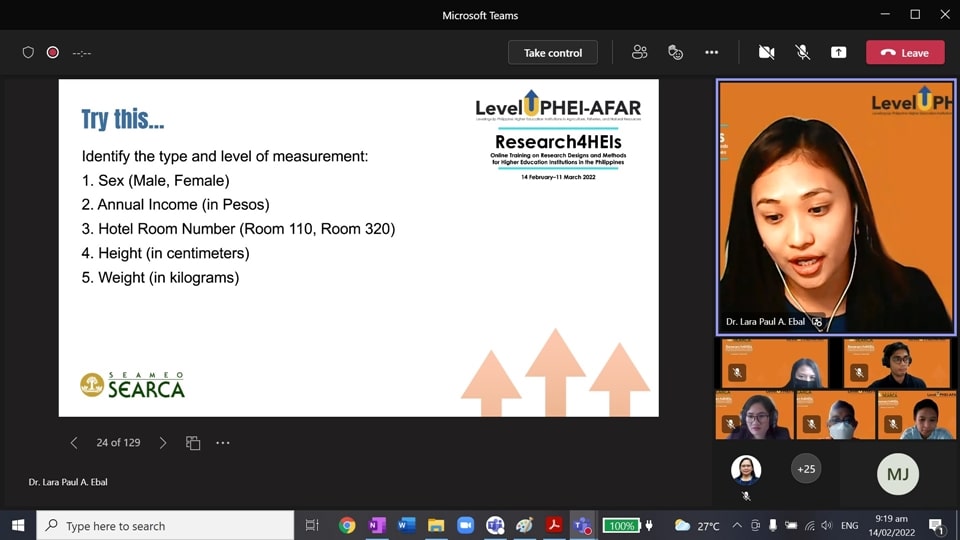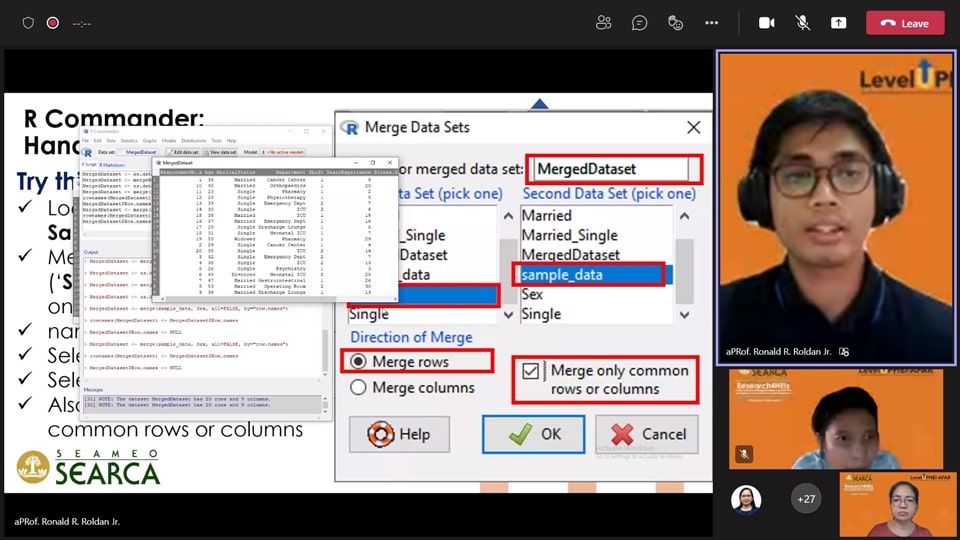 This online training is organized and coordinated by SEARCA's Education and Collective Learning Department-Training for Development Unit (ECLD-T4DU), with assistance from the Management Information Systems Unit (MISU).