For the first day of the boot camp, the participants were oriented on several topics such as edible landscaping, applications of biotechnology in crops and livestock, Simple Nutrient Addition Program (SNAP) Hydroponics, and SEARCA's initiatives on Farm Tourism and the School and Home Gardens Project.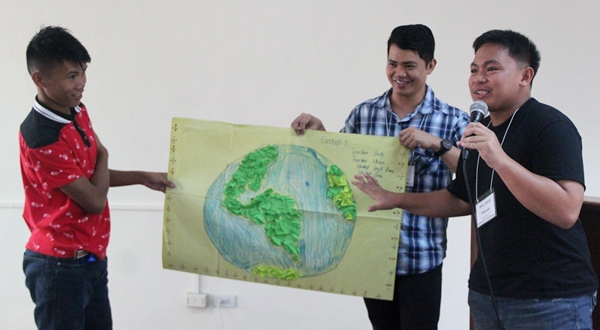 The students present their outputs during the workshop on edible landscapingThe participants also visited various research and development institutions based in Los Baños on their second day. Their first stop was the Fermentation Engineering Services Laboratory at the University of the Philippines Los Baños-National Institute of Molecular Biology and Biotechnology (UPLB-BIOTECH). They were briefed with a presentation on BIOTECH's services and products such as biofertilizers, diagnostic kits, and vaccines. The participants then proceeded to the International Research Institute (IRRI) where they were introduced to IRRI's projects such as the iron and zinc dense indica rice and C4 Rice, a new rice variety with improved photosynthetic mechanism to increase rice yields, as well as a visit to IRRI's Riceworld Museum and Learning Center. Last stop for the day was the UPLB-Institute of Plant Breeding (UPLB-IPB), where experts discussed IPB's initiatives on the Bt Eggplant and the SNAP Hydroponics, which the group visited. Day 2's highlight was the hands-on experience on DNA extraction using household chemicals. This sparked the interest of the participants as this was their first time to perform a laboratory procedure. Mr. Darlon V. Lantican, University Researcher at IPB facilitated the workshop.
On the third and last day of the Boot Camp, The UP League of Agricultural Biotechnology Students (UP LABS) and the UP Genetic Researchers and Agricultural Innovators Society (UP GRAINS) conducted interactive games, which tested the participants' knowledge on agri-biotech and gave them a chance to bond with their teammates. Both UP LABS and UP GRAINS are academic, student-based organization composed of students taking up BS Agricultural Biotechnology from UPLB.
Lance Dominic Tria, a student from the Philippine Science High School - Southern Mindanao Campus spoke in behalf of the students.
"I hope we can apply the lessons we learned here in whatever field we go into. Even if I don't end up pursuing an agriculture course in college, I hope that in whatever I take, I'll still be able to help the people working for agriculture because in the end, agriculture will not disappear and people will always need food," he said.
The agri-biotech boot camp, which is SEARCA BIC's build-up activity for the annual National Biotechnology Week, aims to create awareness on agriculture, introduce traditional technologies and biotechnology used in agriculture, and build interest among high school students and consider agriculture, specifically biotechnology, as a career. (Danellie Joy O. Medina)